Madigan made… black and neon flat glass marble magnets.
If you are a regular reader on this blog… you already know that it is Crafting in Neon Week! And today I'm sharing some simple neon paper crafts.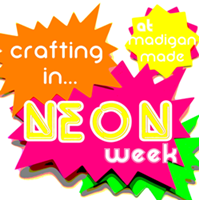 I've already shown you how to make flat, glass gem magnets and how to make cute crafty packaging for them. But I thought it would be fun to make bright, neon magnets to use on our fridge for a fun pop of color.
These gem magnets are always more interesting when you can use patterned paper underneath the glass. But do you know how hard it is to find cute, neon, decorative paper that does not look childish? Aside from day-glow labels and signs, there is not much out there in the neon paper department.
So, since I couldn't find what I was looking for, I figured I'd just create it myself. All I needed was black and white paper in the design of my choice and some highlighters.
Houndstooth patterns always resonates with me… and neon houndstooth has a slight punk edge to it. A perfect combo for a fun magnet, in my opinion!
Instructions for making neon glass marble magnets:
Supplies needed:
Black and white patterned scrapbook paper
Highlighters or gel pens in bright colors
Circle paper punch (1 inch size)
Flat, glass gems
Ceramic magnets (1 inch size)
Jewelry glue
Step one:
Use the circle punch to cut out rounds of paper. Color in the open, white areas of the pattern using your highlighters or gel pens.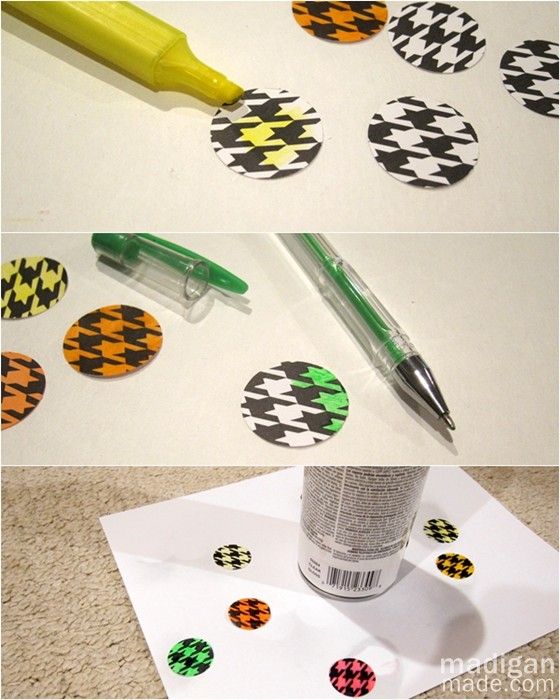 Step two:
After the highlighter and pen ink dries, spray the paper circles with a thin coat of clear, acrylic spray paint. This will help seal the color to prevent the ink from running in the glue. You could also use clear nail polish. (Trust me, don't skip this step. It is a craft fail that I experienced already!) Allow the spray to dry thoroughly.
Step three:
Apply a small dollop of jewelry glue to the magnet (I used a big drop in this picture… Make yours smaller!) and press a circle of scrapbook paper down on top.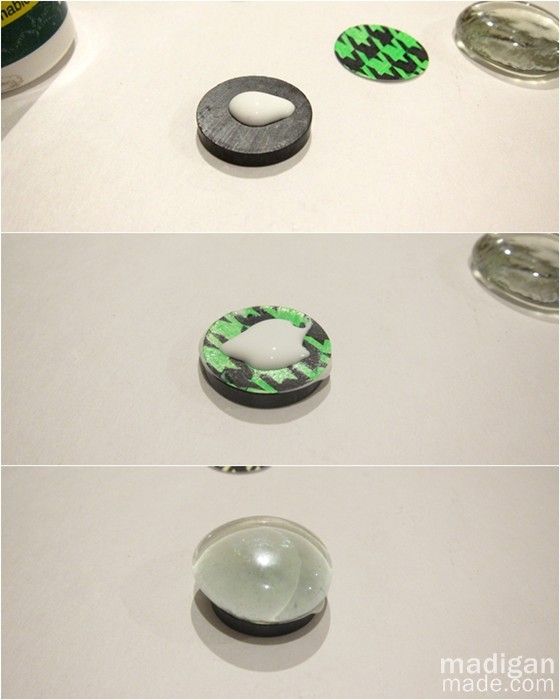 Then apply another small amount of glue on the paper and press the glass gem down evenly on top of that. You will see the glue squish under the glass. The glue will appear cloudy, but it will dry crystal clear after about 24 hours.
These easy magnets are a staple in my crafting repertoire. I love making them for little gifts… and it was fun making these neon versions! They are a simple and noncommittal way to add the neon trend into our home.
Want more paper crafts? Go check out the cute neon confetti decoupage notebooks from this morning.
And don't forget to come back tomorrow for more simple DIY neon craft ideas. I'm planning to share a couple of neon jewelry ideas!
I'm sharing this post with: Addicted 2 Decorating, House of Hepworths and C.R.A.F.T.
P.S. Remember that you can also follow the hash tag #craftinneon on Twitter so you don't miss any updates!
Thanks for reading Madigan Made!
Content Copyright:2010-14. Madigan Made.