Madigan made… a neon sewn garland sign.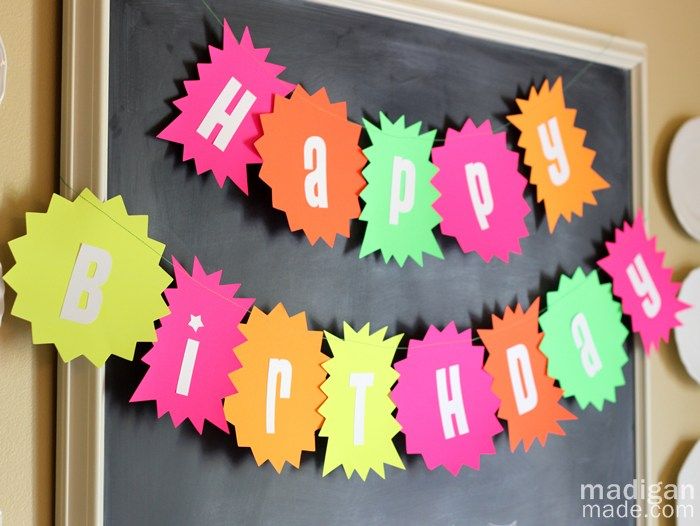 Tell me, are you tired of neon yet? I hope not! Crafting in Neon Week continues… and today is all about neon party crafts!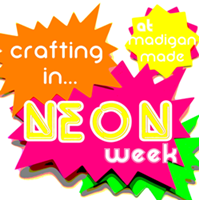 I know. I promised at the beginning of this week that the neon projects I would show you would be quiet and understated with pops of neon.
Well, they were…. up until today! But let me explain.
My hubby's birthday is in the summer and it lands around the Fourth of July. Whenever we have a party for him, it is inevitable that all of the decorations are red, white and blue. Every. single. year.
I wanted to do something different this year… and when I saw bright starburst cutouts at the dollar store, I smiled. I knew that neon colors would be bright, loud and fun for a party. And these cutouts were begging me to make them into a garland!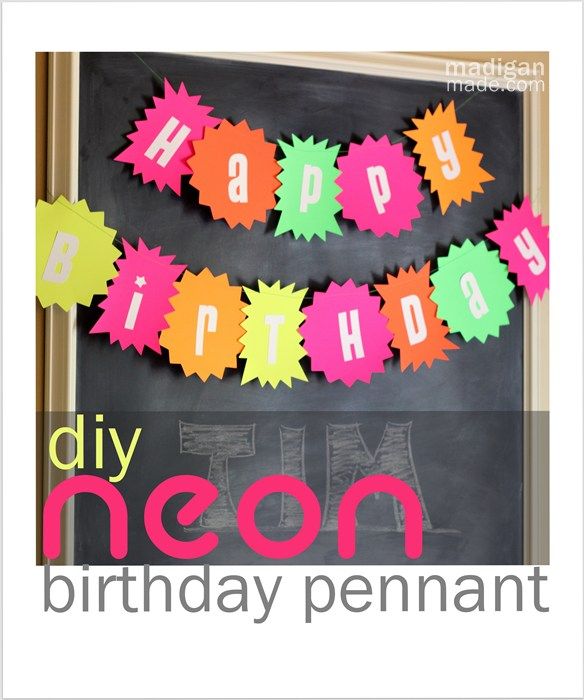 Instructions for making a DIY neon pennant:
Supplies/equipment needed:
White card stock
Neon starburst signs
Crafty cutting machine
Sewing machine
Sticker maker (alternatively, you could just use glue or scrapbook adhesive)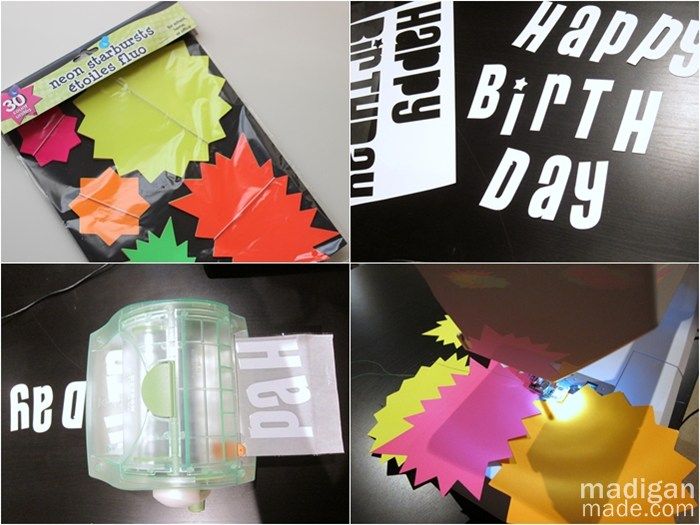 Step one:
Plan out your sign and figure out how many pieces you will need. Run the starburst cutouts through your sewing machine. I just used a straight stitch and sewed through the paper along the top edge of each piece. To create the spaces in between the cutouts, my machine allowed me to just sew the 'air', if that makes any sense. And then I just kept running more pieces into the machine. I left long lengths of thread at both ends to hang the sign.
Step two:
Cut out letters on white card stock using a crafty cutter machine. (If you don't have a cutting machine, you also could look for large alphabet stickers at your craft store.)
Step three:
Run the cut letters through a sticker making machine to apply adhesive to the backs (or you could use glue/adhesive to attach them, too).
Step four:
Attach each letter to appropriate starburst shape. Hang the sign with the thread at the ends of each length.
I love that this sign is so loud and bright! Who says a party needs to be understated, right?
I haven't changed my chalkboard quote since the beginning of June… so this garland and chalkboard sign is basically July 's monthly chalkboard décor.
I like that we can reuse the party sign in the future for other birthdays. All we have to do is change the name below on the chalkboard!
Under the chalkboard, we pushed our dining table against the wall to create a semi-buffet for the party. To decorate the table I used a big circle punch and made table scatter from neon sticky note paper.
What is going on that cake stand? Well, come back later today for more simple DIY neon ideas. I'm planning to show you! And it is neon!
I'm sharing this post with: Home Stories A2Z, House of Hepworths, Tidy Mom
P.S. Remember that you can also follow the hash tag #craftinneon on Twitter so you don't miss any updates!
Thanks for reading Madigan Made!
Content Copyright:2010-14. Madigan Made.