Madigan made…. a simple paper cake topper craft.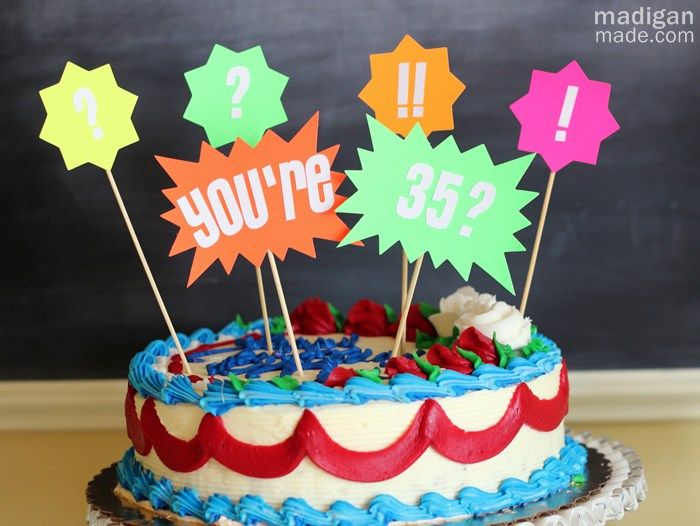 Crafting in Neon Week is almost over (oh no!)… and today we are crafting for a neon party!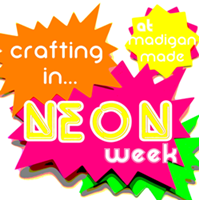 OK, I'm asking for y'all to use your imagination as you read this post.
Why? Well, let me explain.
You already saw the neon DIY garland that I made for my husband's birthday. And as I told you earlier…his birthday lands near the 4th of July. And every. single. year. I decorate for his birthday using red, white and blue.
Well, this year I wanted to break out of that mold and try something fun (a.k.a. neon!). But, I failed to tell my hubby of that plan when he ordered the cake. Enter the red, white and blue cake… Oops! Oh well…this stuff happens.
I thought about trying to Photoshop the cake to look white. But my photo editing skills are not up to ninja level yet… So, let's all pretend that the cake we ordered was a plain white cake that would look fabulous with a DIY neon cake topper. Got that? Mmkay.
Now that we got that straight, let me tell you about these easy DIY cake decorations that I made! I used more of those starburst neon cutouts that I found at the dollar store.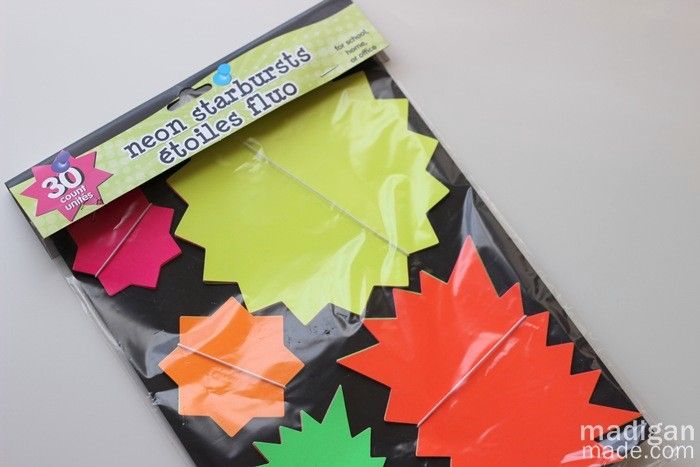 For one buck, that packet stretched far…. party garland, cake topper AND little neon notebooks. They were precut and perfect for some fun signs!
You could say anything on these little cake signs… but I couldn't resist a dig at this year's milestone for my hubby. (I should be careful, that number is approaching fast for me, too! 😀 )
Instructions to make a neon DIY cake topper:
Supplies/equipment needed:
Neon starburst cutouts
White cardstock
Bamboo skewers
Clear tape
Crafty cutting machine
Sticker making machine (or glue/adhesive)
Step one:
Cut out letters on the white card stock with a crafty cutting machine. (If you don't have one, see if you can find big alphabet stickers at the craft store.)
Step two:
Run the letters through a sticker making device to make them sticky. (Or you could use glue or adhesive tabs, too.)
Step three: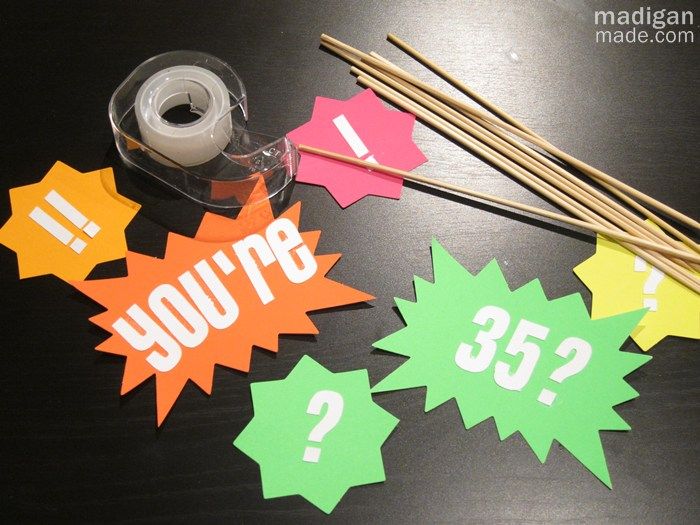 Attach the letters to the neon starburst signs. Then, attach the neon shapes to bamboo skewers (on the dull end) using clear tape on the back.
Step four:
When you have your (white?) cake, stick the skewers into the cake as desired.
Here's a shot of the party table with the neon garland above it so you can take in all the crazy, neon decor.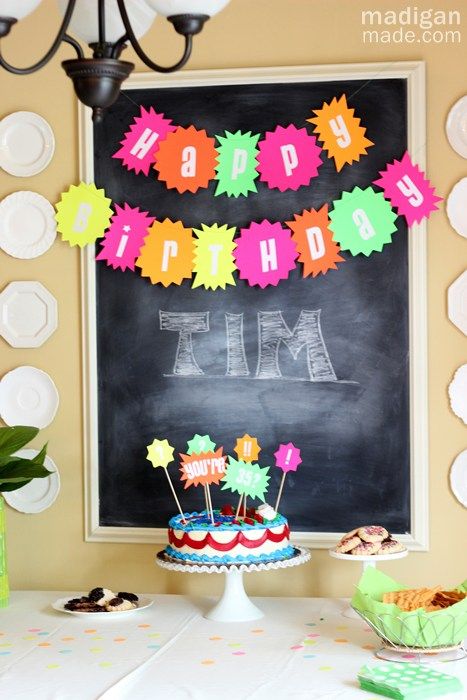 I forgot to take an up-close photo of them, but I used neon note paper and a circle shaped paper punch to make neon colored table scatter for the buffet area. We used bright green paper goods, too… and that was about it for the neon decorations. I'm not really into decorating much more than this…. this festive area of our kitchen was just enough to tell everyone that they were at a birthday party.
Well, this is the last craft tutorial I have to show you this week. BUT, don't forget to come back tomorrow for more simple DIY neon ideas. I'm planning to share YOUR neon craft ideas!
I'm sharing this post with: Tatertots and Jello, Today's Creative Blog, Positively Splendid
P.S. Remember that you can also follow the hash tag #craftinneon on Twitter so you don't miss any updates!
Thanks for reading Madigan Made!
Content Copyright:2010-14. Madigan Made.