Madigan made… neon and gray decoupaged notebooks.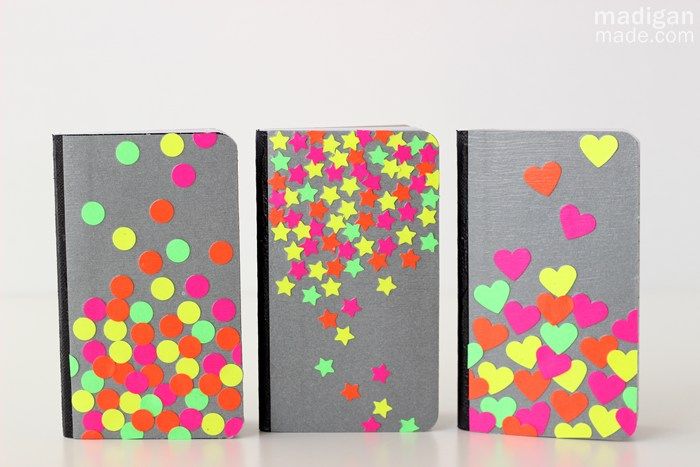 Crafting in Neon Week … have you heard of it?
No? Well, welcome! We are in the middle of a week's worth of fun, neon projects… and today we will be crafting with paper!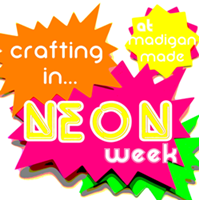 Neon is popular this summer… but if you are like me, you might be scared to wear neon. (I'm afraid, I admit it.)
Well, when you whip out one of these colorful notebooks to jot down a note… everyone will see that you know that neon is a hot trend.
Who wouldn't want one of these cuties to toss in their purse?
To make these little books, I used gray and neon paper and one of my favorite craft supplies, Mod Podge! (The latter shouldn't shock you. I'm an occasional contributor to Mod Podge Rocks, remember?)
I found neon starburst cutouts in the dollar store near the garage sale signs. I grabbed them as soon as I saw them. The paper had a nice, heavy weight and the neon colors were deep and saturated. They were perfect for this project.
How to make neon, decoupage notebooks:
Supplies needed:
Neon colored paper (I used pieces of neon signs, but you could also use neon sticky note paper, etc.)
Gray colored cardstock
Small craft punches
Mod Podge
Brush
Scissors or paper trimmer
Small notebooks
Step one:
Cut the gray cardstock to fit the cover of the notebook. I used a paper trimmer and a corner punch to make mine to fit snugly. Repeat the process to cover the fronts and backs of all the notebooks you plan to cover.
Step two:
Apply a thick layer of Mod Podge to the notebook cover. Place the cardstock down over top of it and smooth the paper out to avoid any bubbles. Repeat for all sides and allow to dry.
Step three:
Cut out a bunch of small shapes from the colored paper using your craft punches.
Step four:
Apply a thick layer of Mod Podge to the bottom 1/3 of the notebook. Randomly apply the shapes over the decoupage in that area. Don't worry about being precise… you can come back and add more shapes later. Apply more Mod Podge on the next 1/3 of the notebook and repeat the process. Continue to work up the notebook and apply the shapes as desired. You can go back and add more shapes to some areas that need it later (I did). Allow this side to dry thoroughly.
Step five:
Repeat Step four on the back of the notebook. It is a personal choice, but I purposely did NOT add many shapes here. Allow this side to dry.
Step six:
To seal everything, apply 1-2 more coats of Mod Podge on the fronts and back of notebooks, allowing the coats to dry in between.
These notebooks are fun, but hopefully not in-your-face-crazy-eighties-neon. What works about this craft is pairing the neon colors with a soft gray… and using repetitive shapes to keep the look uniform.
And hey, if they are a little bright, remember that it's just on a little notebook, not a t-shirt!
Don't forget to stop by later today for more simple DIY neon ideas. I have another paper craft to share!
I'm sharing this post with: Tatertots and Jello, Be Different, Act Normal and House of Hepworths
P.S. Remember that you can also follow the hash tag #craftinneon on Twitter so you don't miss any updates! And if you have a neon craft you'd like me to share on Friday, read this post and fill out the form by Wednesday.
Thanks for reading Madigan Made!
Content Copyright:2010-14. Madigan Made.