Madigan made… a glitter storage idea.
Glitter.
If you talk to any crafter, you will often find polarized opinions on the subject.
Some love glitter and can't get enough. Others hate it with a passion. I fall somewhere in the middle. I like glitter, but it is messy to work with and I prefer to use its glam sparingly.
Whatever your view is on this controversial craft supply, you've got to admit that it is pretty, right?
I was putting away some of my crafts this weekend and I realized that my glitter collection was growing beyond the current box I was storing them in. I wanted to put all of the sparkly supplies together. And I wanted to see the glitter bottles. Partly, so I can find what I'm looking for quickly…. but primarily to show off their sparkle.
So, I grabbed a clear glass vase and dropped the bottles in there. So easy. So pretty.
I put my glitter vase on the shelves in my ombre craft storage area. Now I can find my glitter…. and admire the shine!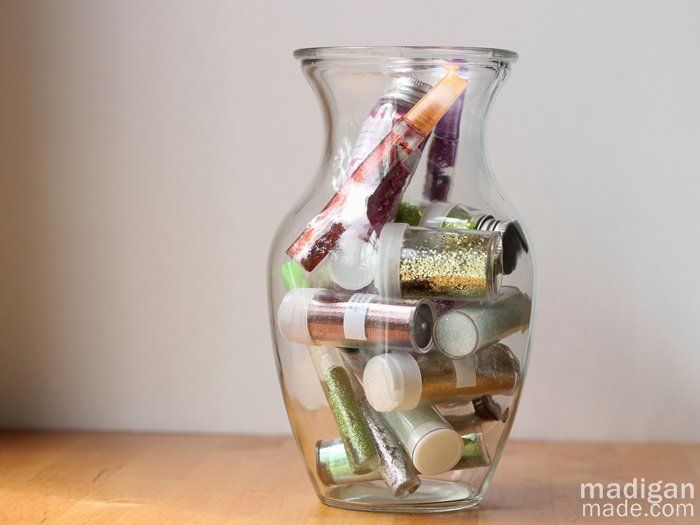 Loved or hated, glitter is not ignored. (I can't take credit for that phrase… I've seen it used on t-shirts as it pertains to sports teams or fraternities. But, I think it is applicable here, too!)
Are you in the love glitter or hate glitter camp? How do you store your glitter?
Thanks for reading Madigan Made!
Content Copyright:2010-14. Madigan Made.