This is a Sponsored post written by me on behalf of Astrobrights Papers by Neenah Paper for SocialSpark. All opinions are 100% mine.
Madigan made… a personalized pen project with AstroBrights paper.
Apparently, even though Neon Week is over… I'm still smitten with bright color. I had the opportunity to work with some fun, lively hues and I could not pass it up! Enter…AstroBrights papers!
AstroBrights paper is brightly colored paper stock that comes in a huge rainbow of bold shades. I love the deep and saturated hues of this paper. And y'all know me… I LOVE the fact they have some fun, neon shades, too! The paper is thick (but not too thick) and it stands up to everyday crafting.
Remember how I was complaining during Neon Week that there are very limited options for cute neon, patterned paper? I ended up using a highlighter and black and white craft paper to make my DIY neon magnets.
BUT now I figured out another way to make fun, neon printed paper…. Just print off your own pattern on bright, neon paper stock! The paper that AstroBrights sent me was the perfect way to do that.
I had these neon gel pens from the dollar store and I thought it would be fun to decorate them with patterned neon paper. This would be a great way to personalize your pens… and an easy back-to-school craft.
You could use neon gel pens or regular blue or black ink pens. Just make sure that the pen has a clear, plastic case and that it can be disassembled easily.
How to Personalize Your Office Supplies with Bright Paper:
Supplies needed:
Brightly colored AstroBrights paper
Your home printer & a fun image (see below)
Clear, plastic pens
Paper cutter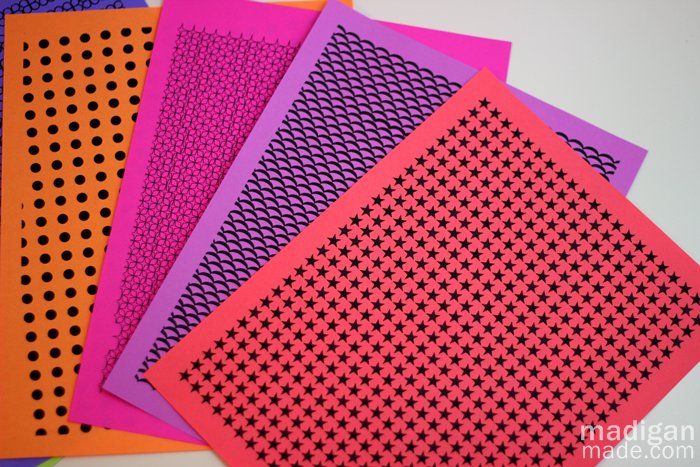 Step one: Print off a cute black and white image onto the colored paper. I created all of my patterns by drawing in PowerPoint. If you wanted to use one of the patterns I created, there are four free printable options below (geometric, stars, stripes and scallops).
Just hover over one of these images… right click and 'save image as' a photo. You should be able to print the image off as an 8" x 10" photo onto the colored paper. (*personal use only, please)
Step two: Cut strips out of the patterned paper to fit inside the length of the pens. For my pens, I figured out that I needed strips about 1 1/2"wide by 4 3/8" long.
Step three: Disassemble the pens. Roll and wrap the colored paper lengthwise around the ink tube in the center of the pen. Wrap the paper as tightly as you can and then insert it back into the plastic pen casing. The paper curl may unroll a little inside the pen, but that is OK. Just reassemble the pen and use!
Enjoy your fun and lively new writing instruments! There is no doubt that these pens will stand out among everyone else's school and office supplies!
There are bright ideas all around you. Put your art into it! Be sure to check out the AstroBrights Facebook page. If you 'like' their page and submit a short online form by Sept 10th, you will be entered into their "Give a Brighter Year" sweepstakes. They are giving $30,000 worth of school supplies to a local elementary school of your choice! On top of that, AstroBrights is running family-friendly "Make Something AstroBright" bi-weekly design challenges where you can win AstroBrights paper and other prizes. Check out AstroBrights Facebook page for more details and win at giving! And you can follow the hashtag #goastrobrights on Twitter for more colorful inspiration.
I'm sharing this post at: Tatertots and Jello, Tidy Mom, Mad in Crafts
Thanks for reading Madigan Made!
Content Copyright:2010-14. Madigan Made.