Madigan made… sailing-inspired wall décor.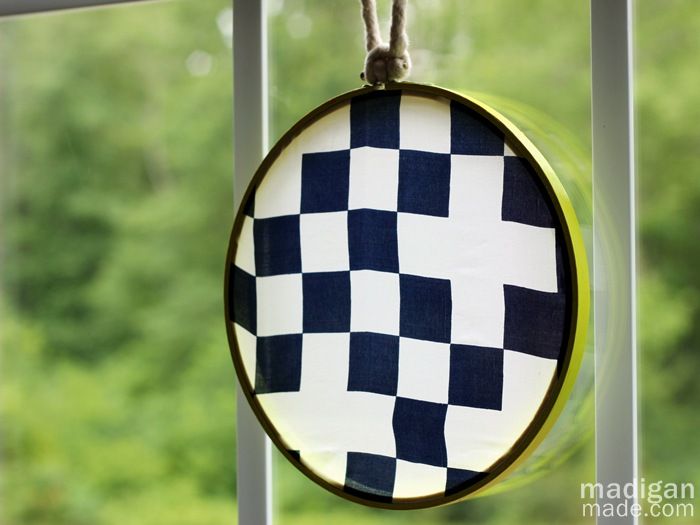 Crafting in Neon Week started out with some great projects… and today's tuts are all about crafting with paint!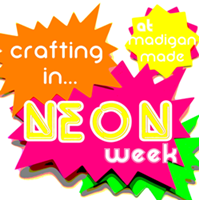 When I was planning for Neon Week, I bought a small bottle of neon yellow craft paint. I was not exactly sure what I was going to do with it, but I knew I could figure out something.
But as it turns out, neon yellow was not only hard to photograph but was also a hard color to find a complement. I knew that I wanted to pair the color with a neutral. But I was unsure what neutral color to use. I eventually decided on navy and white. My decision was solidified after I found this checkered, navy scarf in my vintage scarf stash. I knew I wanted to show off this fabric and an embroidery hoop was just the way to do it.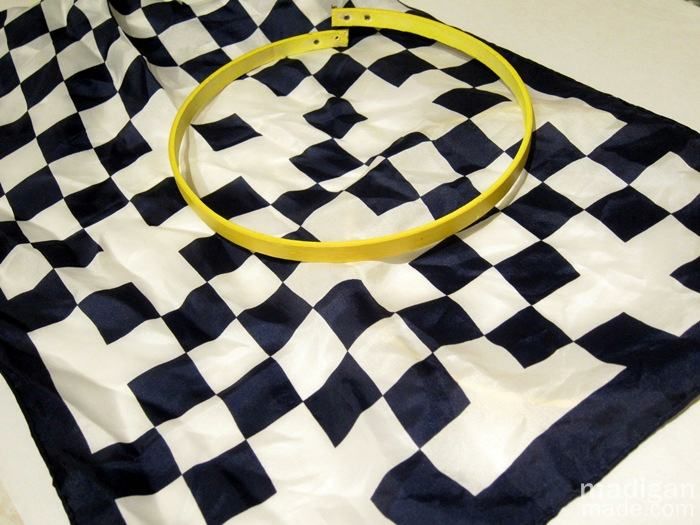 For me, the combo of neon yellow, navy and white evokes a nautical feel. When you mix those colors with bold graphics and some rope… it reminds me a little of maritime signal flags. That was the inspiration for this embroidery hoop art. Can you see it? (It also reminds me a bit of a car racing checkered flag… but I prefer the sailing reference instead! 😀 )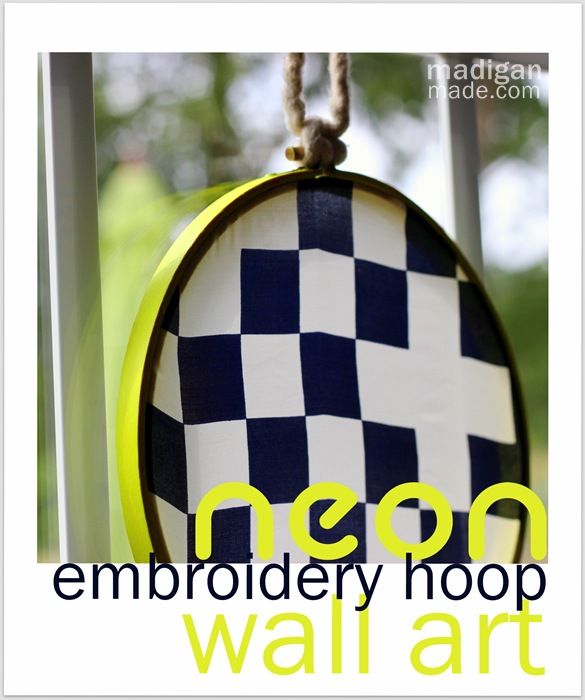 How I made my nautical-inspired embroidery hoop wall art:
First, I disassembled and painted the wooden embroidery hoops with several coats of neon craft paint.
After the paint dried, I inserted the fabric between the two hoops. I stretched the fabric over the small hoop and I slipped the larger hoop around it and tightened the fastening hardware. The fabric needed to be taut but I also did my best not to pull too much. (I did not want the delicate fabric to run or pull.)
Once the fabric was secure and the clasp tightened, I used scissors to trim the fabric around the edges as close as I could to the hoop. As needed, I also used a few pieces of clear tape to secure down any loose frayed areas that showed too much from the front.
I did not have any white rope, but I did have this soft, natural fiber cording that worked as a decent substitute. I looped the cording around the closure and tied it in a knot above the hardware. Then, the loose ends could be tied around something to hang it.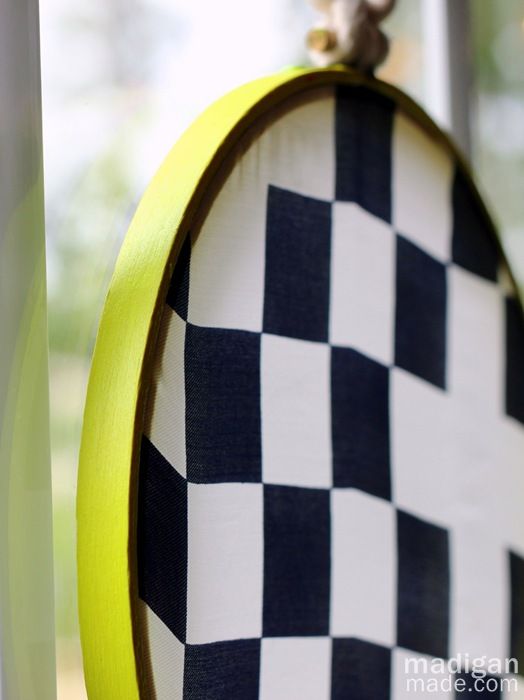 I love how the thin edge of neon yellow is 'just enough' to set off the navy and white. It is not 'in-your-face' neon. This is similar to the approach I used in the neon-edged trivet craft I shared this morning. Less is more when it comes to bright neon.
(And these photos do NOT really show how bright this neon color is… it is glowing!)
At first, I had planned to hang this art on our front door almost like a summertime wreath. But as I photographed this hoop in our kitchen window, I loved how the sheer scarf filtered the light. The fabric acted like a very large sun catcher. So, I think my nautical hoop art is staying here in the window for awhile!
Don't forget to come back tomorrow for more simple DIY neon ideas. I'm planning to share a couple of neon paper crafts!
I'm sharing this post with: Positively Splendid, Home Stories A2Z and Funky Junk Interiors
P.S. Remember that you can also follow the hash tag #craftinneon on Twitter so you don't miss any updates!
Thanks for reading Madigan Made!
Content Copyright:2010-14. Madigan Made.