Madigan made… a trivet craft from a tile and bright, green paint.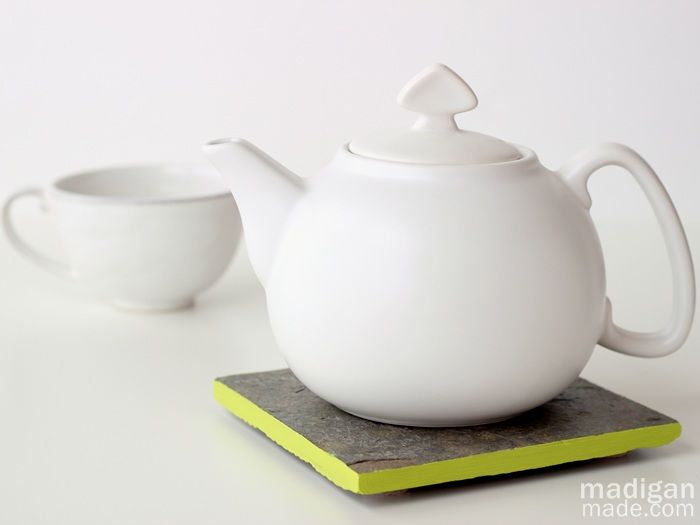 Happy Monday!!
It is Crafting in Neon Week and today is all about crafting with neon paint!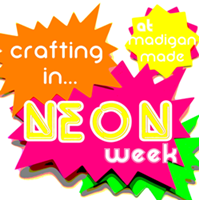 Let's face it… Neon colors are bright, bold and not always easy to use in your decor. But I think that they can be a fun accent in the home when paired with a neutral. I'm really digging gray and neon green together. The gray color helps temper all the brightness of the lime.
I've had this piece of slate tile in my craft stash for over a year now. I intended to make a trivet or cheese plate out of it. But like many of the things in my supplies, it went to the bottom of the pile! (I'm sure you have lots of unfinished projects or supplies, too.) So, I never got around to crafting anything with it. Then, when I was working on Neon Week projects, I looked at this tile with new eyes. The slate was such a pretty shade of gray.
I grabbed my lime green enamel craft paint (so the paint would be resistant to washing) and got busy! Aside from drying time, I created this craft in under 20 minutes!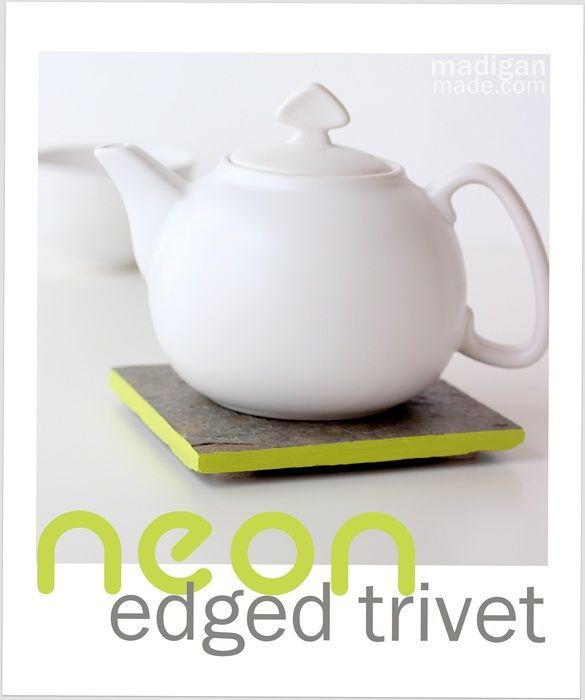 How to make a modern neon and stone trivet:
Supplies Needed:
6" x 6' in slate tile
Craft paint (enamel paint or other paint designed to paint on ceramic)
Brush
Masking tape
Furniture bumper pads
Step one:
Tape off the edges to protect them from paint.
Step two:
Paint a stripe of color along the four edges of the tile.
Step three:
Allow the paint to cure before using. If you are using an enamel based paint, you can bake it in the oven according to the manufacturer or allow the paint to air dry and cure as directed (about 28 days).
Step four:
Attach furniture bumpers to the bottom of the tile to protect your table surface.
The thin edge of neon green is just enough 'pop' of color on this piece. I love that you can still see the beautiful and natural texture of the slate, too.
These color-edged tile trivets would be an easy handmade gift idea. I also think that this concept could be cute for coasters in several neon colors.
So, grab some paint and whip up a few trendy, neon-edged gifts!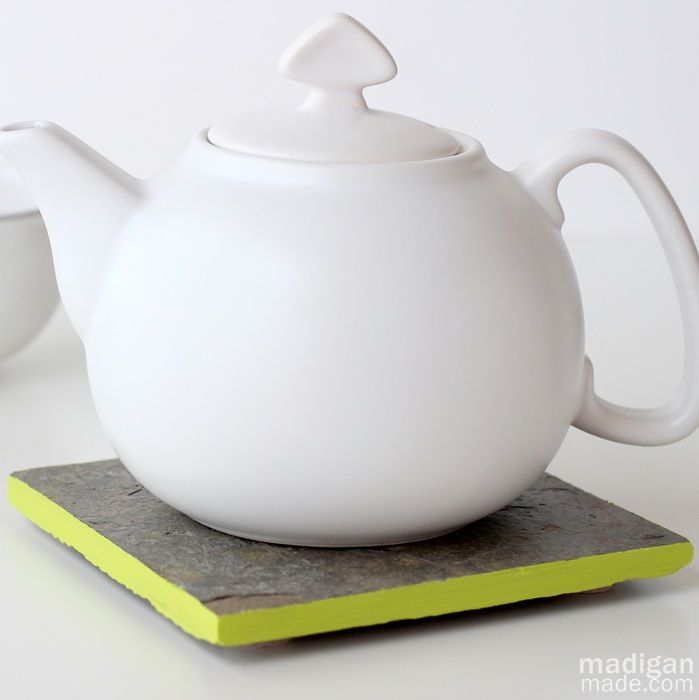 Don't forget to come back later today for another simple DIY neon idea. Did you see the dry wall tape crafts I made yesterday? If you missed them go check out the neon cards and neon vases I made with the tape.
I'm sharing this post with: Tidy Mom, Serenity Now, Homework
P.S. You can also follow the hash tag #craftinneon on Twitter so you don't miss any updates! And, remember that I want to show off YOUR Neon projects on Friday. (Read this post to find out how to share your post!)
Thanks for reading Madigan Made!
Content Copyright:2010-14. Madigan Made.