Madigan made…a fiber and decoupage bracelet craft.
Crafting in Neon Week continues… and today is all about crafting with raffia!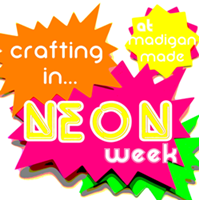 Do you have a bucket list of 'crafts to try'? I do. And I've always wanted to make a jute or yarn or fabric bowl with Mod Podge.
When I was working with this bright, yellow raffia on a jewelry craft, I wondered if I could use decoupage to make a container or something with the raffia. Why not make a matching bracelet to go with the necklace I was creating?
Did you see the easy wood and yellow raffia necklace that I shared this morning?
I don't know if I will wear the necklace and bracelet together… it is a lot of yellow and a lot of neon. But each one can stand alone as a cute, bright accessory for the summer.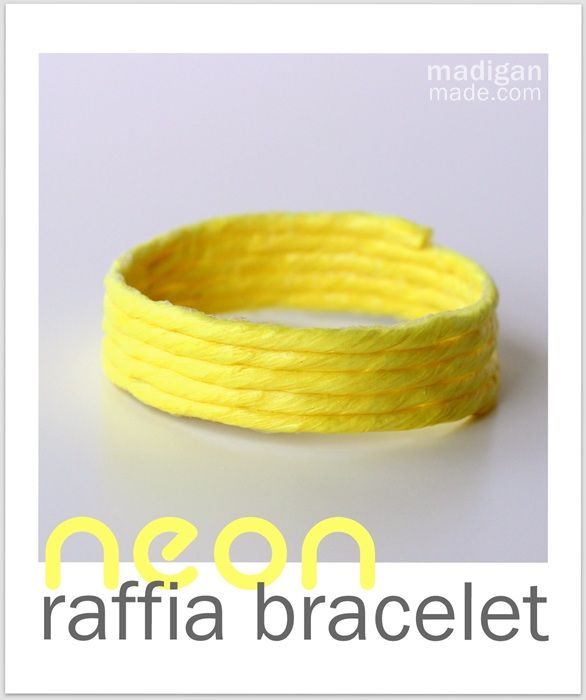 How to make a bracelet from raffia yarn and decoupage:
Step one:
Gather your supplies.
You will need raffia, Mod Podge, scissors, clear plastic wrap and a soda can. (or some other cylindrical container that is a diameter to fit over your wrist)
Step two:
Wrap your can with plastic wrap.
Step three:
This is the messy part! Brush a layer of decoupage around the can. Holding the can and raffia down with one hand, start to wind the raffia around the can and continue to coat the cord with more decoupage as you go. Add enough raffia around the can to make the bracelet your desired width and cut the raffia. Apply more decoupage to the snipped ends and press them against the bracelet so they stick.
Step four:
Add more decoupage all around the bracelet o ensure it is fully covered. Allow the Mod Podge to dry.
Step five:
Carefully remove the can from the plastic wrap. (This is where it is an advantage to use a soda can since you can crush it to help release it).
Step six:
Clean up the edges of the bracelet. You will see some uneven edges of dried glue. I used my scissors to trim back any rough areas.
I was surprised to see that the decoupage really held the coils of the raffia together. And being made of a fiber like raffia, the bracelet had some 'give' and easily slipped over my wrist.
This jewelry project was so easy and inexpensive… I hope to make more of these DIY bracelets soon! (I wonder if yarn would work?)
Don't forget to come back tomorrow for more simple DIY neon ideas. I'm planning to share a couple of neon party décor ideas!
I'm sharing this post with: Tidy Mom, Homework, Be Different, Act Normal
P.S. Remember that you can also follow the hash tag #craftinneon on Twitter so you don't miss any updates!
Thanks for reading Madigan Made!
Content Copyright:2010-14. Madigan Made.