Madigan made… cute, decoupaged clothespins.

I'm not sure if this is a burning question for you… but I've always wondered:
Can you dye clothespins?
And I've learned that, yes, you can!
I've wanted to try dying clothespins for awhile and I finally had a need for cute clothespins in our house. I am making a memo/inspiration board for my office/guest room and it needed clothespins.
I recently came across a post at Raising Oranges that showed how to dye clothespins with fabric dye. With that post and a desire to experiment… I decided to dye my own.

Remember the tie dye kit Tulip sent me that I used to create my tie dye fabric jewelry? Well, I had several packets of dye leftover and I figured if it can dye clothes, it can dye wood! There probably are other ways to dye wood, but this is how I did it. I picked out the orange dye color, since I knew it would match the patterned paper I planned to use later.

I took a bunch of clothespins and covered them with water in a shallow container. I mixed the dye packet in the water and allowed the pins to soak for several hours.


I used a piece of fabric (a t-shirt… more on that later) to help hold the wood pieces down in the water.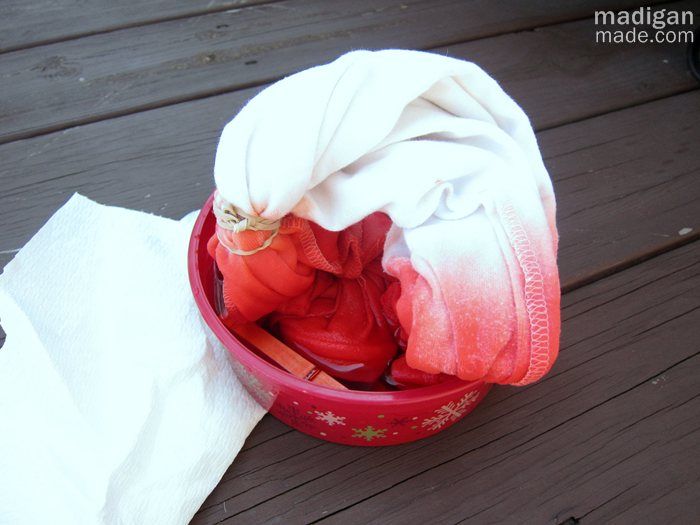 After the pins soaked and became a dark orange color, I pulled them out of the water and allowed them to air dry on a paper towel. I did not rinse the wood. The orange color did lighten as it dried.

Then I cut strips of my pretty, swirly paper and decoupaged them to the dried pins. I brushed a layer of Mod Podge on the wood sides and smoothed the paper down on top. I repeated that process for all of the 'side' areas on each pin.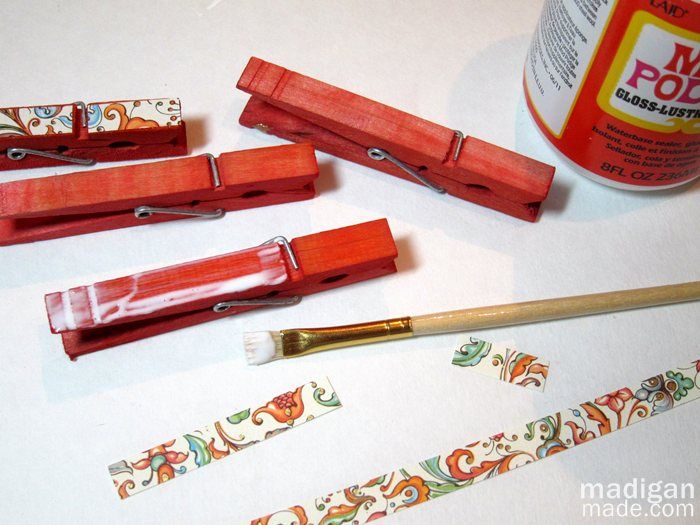 Once that layer dried, I added a coat of Mod Podge on top of all the paper to seal it.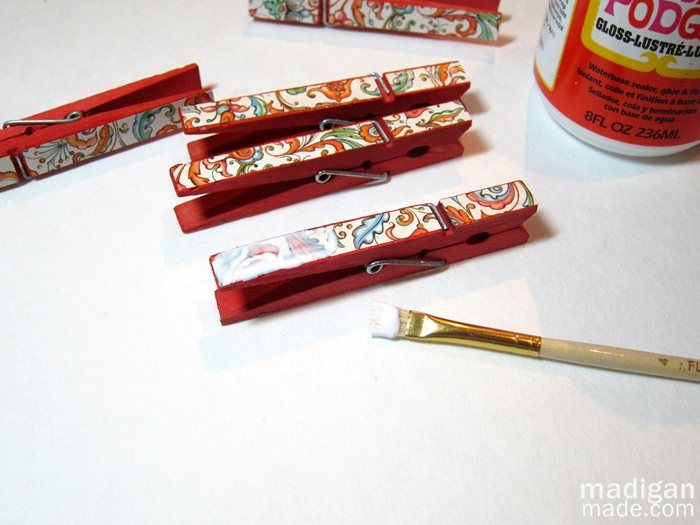 I'm so glad my experiment worked! This project was an easy and simple way to update my clothespins… Aside from the deep orange color of the wood, I love seeing the pieces of the patterned paper on each pin:

I'm not sure if you remember, but this paper is the key to the slightly unusual color scheme in my office. (The color scheme that found me: Orange, turquoise and green.)
I'll show you where I'm going to be using these cute pins very soon. The office is really starting to come together.
Aside from the memo board area, I was also in the process of hanging curtains this week. And if you follow me on Facebook or Instagram, then you know I spent yesterday afternoon with VIVIAN. I'll tell you more about her later… we have a few issues to 'iron out' this week! ;0)

I'll be sharing this post at: Tatertots and Jello, Addicted 2 Decorating
Thanks for reading Madigan Made!
Content Copyright:2010-14. Madigan Made.