Madigan made… a tutorial for a Halloween candy bowl craft.
I can't wait for autumn and I've had fall projects on the brain lately… so, when DecoArt sent me a BIG box of their glass paints, I knew that I wanted to get started on a Halloween project.
Did you hear the story yesterday about my recent encounter with a little spider that lived in a wreath on our front door (that I aptly named Charlotte)? If you didn't hear that tale, you might want to go back to read how that experience helped me work on my severe arachnophobia. I would never dream of decorating with spiderwebs for Halloween… but that spider event gave me a new appreciation for the beauty of webs.
I've recently come to the conclusion that spider webs are delicate, geometric and translucent… and beautiful! When I saw the huge paint selection, I knew that a frosted glass paint would be able to mimic the look of webbing on glass. So, I decided to decorate a low, shallow vase with webs to make a Halloween candy bowl.
DecoArt has a ton of new glass paints in their collection: (Want to see me opening up the supply box for the first time? Check out my haul video…. my first ever vlog!)
Look at all the paint options: 3D glass writers, glass stain, transparent paint, opaque paint, glitter paint, and frosted paint. Plus stencils and painting tools!
When I saw that some of the frosted paints could be piped onto glass for a 3D effect (like puffy paint)… I knew I found the perfect paint to draw spider webs!
Instructions to make a painted spider web vase:
Supplied needed:
Glass vase or bowl (mine is is an old vase I got from IKEA)
DecoArt 3D Frost Gloss Enamel Writer, white
Rubbing alcohol
Cotton tipped swabs / rag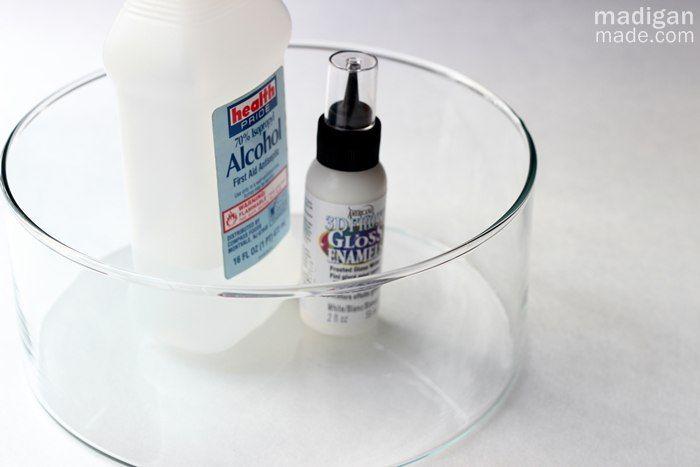 Step 1: Clean glass.
Clean your glassware thoroughly. I ran mine through the dishwasher AND then cleaned the surface with some alcohol.
Step 2: Draw your spiderwebs.
Use your 3D glass writer to carefully draw webs around the vase. Follow these images for tips:
I found that the best way to draw spider webs was to first draw lines from a center point, like the spokes of a wheel. Then, starting near the center of the spokes, draw a line of scallops that connect each spoke. Repeat with another scalloped line a little further out from the center. Continue to work outward, creating concentric, scalloped lines to make your 'web' bigger.
It is OK if the lines are not perfectly straight or even. The paint will dry translucent and the imperfections give the web more of an organic look. (… that's my excuse and I'm sticking to it!)
I drew half of a web, spreading from the top edge of the vase. Then I used one of the lines of that web, and extended that line diagonally. Now, I had a point at the bottom of the vase where I could start another half-web.
I followed this process and worked my way around the vase, alternating the half-circles from the top of the vase to the bottom. I connected the last web with some 'strings' of web to the first one I drew. I was able to (very) carefully draw these webs by spinning the vase around. But if you are nervous about wrecking the webs you already drew, I would advise covering half the vase with webs and allow it to dry. Then, come back to it in several hours or the next day to finish the other side.
Step 3: Clean up your edges.
As you work, have a rag or napkin handy to wipe the tip of the paint bottle clean. It will help keep the lines you draw neat and hopefully even. But, if your line does stray or if you get a spot of paint where you don't want it, don't worry. I just dipped cotton swabs or a rag in rubbing alcohol and the paint wiped up easily.
Step 4: Dry the paint.
Allow the paint to dry and cure for 4 days.
Yep. 4 days. It was hard for me to wait!
Step 5: Bake glassware.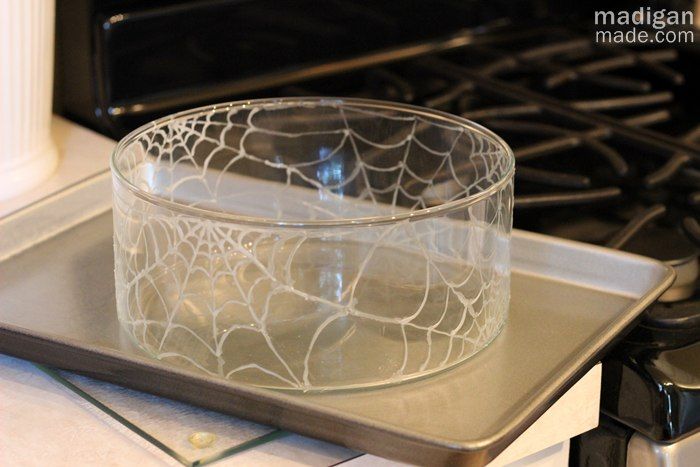 After the paint cures, bake the dish for 30 minutes at 325 degrees in a non-preheated oven. Cool with oven door open. This step is optional, but recommended if you want to place your glassware in the dishwasher or if there is a chance the dish will come in contact with water/food. (Keep in mind that it is advised to paint areas of dishes that will not come in contact with food to begin with.)
Fill your bowl with candy and try and keep the ghouls out until Halloween!
Here's what the vase looks like with and without candy. I personally think it looks better with chocolate in it, don't you? (And if you follow me on Facebook or Instagram, you know that this candy is dark chocolate, my personal favorite!)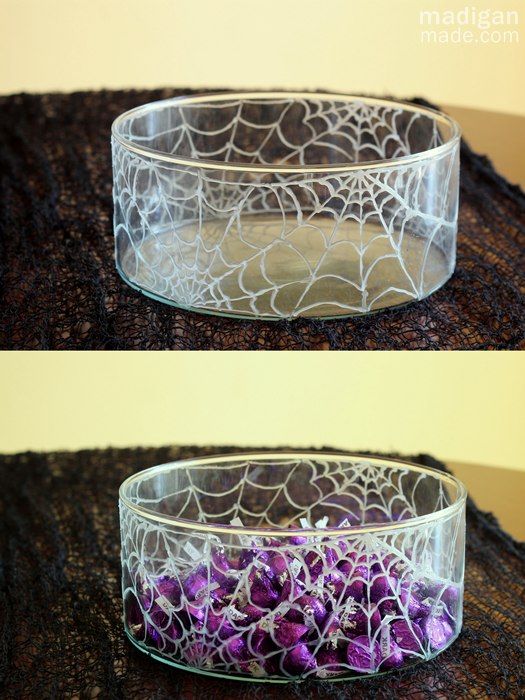 I love how the three dimensional frosted glass paint makes the vase look like it is covered in a translucent web. And while I'm not sure I will ever fully get over my fear of spiders, I think that I can appreciate the beauty of their homes with this piece!
You can find frosted 3D paint from DecoArt at Michaels Craft Stores, along with a huge selection of other colors and other types of glass paint. If you wanted to find more inspiration for painting glassware, be sure to check out DecoArt's glass painting site and follow the hashtag #decoartglass on Twitter!
I'm sharing this post at: Tatertots and Jello, Today's Creative Blog
Note: I wrote this post as a part of a paid campaign with DecoArt. All opinions in this post are my own.
Thanks for reading Madigan Made!
Content Copyright:2010-14. Madigan Made.