Madigan made… an inspiration board with open frames.

Do you check out people's trash? Am I the only one?
I've been known to pick up a few things from the curb while walking the dog. And I often check out the 'donation pile' at my mom's house when we visit. (You know, that big pile of stuff in the middle of my parent's garage that she hopes to sell at the next garage sale, give away or donate? We all have one!)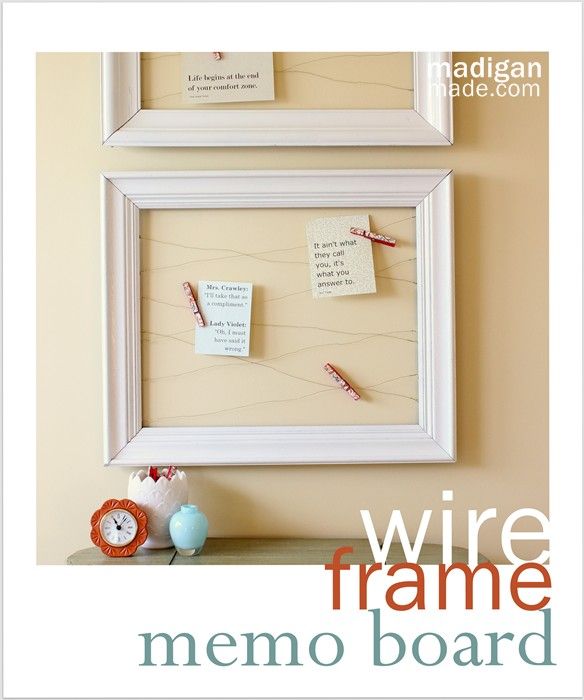 This past winter when I was visiting, I noticed that my mom had these open frames sitting in her garage near the trash/donation area. A relative gave them to her for my brother to use for a wedding photo booth. My brother did not use them and the frames were just sitting there, looking lonesome. They were calling my name, and my mom knew it when she saw me eying them up. "You can have them!" she laughed.


So, these two frames came home with me and they sat in my basement for awhile. I was not sure what to do with them at first. The frames were not exactly the same, but their size was similar. As I was planning my office/guest room update, I decided I wanted a large area to show off things that inspire me. And then I knew that these frames would make a great memo area with some wire. So, I cleaned them up and gave them a coat of glossy, white spray paint.
Then, I took gold thumbtacks and 24 gauge gold craft wire. Using a small hammer, I lightly tapped the tacks at an angle into the back of the frame. I wrapped and strung wire around the tacks and across the frames horizontally in random, diagonal directions.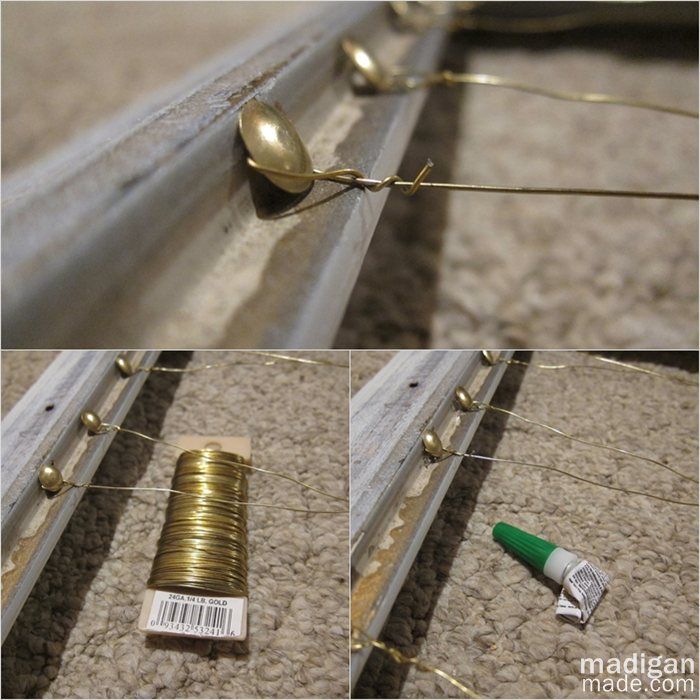 I wrapped the wire around each tack AND used a strong adhesive under each tack to keep them in place (some of them started to pop out).
I attached sawtooth, metal picture hanging hooks to the top edge of each frame. I used them to hang each frame on the wall.

And then, if you remember, I made orange dyed and decoupaged clothespins. These work perfectly to hold notes on the wires.

I hope to fill the memo board with things that might inspire me… pretty fabric or ribbon, a cute card, or inspiring words. To get me started, I just printed off some quotes I love onto cardstock and pinned them to the boards. (I couldn't resist adding my favorite quotes from Mad Men and Downton Abbey!)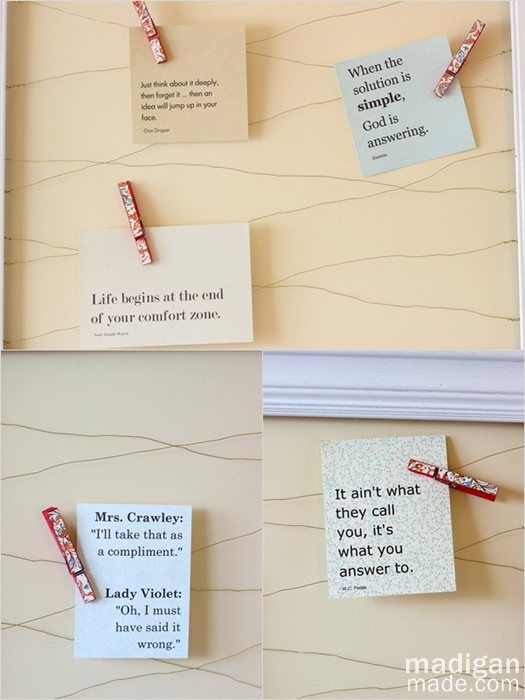 My great-grandmother's Martha Washington sewing table sits below the memo boards and will be great for storage. I love the distressed, lime wash on the piece.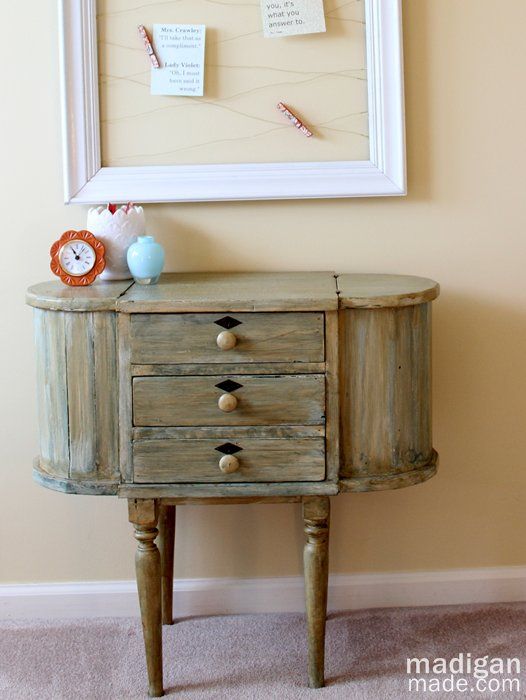 I placed a few thrifted glass and ceramic accessories on top of the table. The porcelain artichoke vase is a great vessel to store extra clothespins. The two other pieces are just old glass finds (a clock and a vase) that I spray painted.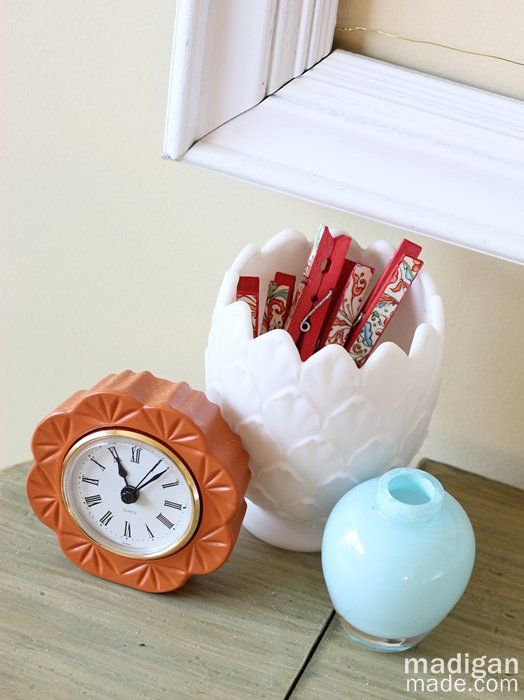 And if you wanted to know why I painted those pieces orange and blue, you might want to check out the post about how this room's orange, blue and green color scheme 'found' me.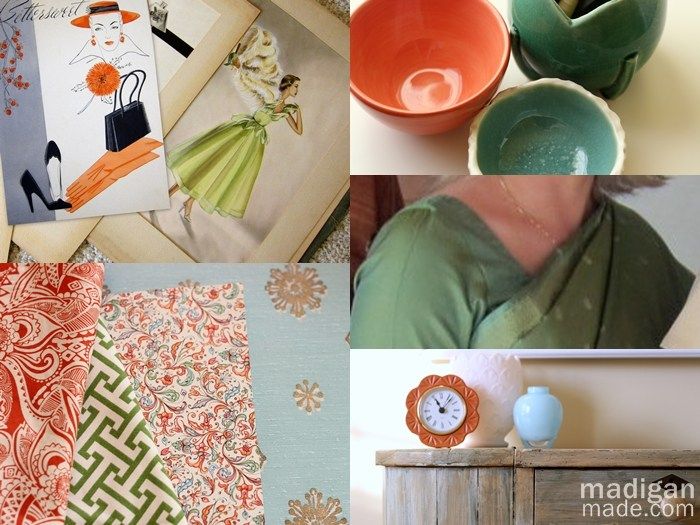 I'm so glad I poked around my parents garage last winter and I can't wait to fill this board up with more inspiration!

Sharing this post with: Addicted 2 Decorating, Today's Creative Blog, Thrifty Décor Chick and Funky Junk Interiors
Thanks for reading Madigan Made!
Content Copyright:2010-14. Madigan Made.