Madigan made… a modern fall décor idea.
What reminds you of fall? Is it the traditional pumpkins, leaves and other harvest symbols?
Or, like me, are you also seasonally inspired by textures, scents and color?
Velvets. Knit scarves. Wood grain. Metallics. Wool. Scented candles. These all remind me of fall and the upcoming holidays.
Last year I told you how I loved warm metallics in the fall. I still love golden colors in autumn, but I'm in a 'metal mixing' mood lately. I'm also crushing on wood grain and faux bois projects as the weather starts to get cooler. I combined those two ideas for my new, simple table centerpiece for fall.
I've had this light, wood grain contact paper from the dollar store for a few months and I was waiting to be inspired to make something with it.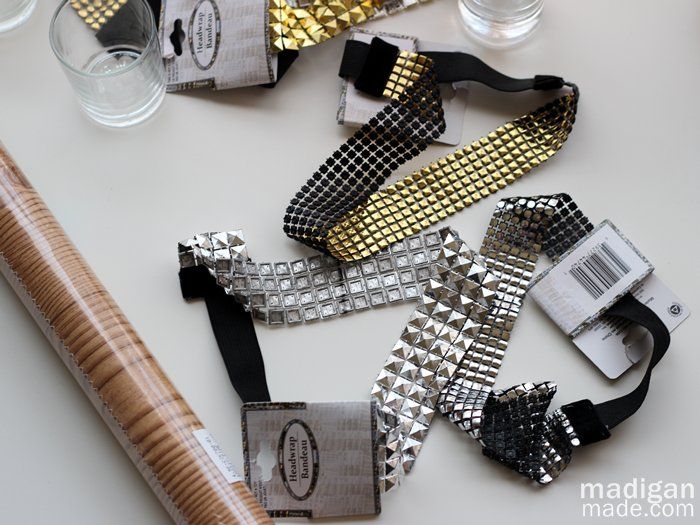 Then I recently saw these metallic headbands at the dollar store. (You already saw them if you follow me on Instagram or Facebook) They look like rows of metal studs, right? I thought they would look pretty combined with wood grain.
So, I grabbed a bunch of headbands and a few cylindrical glass vases at the dollar store. I knew these containers could make a pretty candle display for our kitchen table when combined with a few other vases that I already had at home.
Making this faux bois fall centerpiece was pretty simple:
First, I used a paper cutter and cut strips of the adhesive wood grain paper to the desired size for each vase.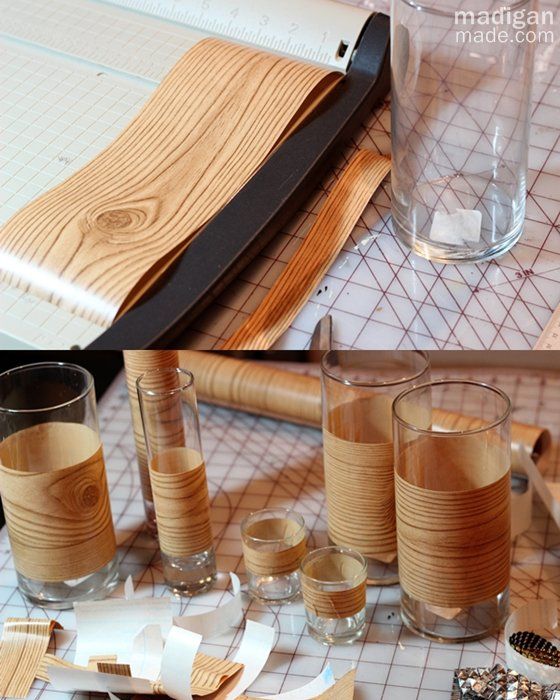 Then, I peeled off the back and carefully wrapped the contact paper around each vase. The adhesive is repositionable, which helps since it took a few tries to get the strips to line up evenly.
I trimmed down the studded headbands to fit around each vase. Then, I turned on my glue glue. I attached the metallic strip around the vase by securing the ends of them with hot glue.
I added some white pillar candles to the vases and now I have a simple and easy fall centerpiece. In a group, the faux bois vases have a ton of impact on our kitchen table and a big, white platter.
I'm loving the contrast of the hard metallic colors/shapes with the organic image of wood grain.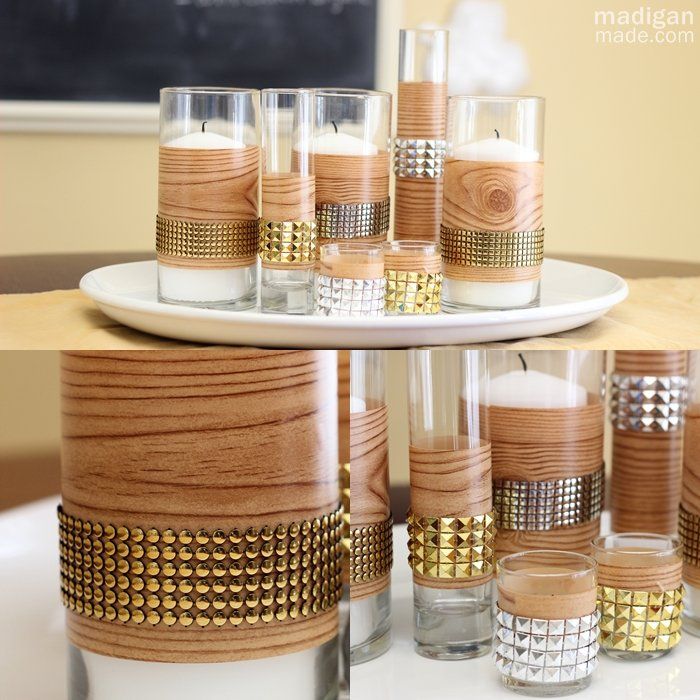 Cost/Source list:
White platter: $12, Target
Five metallic studded headbands: $5, Dollar Tree
Wood grain contact paper: $1, Dollar Tree
Glass vases: $4+, Dollar Tree and on hand
White candles: $4-6+
Hot glue and paper trimmer: on hand
You may have noticed that I also changed out the chalkboard quote in the kitchen. (If you are new to this blog, I change the chalkboard quote almost every month and for the seasons.)
"Autumn… the year's last, loveliest smile." -William Cullen Bryant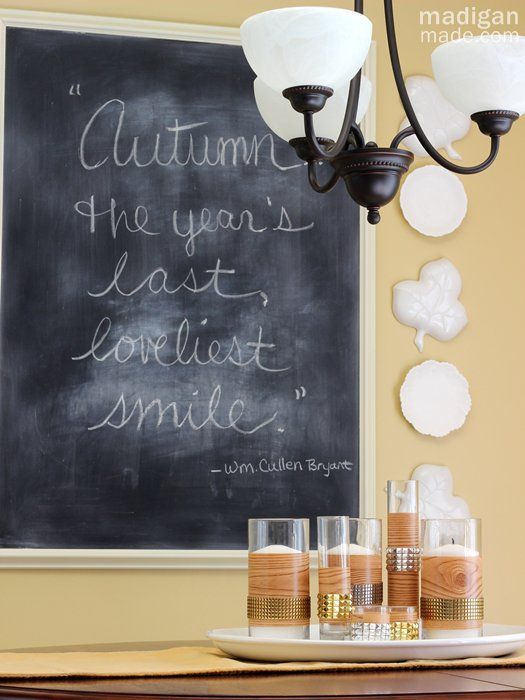 And a gold, velvet table runner under the white platter warms up the space and add just a little more seasonal color and texture.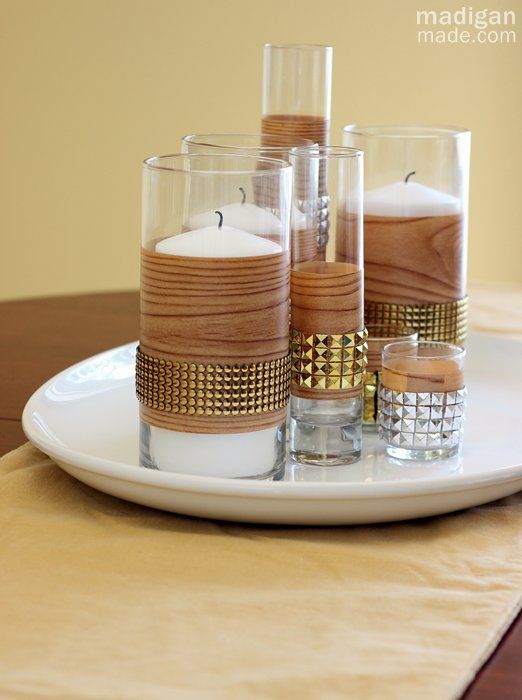 I changed out the plain white plates next to the chalkboard and hung the painted white leaf plates I made last fall. All of the white accents (the candles, the plates) helps to keep the look of this area clean and fresh.
But the beauty of this project is that it was inexpensive… and temporary! When I grow tired of the wood grain or when I want to make a bracelet out of the studded ribbon (Yes, that thought crossed my mind already!) I can just remove the contact paper and I will have plain glass vases again!
This modern centerpiece does not scream 'fall', but it is a small seasonal change. The textures signal (to me) that the weather is changing. I think that this centerpiece will be pretty through the fall into the winter, too.
What textures and images remind you of autumn? Are you making changes around your home to welcome in the cooler temperatures?
Thanks for reading Madigan Made!
Content Copyright:2010-14. Madigan Made.