Madigan made… a simple, googly-eyed craft for Halloween treats.
Do you ever get the feeling that somebody's watching you?
You should if you decide to make these easy treat bags for Halloween! Haha!
I made these candy gift bags last fall for some coworkers. I thought you might be interested in making them to package up your Halloween goodies this year.
I forgot to take photos as I made the packets, but I will say that they were very simple to make.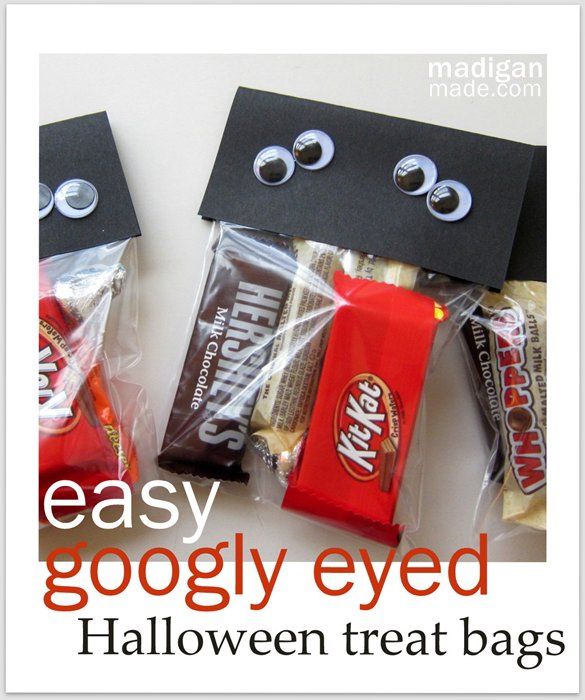 Follow these steps to make your own Halloween goodie bags:
Supplies:
Black paper

Paper trimmer or scissors

Googly eyes

White craft glue

Stapler

Clear bags

Candy
Directions:
Cut out panels of black paper that are just a smidge wider than your clear bags and at least 3-4 inches wide along the other side. Fold the paper in half so it will fit over the top of the bags.

Fill your bags with your candy of choice. (I highly recommend something with chocolate or coconut. Just sayin.)

Fold your black panel of paper over the top of the bag and secure with two staples. I encourage you to angle the staples a little. This is where the eyes will go and you don't want the placement to look too perfect.

Glue the googly eyes down over top of the staples to cover the metal showing on the front of the bag. Allow the glue to dry and hand out your fun treat bags!
Simple and easy! Just get over that feeling that you are being watched by handing these cute treat bags out to your friends!
Thanks for reading Madigan Made!
Content Copyright:2010-14. Madigan Made.