Madigan made… DIY photo frames on wood and slate.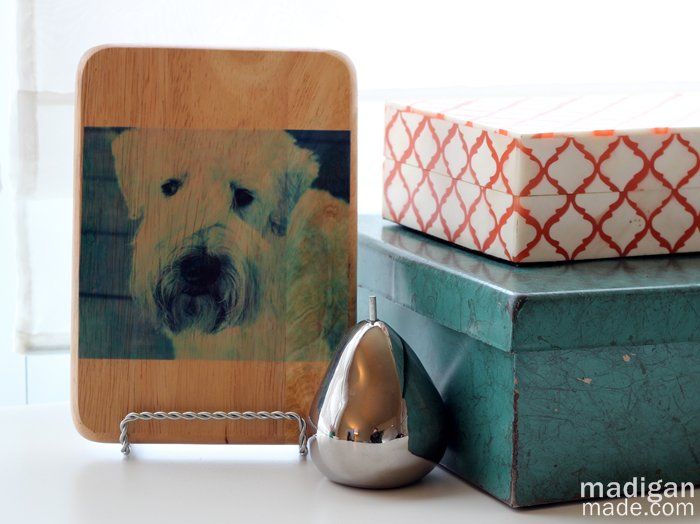 I told you Monday that I was crushing on wood grain lately. I wasn't kidding.
So, when I heard about this new product that allowed you to put your photos onto any surface, I immediately knew I wanted to make something using wood! Scrapbooking Attitude is a printable film that lets your photos look like they are adhered to a textured medium… fabric, embossed paper, etc. I was sent a package of the film and decided to make a photo frame of our puppy for my desk.
I thought about using a small scrap of lumber for this project but then I found a small, wood cutting board at a thrift store for about two dollars. It was the perfect size for a small photo and I liked that it already had a finished surface and rounded edges.
Adding the printable film to the wood was pretty simple. You can use heat (i.e. an iron) or a glue stick to secure it to surfaces. I found that the glue stick was the easiest method to adhere down the film and that's what I'll show you today.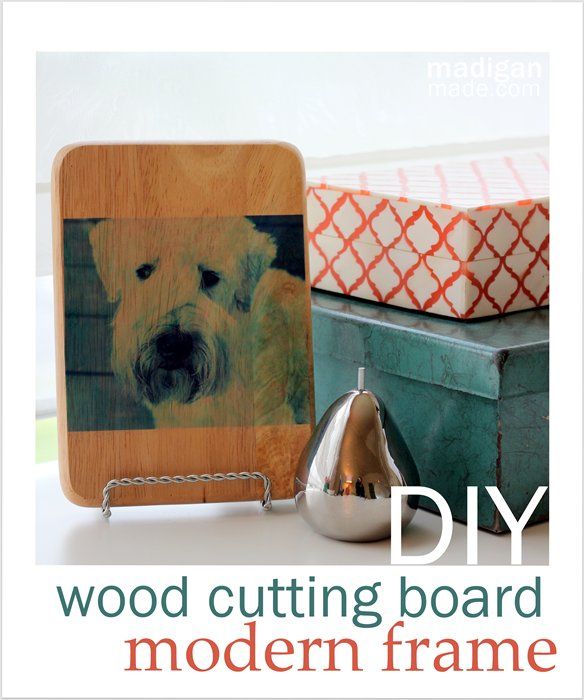 Make a Modern, Wood Mounted Photo Using Scrapbooking Attitude
Supplies used:
Small wood cutting board (or a piece of tile)

Display easels

Ink jet printer

Glue stick
Step 1: Select and edit your photo.
I used this recent photo of the crazy cute fur ball. (TIP: Keep in mind that you will end up with a mirror image when the film is attached to your surface.) I edited my photo in Picasa to increase the contrast and saturation of the colors. I planned to make a couple of frames, so I made one black and white. I initially wanted to use a sepia toned photo on the wood block, but you will see that I decided to print off a turquoise toned photo of my pup instead. I like the contrast of the blue with the wood tones.
Step 2: Open up the film and examine it to find the 'printable' glossy side. Print your photo onto the film, loading one sheet at a time. Be careful not to touch the printed image until the ink thoroughly dries.
Step 3: Trim the photo on the film down to the desired size with scissors or a paper cutter. This film is easy to cut and you can even use paper punches if you wanted for your project.
Step 4: Use a glue stick and spread a thin layer of glue over the area where you want your photo. Peel off the protective sheet and place your film over the glue. I will caution you to take your time when you lay the film down onto the glue. The film stretches easily and you want to ensure that the picture is secured down straight and evenly. Start at one end and smooth out any bubbles as you go.
Allow the glue to dry and you will have a fun photo on a wood plaque that looks cute leaned in a display easel!
I repeated the process with the black and white photo and slate tile.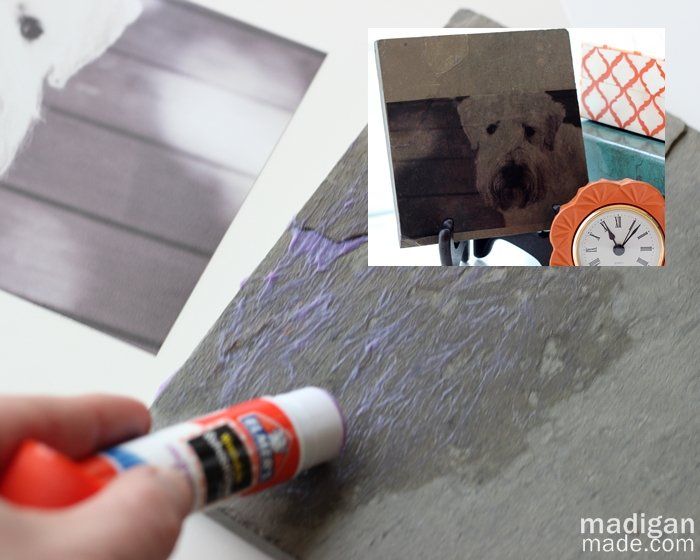 One puppy photo for home and one for work, I think!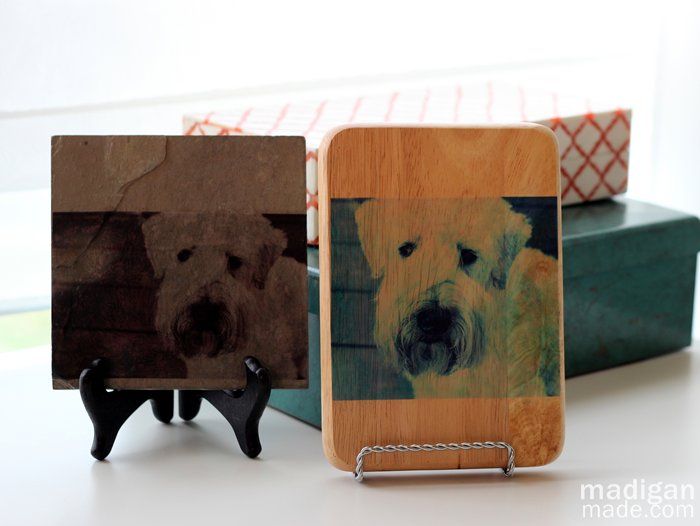 The photos look kind of like a thin, iron-on transfer and it is melded right over the rough surfaces. The effect is very cool. I love how you can see the wood grain and tile texture through parts of the photo.
I'm not sure which 'frame' I prefer more… but I'm leaning towards the wood one.
But with that cute face… it is hard to decide!
Want to make your own wood plaque photo display? You can purchase Scrapbooking Attitude packs directly from their website or at craft retailers. Be sure to follow them on Facebook, Twitter and YouTube for more tips and project inspiration!
Note: I wrote this post as a part of a paid campaign with Scrapbooking Attitude and The Blueprint Social. All opinions in this post are my own.
Thanks for reading Madigan Made!
Content Copyright:2010-14. Madigan Made.