Madigan made… a simple way to save autumn leaves for décor.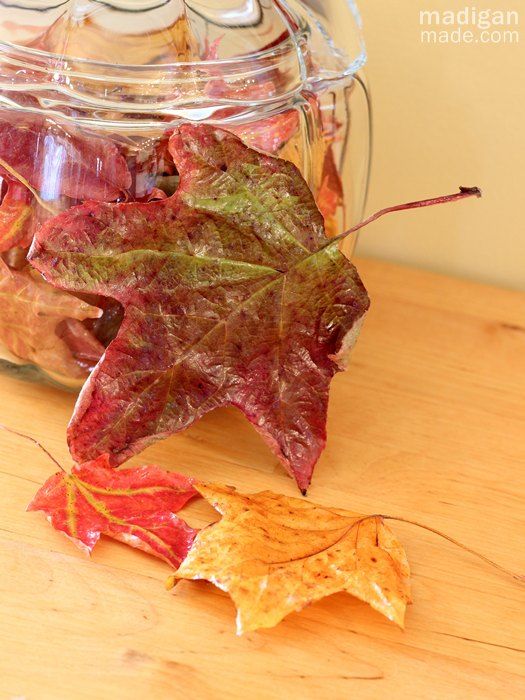 Fall. This is without a doubt my favorite season.
This time of year I love the cooler temperatures. I crave hot cider and pumpkin spiced anything. I can't wait to put on my scarves and boots. And I cannot get enough of the changing seasonal colors.
The other weekend I was out walking our dog. It was a gorgeous fall day and I took the opportunity to gather some free and colorful craft supplies. (That's beautiful fall leaves to all you non-crafty types.)
I wanted to preserve the pretty leaves for some kind of fall decoration. I knew you could use wax paper or glycerin to keep leaves fresh. But I wondered if you could use decoupage to preserve leaves. Decoupage is one of my go-to craft supplies (I'm a contributor to Mod Podge Rocks, remember?). I thought it was worth the experiment.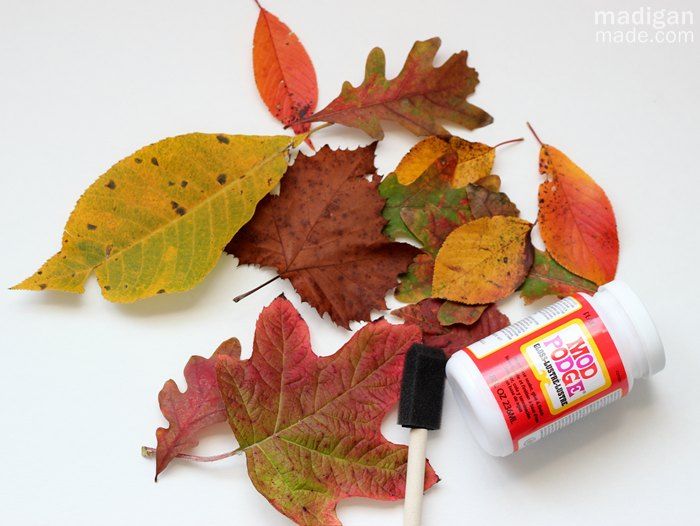 I grabbed some glossy Mod Podge and a foam brush and got busy!
And you know what? It worked!
I brushed a liberal coating of decoupage on one side of each leaf. After that dried, I flipped the leaves over and coated the other sides.  (Note: It is important to apply the decoupage the day you gather the leaves, otherwise they will start to dry out and brown.)
When everything was dry, I had a nice little pile of shiny and glossy leaves!
I sealed my leaves with decoupage over 2 weeks ago and the colors are still as vibrant today as the day I preserved them. We'll see if they keep till next year, but I do think they will keep through this season.
I was unsure where to display the leaves at first. I thought about stringing them on a wire for a pretty window hanging. But at the end of the day, I just grabbed a clear vase (in a pumpkin shape!)  and filled it with the leaves.
I love the glossy sheen that the Mod Podge gives each leaf. Together in a large vase, all of the colors and shapes remind me of a hillside filled with autumnal shades.
This décor idea for fall is simple and practically free. It is a great way to preserve a little piece of my favorite season!
Ready to make your own vase of preserved leaves?
Don't forget a supply!    (these are affiliate links, please see my disclosure statement for details.)
Thanks for reading Madigan Made!
Content Copyright:2010-14. Madigan Made.