Madigan made… a Halloween chalkboard quote and skull décor.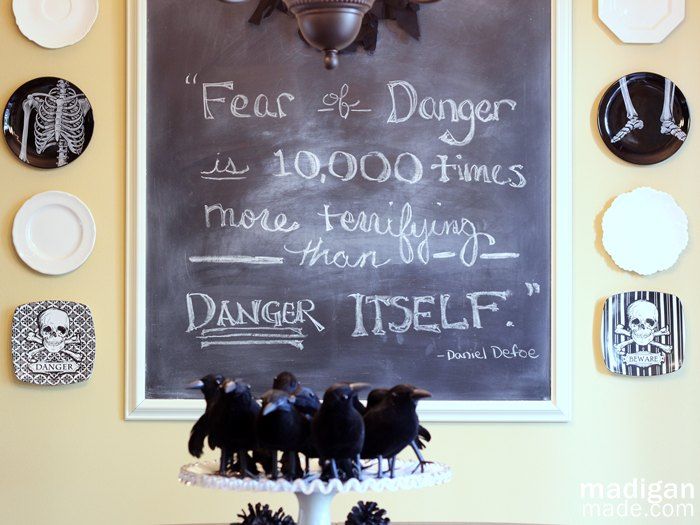 Last week I gave you a little tour of most of my simple fall décor.
But I forgot to show you my kitchen chalkboard and dining table decorations. If you are new to this blog, you should know that I change my kitchen chalkboard quote every month and usually decorate the area for the season. If you missed it, you might want to go back and check out the spooky vintage décor from 2010 and the blackbird invasion in 2011.
This October I decided to keep the look simple in black and white.
The dollar store blackbirds I used last year on the chandelier now crowd a milkglass cake stand on the table. (I think they are waiting to snatch our food while we eat.)
A few black pinecones, a white tray and some black netting make the centerpiece spooky.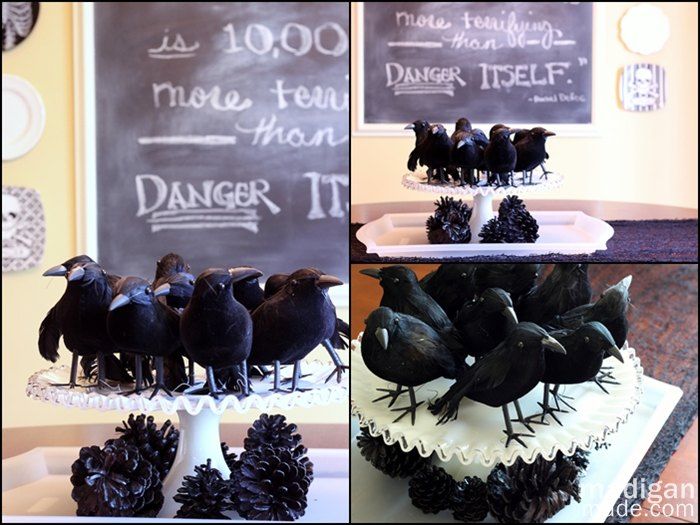 I hung my motorcycle-inspired skull wreath from the top of the chalkboard.
And my favorite skull plates that I've used in years past decorate the sides of the chalkboard.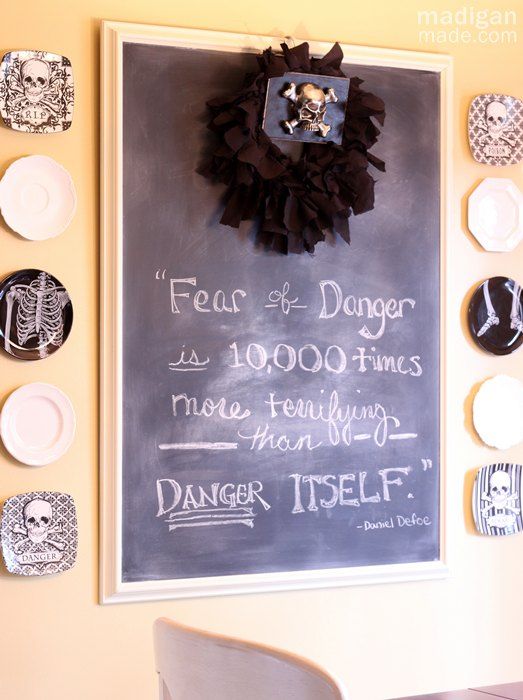 ( I made a sad attempt at fancy chalkboard art again. It is just not my thing, I guess! )
The quote is not very Halloween-y (it's a word)… but it does speak to the notion of fear and sets the mood:
"Fear of danger is ten-thousand times more terrifying than danger itself." – Daniel Defoe, Robinson Crusoe
But I have a small confession for y'all. I'm growing a little weary of this area of the kitchen. Despite my attempts to clean it, this chalkboard chronically looks dusty. Plus, it is starting to get scratched in some areas. The board probably needs a fresh cost of paint on it. I enjoy changing the quote and decor for the seasons. But I'm starting to dread the idea of writing on the chalkboard each month. My handwriting has never been stellar and my few trials at cute chalkboard art have flopped.
So, I'm thinking about redecorating this wall of the kitchen around at some point. I have an idea for the space that will still allow me to change it around for the season. I'm pretty excited about the concept and I hope to make the switch in the coming month. Stay tuned!
Thanks for reading Madigan Made!
Content Copyright:2010-14. Madigan Made.