Madigan made… an embroidery hoop pumpkin craft.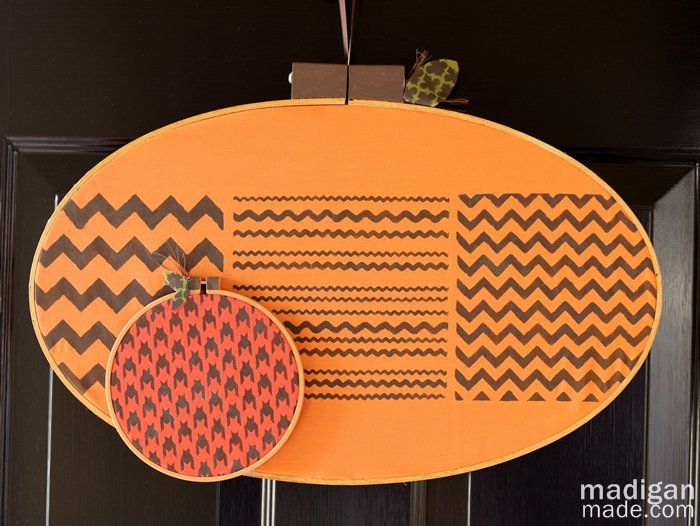 Need a cute idea for your Halloween door decor?
I did!
When Martha Stewart Crafts recently sent me a big box of craft supplies, I knew that I wanted to make a fall door hanging with some of their great products.
Remember how I painted over the black ceiling medallion wreath from last year? Well, like that project, I desired something different. I didn't want to craft a traditional wreath.
I wasn't sure what to make at first. But one day I was looking at my nautical embroidery hoop decor and I realized that the hoop was kinda shaped like a pumpkin! And Martha's box of goodies contained a bunch of cool stencils and paint that would work on fabric. Perfect!
Aside from the supplies from Martha Stewart Crafts and a little orange fabric, this project was easy to make with materials I had on hand. I always snag old embroidery hoops when I see them at thrift stores. If you ever see these hoops, grab them! I had the huge oval hoop and a small round one in my thrift store stash. Both totaled under two dollars.
Want to make you own embroidery hoop pumpkins?
Supplies Needed:
Martha Stewart Crafts Patterns & Shapes Paper Stencils
Martha Stewart Crafts Paint, satin formula – vanilla bean
Martha Stewart Crafts stencil tape
2 embroidery hoops, different sizes
Fabric (2 shades of orange and 1 shade of green)
Hot Glue
Decoupage
Foam brushes
Glass gem marbles
Ribbon
Iron
Twigs, optional
Step One: Stencil your fabric.
I practiced first on the green fabric since it was only going to be used for the leaves. I taped down the stencil to the fabric and lightly tapped paint over the stencil with an up and down motion, using a foam brush. (A foam spouncer or dauber would work, too.)
By the second stencil I figured out it helped to start in the center of the fabric and work my way out.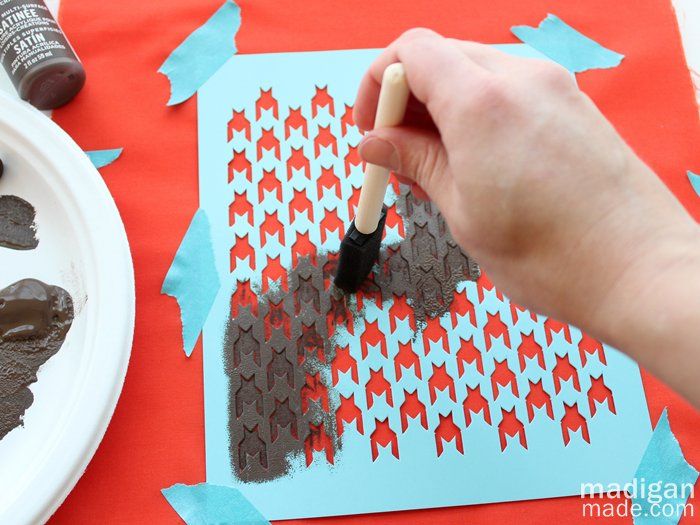 For the large pumpkin, I taped 3 chevron stencils together for a triptych effect.
Note: As soon as you are done stenciling the fabric, remove the stencil from the fabric and allow the paint to dry.
Step Two: Heat set the paint.
After the paint dries for 24 hours, use an ironing cloth and iron to heat set the paint.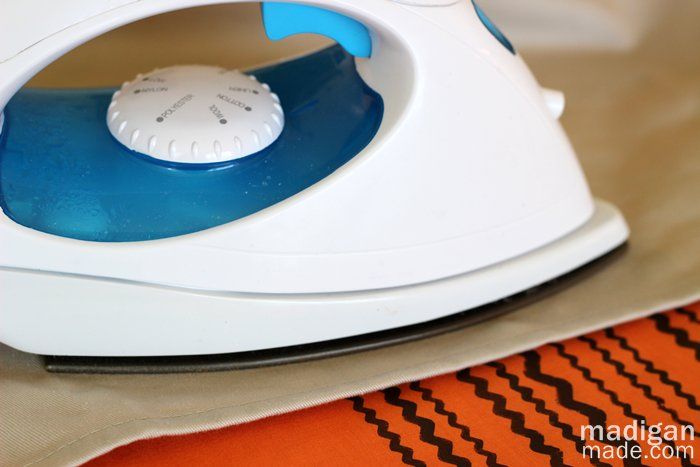 Step Three: Assemble hoops.
Stretch your fabric between the two hoops and secure the tops tightly with the wing nuts. Trim excess fabric away in the back of the hoop.
Step Four: Paint stems and make leaves.
Use decoupage to stiffen the leaf fabric and to prevent fraying. Brush a thick layer of decoupage over the green fabric. Allow that to dry and then cut out your leaves. No fraying!
Paint the 'stem' areas on the embroidery hoops with brown paint. Attach leaves to the stems with glue. For added effect, I also glued in some pieces of twig behind the leaves.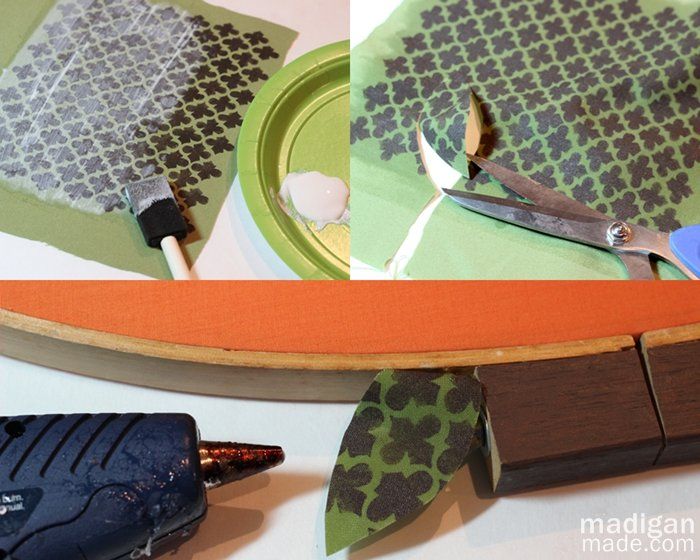 Step Five: Attach the hoops together.
Use hot glue to adhere the small pumpkin to the larger one.
NOTE: To balance out the weight so that the pumpkin would hang straight, I did need to glue small glass flat marbles to the opposite side of the large hoop. I glued them down to the inside, back of the hoop.
Step Six: Hang your pumpkin 'wreath' with a ribbon.
Use a thin ribbon to hang your pumpkin décor on your door!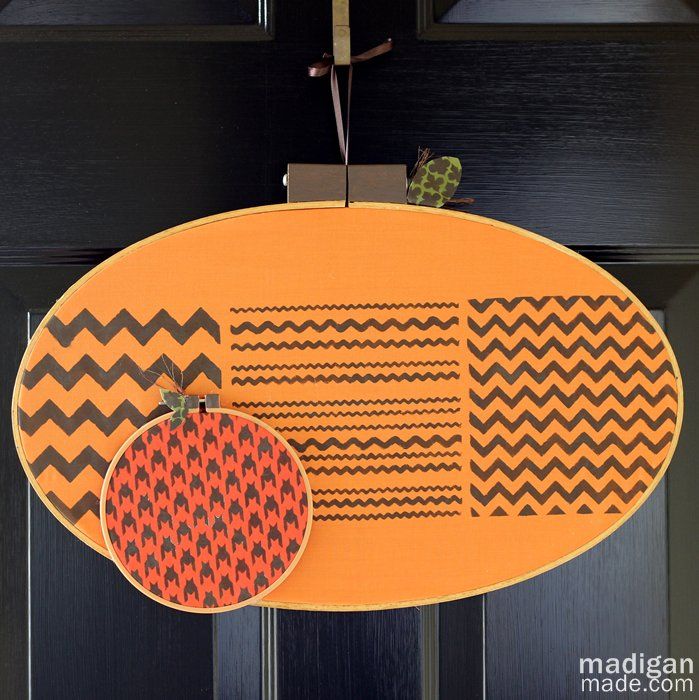 These paper stencils were so fun to use… I love the way you can mix up the patterns! I have a bunch more that I did not use, I can't wait to experiment with them on other things.
I'm crazy for the little houndstooth pumpkin. Something about that pattern just screams fall. And I love the zig-zag effect on the big pumpkin… It sort of reminds me of Charlie Brown, don't you think?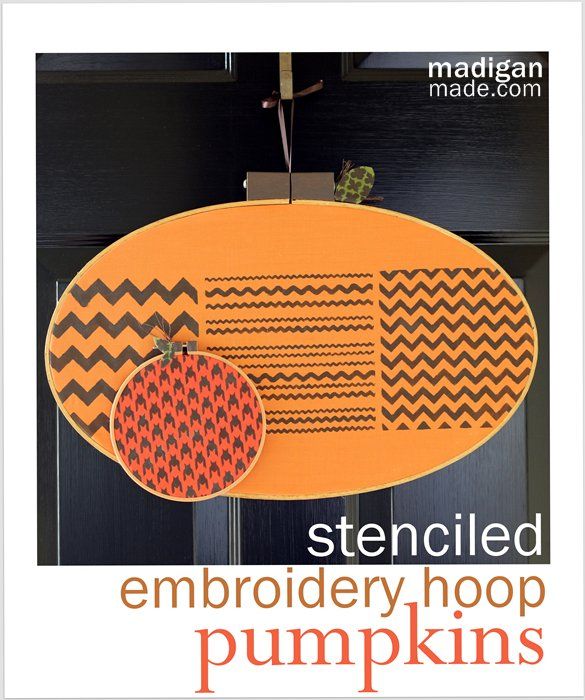 Martha sent me a big box o' goodies and I'm looking forward to trying some of the other products.
Be sure to follow Martha Stewart Crafts on Facebook, Twitter and Pinterest for more fall and crafty inspiration.
NOTE: I wrote this post as part of a paid campaign with Martha Stewart Crafts and The Blueprint Social. All opinions are my own.
Thanks for reading Madigan Made!
Content Copyright:2010-14. Madigan Made.