Madigan made… a wine cork lamp before/after project.
This DIY lamp project was a very long labor of love for me.
How long? Well, first, there was all the wine that needed to be drunk! I really can't complain about that part of the process.
But wait. I have to admit that we did not drink ALL of the wine needed to create this lamp. We had lots of friends and family donate some of their leftover corks. Plus, two very nice waitresses at local BYOB restaurants gave me some corks from their recent patrons.
But beyond collecting over 185 corks, making this DIY lamp had its ups and downs. The process was a great deal of trial and error.
Let me explain how I made the lamp and all of the hurdles. (After the monumental task of finding corks and drinking wine!)
I created this lamp for our office/bedroom makeover. If you remember, this room means a lot to me and this room update is a symbol of us moving on and 'living for today'. My goal is to keep everything in this space light and bright… including the lamp. I wanted to create a look with the corks and lamp that resembled bamboo. If you remember, I already have a few bamboo elements in the room already. (My thrift store painted chair and my bamboo edged IKEA desk)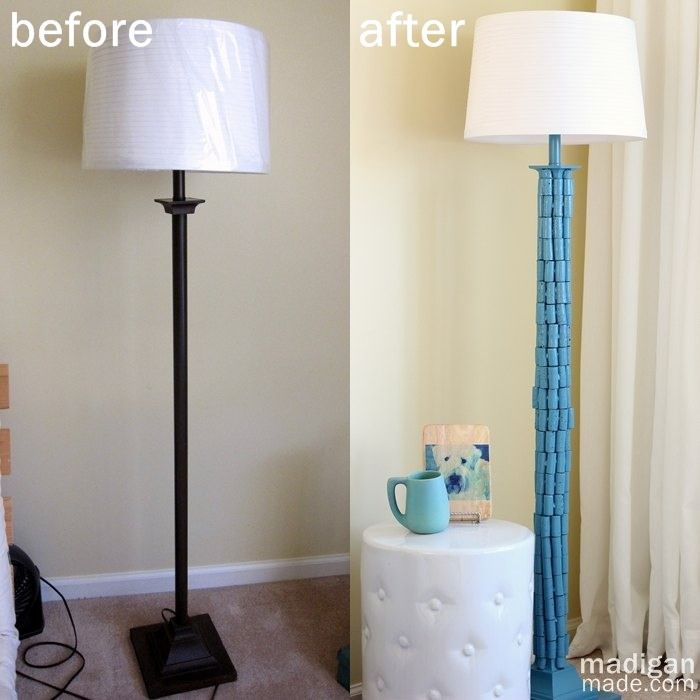 My first challenge was to get the corks attached to the lamp base. I used eight corks in a vertical direction and glued them in circular layers around the lamp's pole. I started from the bottom and worked upwards.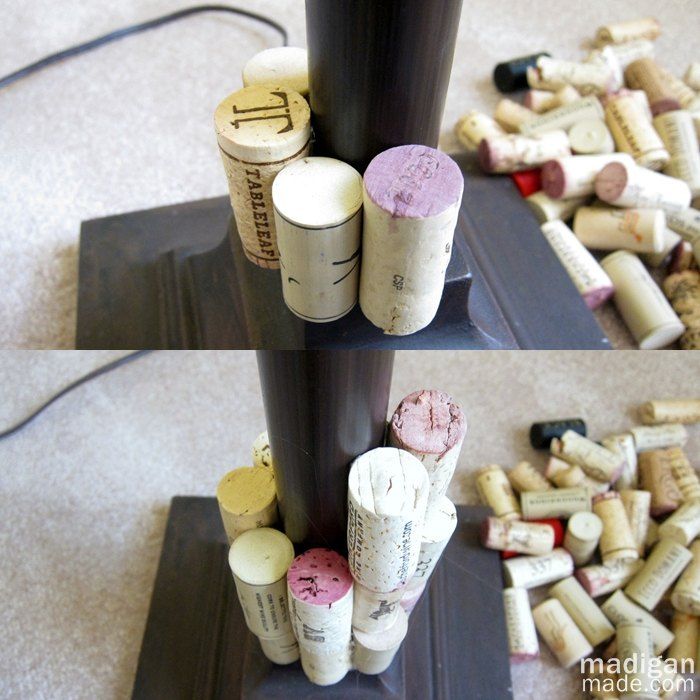 I learned that the best way to ensure that the corks stayed secure was to put a dollop of hot glue on one end, and E6000 glue on the bottom corner (that would attach to the corks below).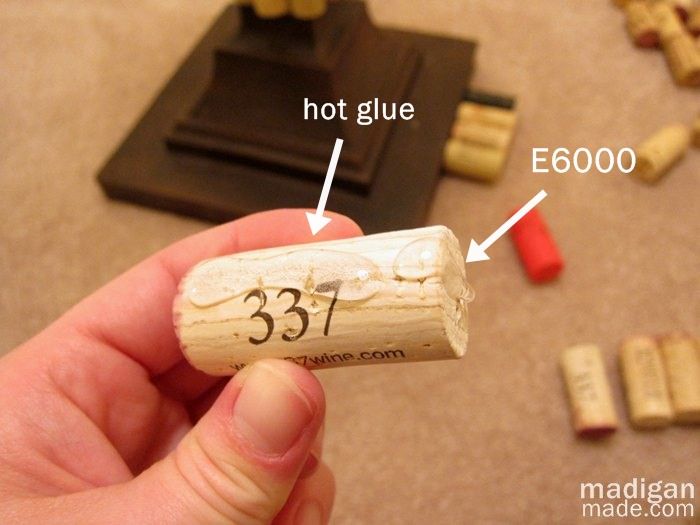 As I worked, the rings of corks started to get a little wonky and uneven. I realized that all corks are NOT the same length and width.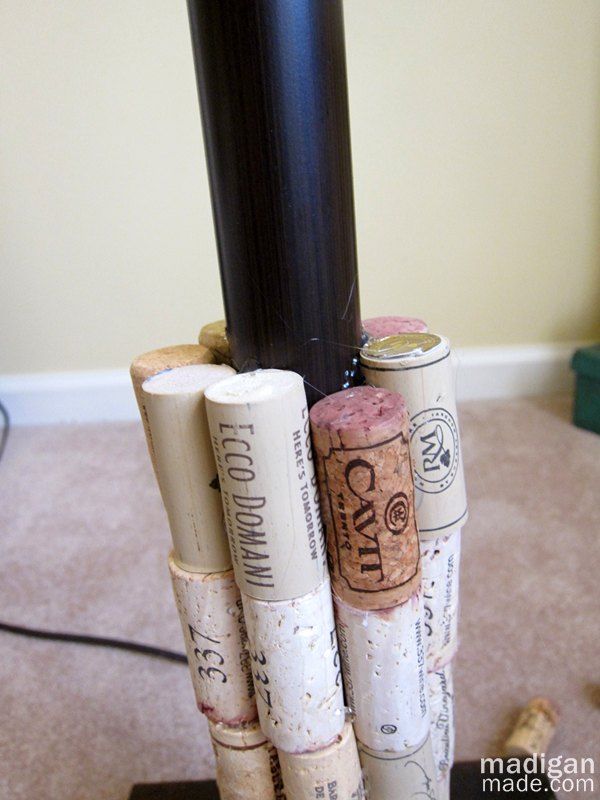 Did you know that corks from France and Italy are longer than domestic corks? Me neither. Now we both know!
I found that it was easiest to place corks of a similar length in each 'layer' of corks.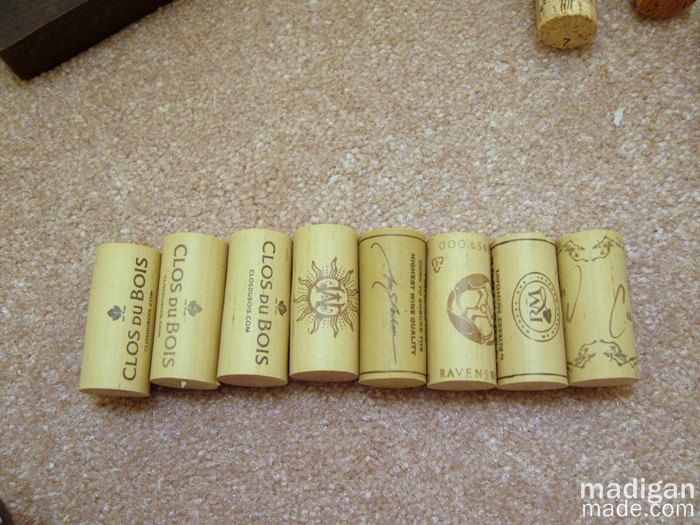 Once I glued all the corks along the length of the lamp, I was unsure how best to transition from the rings of corks to the top and base of the lamps. In the end, I cut some of the corks in half and glued them down at angles around the top and bottom.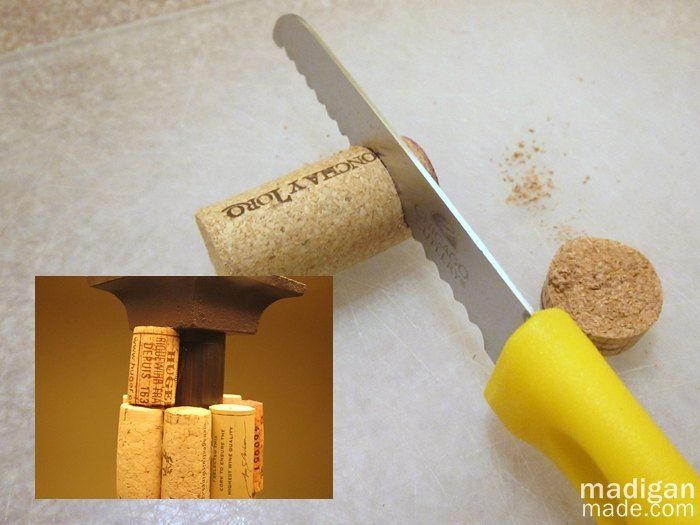 Then, I needed to decide what color to paint the lamp. If you remember, the color scheme of this room is going to be oranges, greens and blues.
I first tried a bright orange spray paint that could be used on plastic (since some of the 'corks' were actually heavy foam). The orange was a little too bright and a little too orange.
Gold wax on the orange did NOT help.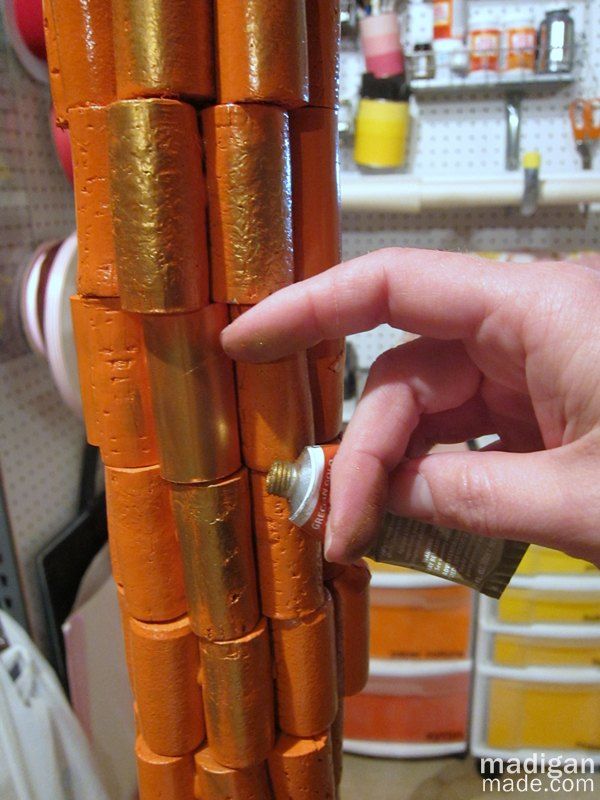 So, I went back to the hardware store and found a pretty peacock blue color that suited me much better. A coat of glossy blue paint was what this lamp needed!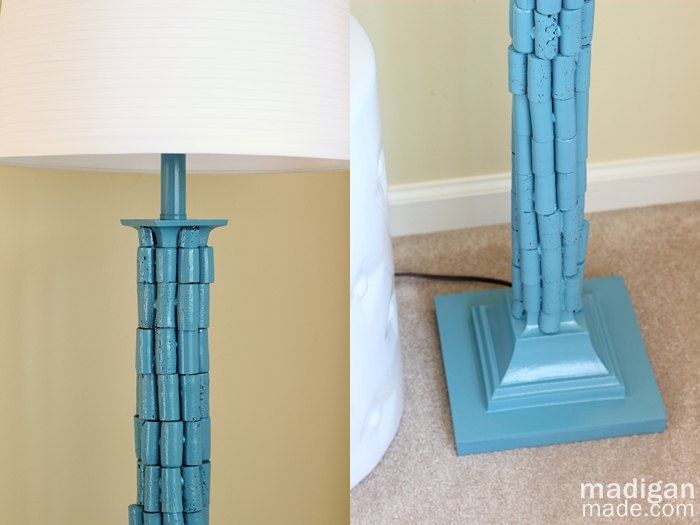 So, after months (to about a year!) of collecting wine corks… trial and error to attach them… then paint mishaps… I now have a unique and fun floor lamp for my office!
I love the texture that corks created. The pattern is not perfect and some corks stick out farther than others. The effect is not a literal interpretation of bamboo, but it is a pretty and organic look. And the color is just plain fun!
Every time I see this lamp… it makes me smile! And that is exactly the vibe I need in a room that has so much meaning to us.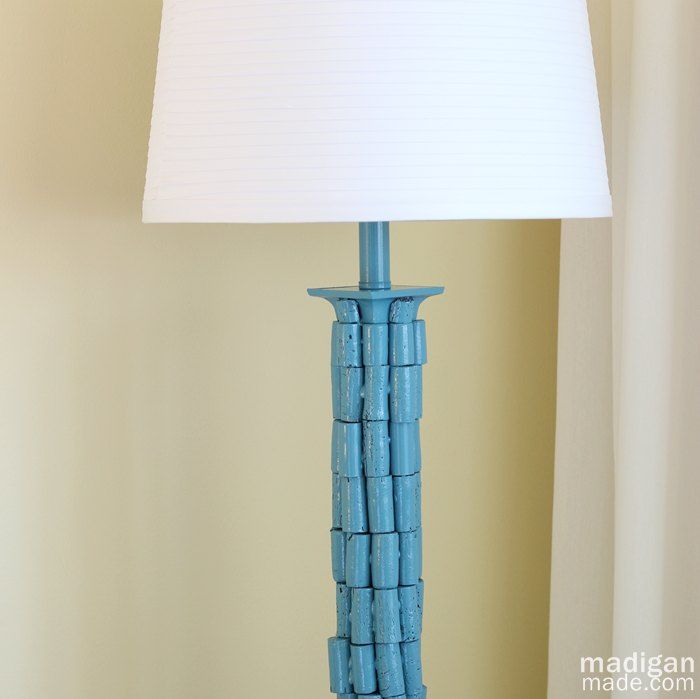 Supply list:
Over 185 corks, free
Old lamp, free
1 can of Peacock blue spray paint, under $4
Primer (a.k.a. orange spray paint!), under $4
White lampshade (Home Goods), under $15
Total cost: under $25
Thanks for reading Madigan Made!
Content Copyright:2010-14. Madigan Made.