Madigan made… an elegant holiday home tour.
This past week I finally got around to setting out all of our Christmas décor. Better late than never, I guess!
I like to make my house festive… but my husband and I don't like lots of clutter. Since we have a cozy, little home, we both appreciate decorations on the easy and reserved side. So, here are six ways I tried to keep things simple in our Christmas décor… would you like the tour?
Easy and Elegant Ways to Decorate for the Holidays
1. Set up a pretty tree.
The tree is the centerpiece of our holiday décor… it is a no-brainer. Our tree rarely changes much from year to year. I decorate it with lots of red, white and metallic ornaments. I just like to make it sparkly and shiny and use my wedding dress tree skirt at the base.
And it always looks prettier with a cute pup in front of it, too!
2. Fill lots of containers with ornaments.
You can't go wrong with lots of shiny globes in containers…. It is an easy, cheap and elegant way to decorate for Christmas.
I prefer to use bowls of ornaments in monochromatic shades…
Reds…
Greens.
Jeweled…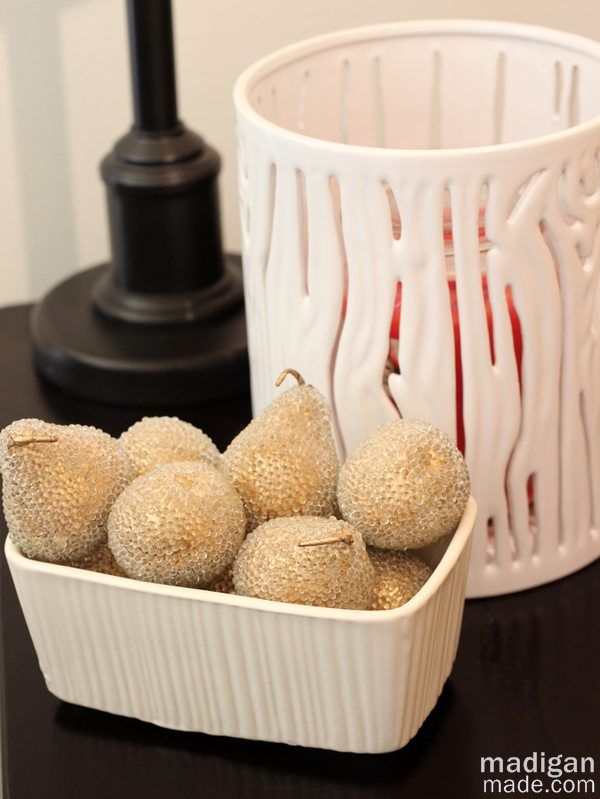 … and more reds.
2. Go vertical.
Our house is small and we do not have many flat surfaces to decorate for the holidays. Aside from ornaments, I will also change out some of our wall décor. This approach takes up little space and it is a way to add festive cheer to a cozy home.
I changed our large clipboard wall out to show off some ski chalet – cozy sweater – cabin holiday décor. (with my DIY flocked mini trees as a table centerpiece.)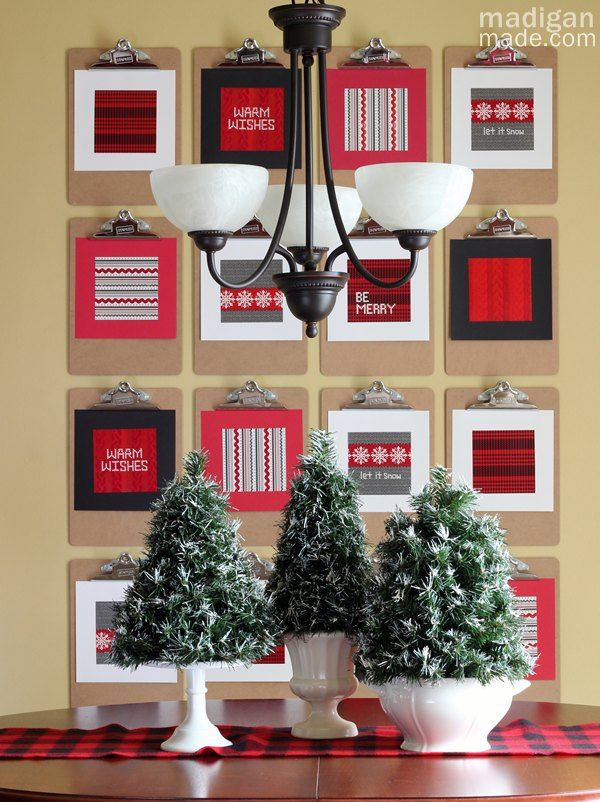 Holiday plates were attached to a red frame in another section of the kitchen, with a little 'merry' sign hanging above them.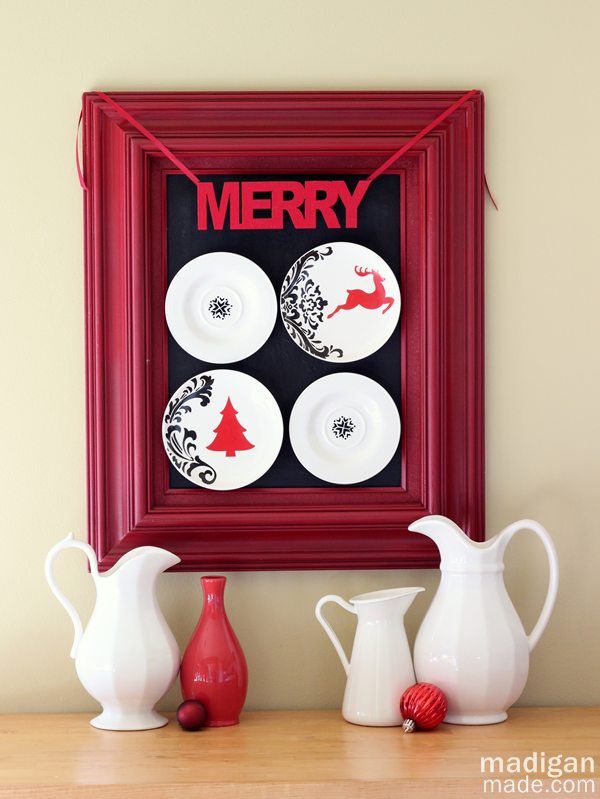 I mounted my lighted canvas ornament tree from last year on a long mirror in a nook. It looks so pretty when the lights are on at night.
3. Hang wreaths.
Wreaths instantly scream "the holidays are here." They are another way to bring holiday spirit 'up' and off the furniture. I hung one on our front door (not pictured). And I got creative with more wreaths inside…
I hung wreaths on the staircase.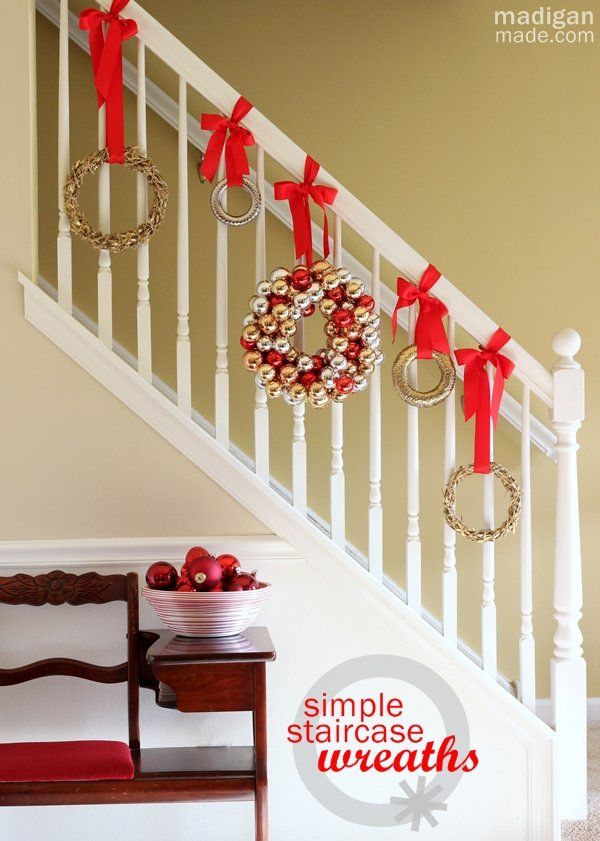 I placed a pine cone wreath in the powder room.
A berry wreath looks festive on our foyer gallery wall. (I just used a suction cup hook to attach it to the frame)
And a couple of wreaths (including my fruit ornament wreath) look pretty on mirrors in our foyer (opposite the gallery wall). I love that the square shapes act to 'frame' each wreath.
4. Stick with only a few colors per holiday vignette.
When I set up my holiday decorations… I often try to group things by color. It creates a cohesive and purposeful theme to each area. As I showed you above, I stuck with red, white and black in our kitchen.
Black, gold and white colors add an elegant touch to our china cabinet.
The décor incorporates my milkglass Christmas trees, my milkglass apothecary jars and my wedding dress stockings.
And some faux greens and white ornaments sit along the top of the cabinet.
Red and silver pieces shine on a small side table. (including my red, painted cut crystal and a piece of cranberry glass)
5. Have fun.
Our basement family room is decorated with a semi-sports theme, so I kept the décor down there simple and colorful.
A wired tree hold lots of different glass ornaments next to sports figurines.
Some chunky typography letters play on words with a snowman.
6. Honor the reason for the season.
We don't have a big nativity scene on display… but we do have a beautiful Lladro statue of the Holy Family that we received as a wedding present. It looks serene and peaceful nestled in a forest of white trees… a wonderful reminder of why this holiday is so special.
Have you finished decorating for the holidays yet? I'm going to be sharing this post at Nester's tour of holiday homes if you wanted more Christmas inspiration.
And if you missed my prior holiday home tours, you may want to check these out:
Thanks for reading Madigan Made!
Content Copyright:2010-14. Madigan Made.