Madigan made… updated pillows with rhinestone headbands.
Today is Day 4 of Simple Sparkle Week! After yesterday's glitter wreath, I had one more idea to share that you can use to sparkle up your home decor. (Because, like I mentioned yesterday, we all can use a little shine and twinkle in the dead of winter.)
Honestly, this decorating idea is so simple, I really don't think you need a tutorial.
Just grab a few sparkly headbands from the dollar store.
Wrap them around your favorite small or narrow pillow to create stripes. That's it.
Enjoy the sparkle and shine. When winter is over, you can remove them!
By the way, you've seen this long burgundy pillow before. It is hard to tell in the photo, but it is the velvet pillow that I embossed with a stamp a couple of years ago. And that woven, velvet beauty behind it is a pillow I picked up from the children's bedding section of Target. It is a gorgeous raspberry pink color in person.
So, go get some headbands and dress up one of your pillows for the season. I think this idea could work with any stretchy headband pattern… but don't you want a sparkly one?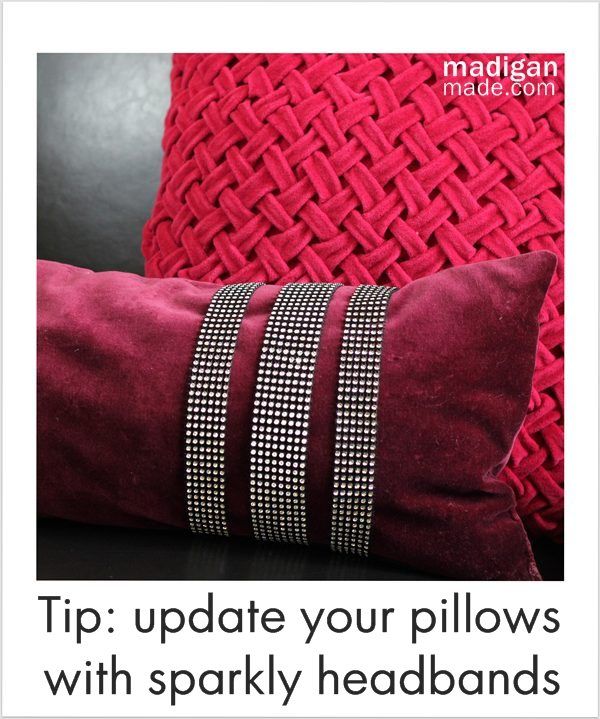 Want to see more glitter? Stick around till Friday… I have more projects lined up for Simple Sparkle Week! If you have a sparkly project you want me to share at the end of the week, fill out my easy form here. Today is the LAST day I will be accepting ideas!
Can't wait for tomorrow's project? Check out my Simple Sparkle Pinboard that I started on Pinterest for more inspiration. And you can follow the hashtag #simplesparkle on Twitter and Google+ so you don't miss a thing this week!
Thanks for reading Madigan Made!
Content Copyright:2010-14. Madigan Made.