Madigan made… a ruffled headband inspired by the Downton maids.
Did you watch it? Did you watch it!?
If you don't know what I'm talking about… then you probably didn't hear all of my excited chatter about Downton on Facebook and Twitter this weekend. And in case you didn't know, last night was the U.S. season 3 premiere of Downton Abbey on PBS.
I. loved. it. A charming wedding… mixed with financial hardship… possible cancer… staff intrigue… an indoor picnic… all with a little Maggie Smith and Shirley MacLine banter as the cherry on top! Ahh! Is it next Sunday yet!?
I'm not sure why I love Downton so much. Aside from the compelling stories, I think there is something very inspiring about the physical aspects of Downton. (Spoiler alert… it makes me sad to think that Downton is at risk for closing!) I adore the rolling countryside, the grand furnishings and the clothes… Oh, the clothes!
What strikes me about that era is how much effort people put into their clothing (a big contrast compared to how people dress today). The attire depicted on the show is very proper, yet so beautiful… so English! The gorgeous beaded and draped dresses on the women are stunning. And the men always look sharp and dapper (despite their black ties, not white, this episode!). Even the uniforms of the help staff are perfect and finely detailed!
Just look at the lace trim and ruffles: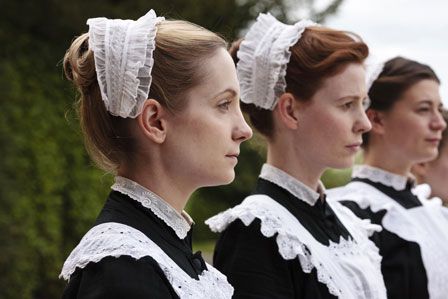 via Glamour
And I have to confess that I've always loved the ruffle-y head bands that the Downton maids wear. (This is coming from a girl who is not too fond of lots of ruffles.)
This past year I started to wear my hair in a bun (it's finally long enough!) and I thought I could channel my inner Anna with a white headband. I wanted to create a simple and scaled down version of the maids' headbands for myself.
You can see the reference, right?
Want to make one? It's so easy!
How to Make a Simple, Ruffled Headband
Supplied needed:
Grosgrain ribbon
Thin, flat head band (I found little metal ones at the dollar store)
Jewelry or fabric glue
Sewing machine
Clothespins

Instructions:
Feed a length of ribbon through your sewing machine. Fold the ribbon over randomly as you work so that the machine sews down the ribbon to form little pleats. Stop after you have a length of ruffled ribbon that will cover your head band.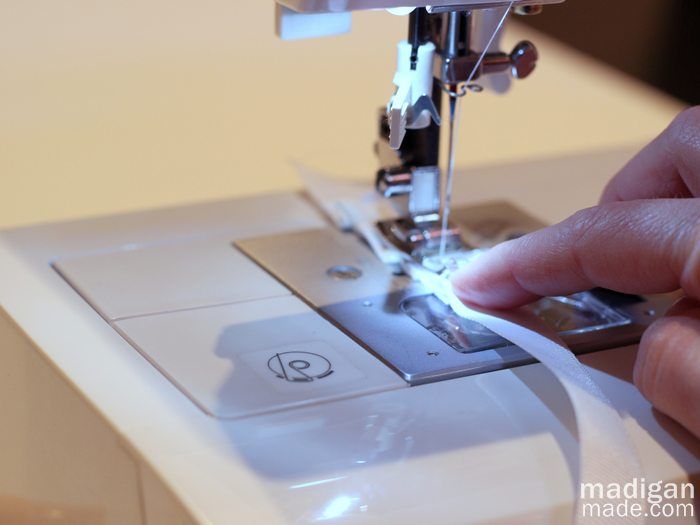 Now you'll need to glue the ruffled ribbon to the head band. Apply a thin bead of glue along the metal and attach the ribbon on top of the band. I prefer to use jewelry glue because it dries crystal clear and it is designed to attach metal (i.e. rhinestones) to fabric.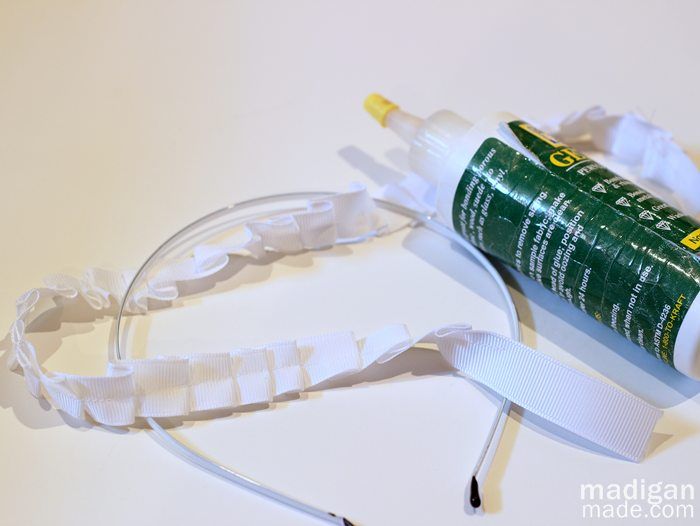 Use clothespins to hold the ribbon and metal together until the glue dries. (Yes, I have sparkly clothespins! I attacked them with glitter recently. Shocker, I know.)
You will also want to fold the ribbon over the ends of the headband and glue those ends down, too.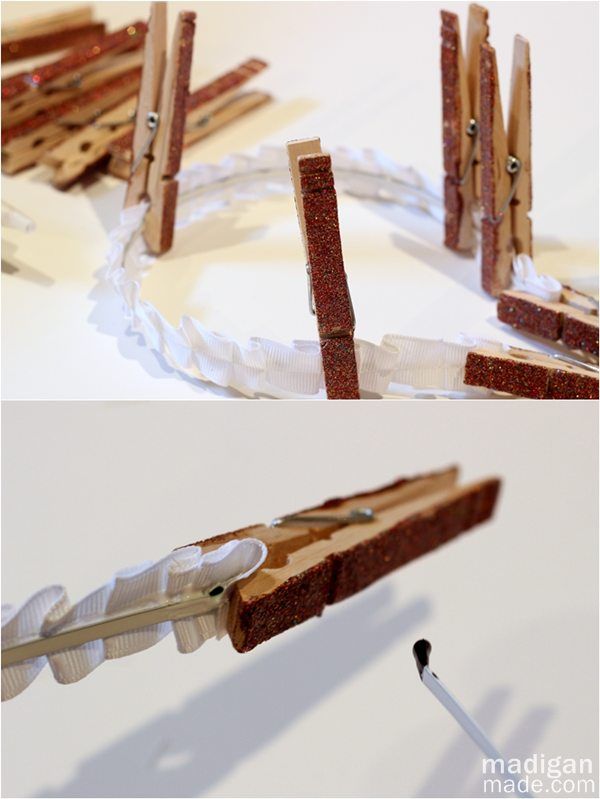 Once the glue dries, you'll have a cute new headband to wear in honor of season three of Downton Abbey.
I love the simple, pleated ruffle… it is just enough to evoke that prim and proper feeling without looking like a costume.
And, are you curious to know what is that lacy accessory around my neck? Well, it is another piece of jewelry I created in honor of Downton.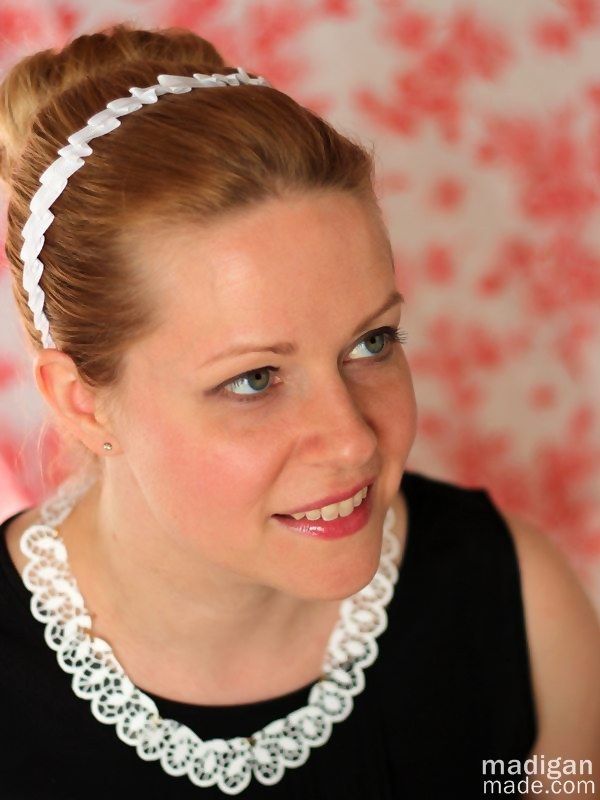 Stay tuned later this week… I will be showing you more details about how I made it!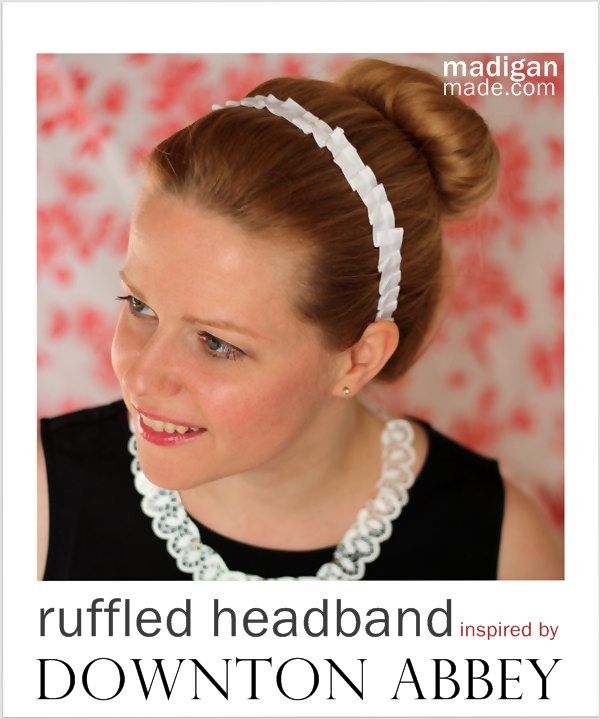 In the meantime, run out to your closest dollar store and make one of these pretty headbands. You can put yours on to serve dinner in the dining room. (Oh, wait… that duty is supposed to be reserved for butlers… but times are a changing. Who knew we'd see a buffet dinner at Downton!) Or maybe wear it when you go out for cocktails.(Unless, like the Dowager Countess, you think cocktails, "look too exciting for so early in the evening.")
Gosh, I can't wait for more Downton next week!
Thanks for reading Madigan Made!
Content Copyright:2010-14. Madigan Made.