Madigan made… a simple project to organize winter scarves & hats.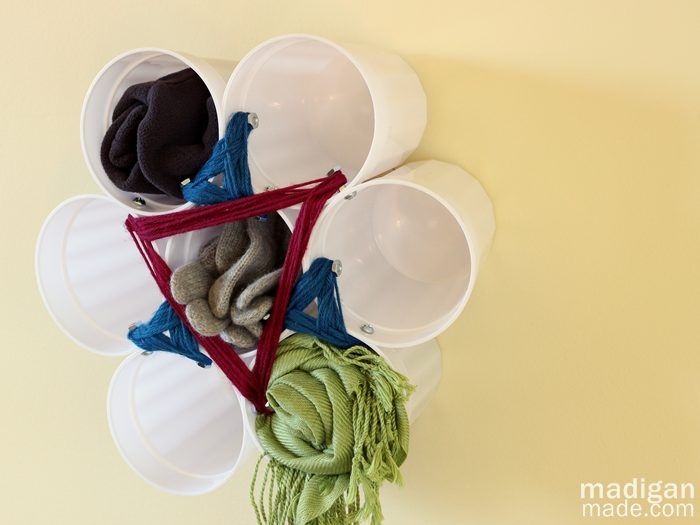 Today I want to talk about a winter necessity… one that can make an outfit… keep you warm… look oh-so-cute… but can be a nightmare to store. I'm talking about winter scarves and hats, of course. And I'll be the first one to admit that I may own a lot of them.
I love scarves. I love to make cute DIY scarves. I love colorful pashmina scarves. And I also appreciate the warmth and practicality of a knitted neck warmer or hat.
The problem is that I have a hard time parting with my cold weather accessories. Someone (cough… my husband…cough) might say that I have an unhealthy obsession with scarves. I I usually store all my scarves, gloves and hats in a basket on my side of the foyer closet.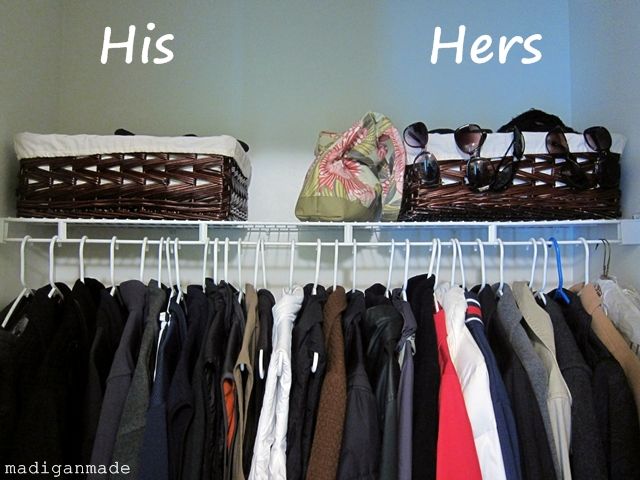 Someone also may point out that I have too many scarves in said basket these days.
I will spare you the sight… but lately my side of the closet has been looking a lot more messy. Scarves were spilling out of that basket like a knit waterfall. It was difficult to find anything in the basket without a sea of scarves tumbling down on me. Something needed to be done.
So, I wanted to create a little area in our closet where I could stash the scarves and gloves I use the most. The storage container needed to be small with individual compartments. I wanted something that could hang on the wall, too. I couldn't find what I needed, so I decided to make something.
I looked at a lot of different containers… but I settled on these large plastic drink cups from the Dollar Tree to make a honeycomb-like storage unit.
How did I make this scarf storage idea?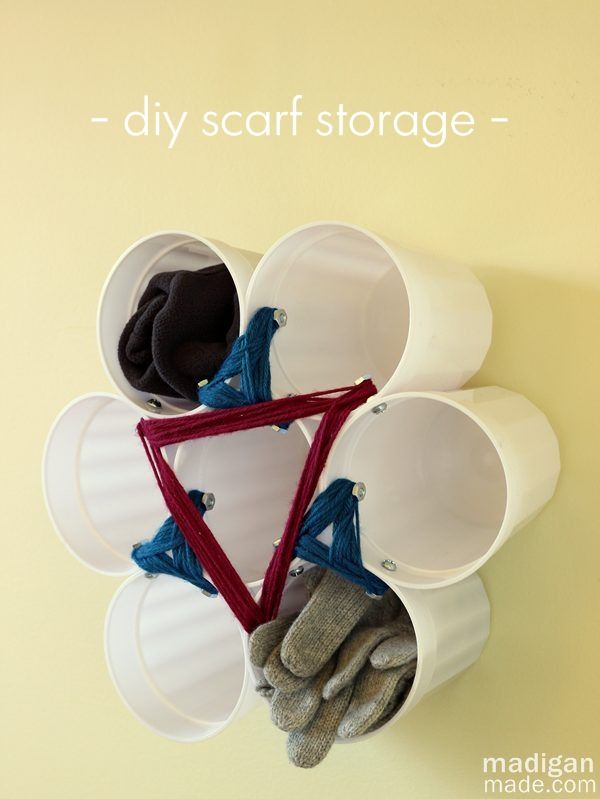 Let me show you…
Supplies used:
3 packs of 8 small round bolt and nuts
7 plastic drink tumblers
Marker
Drill
Yarn
Scissors
Awl or nail
Wire
First, I arranged the cups in a shape that I wanted. I used a marker to mark where the cups touched each other.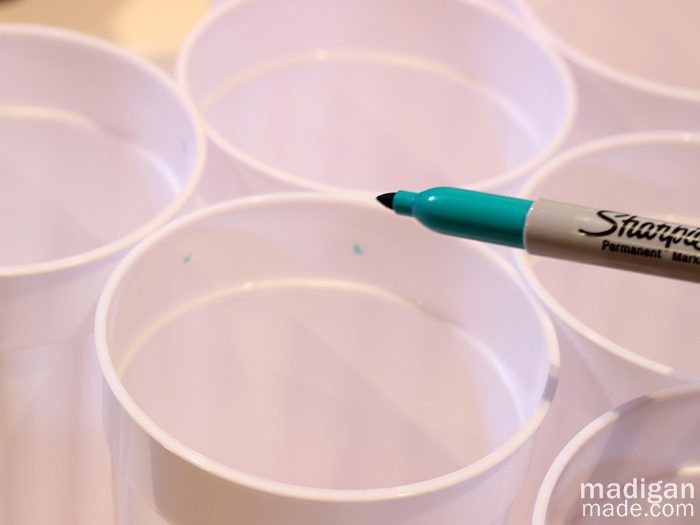 I drilled holes through the marks on the cups.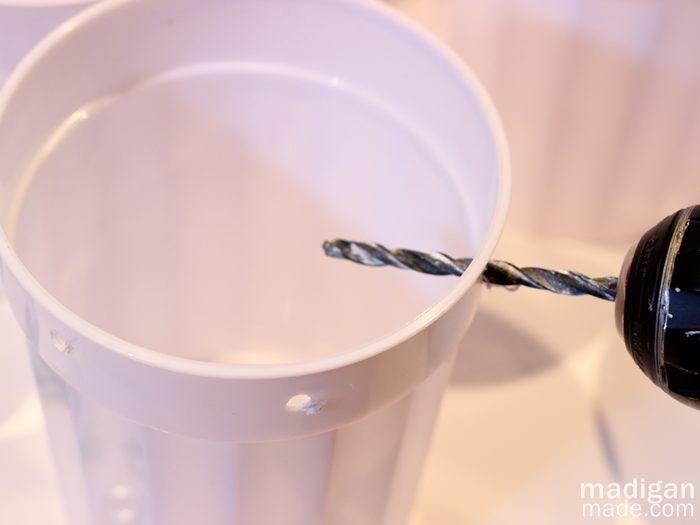 I threaded the bolt through the appropriate holes and tightened the nuts by hand.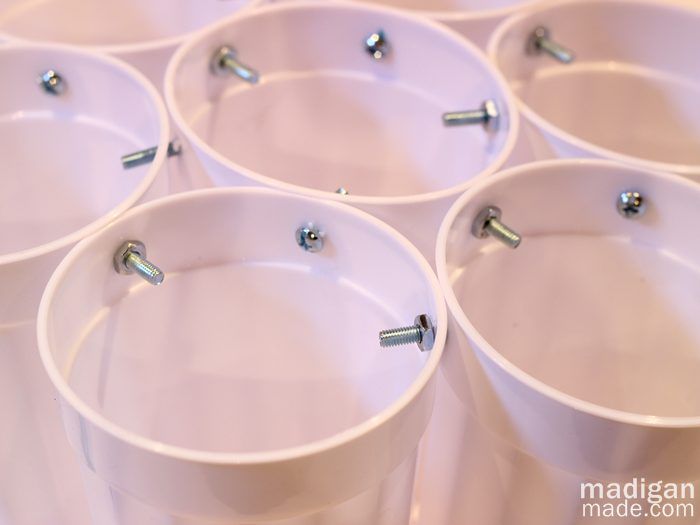 Then, I realized that the bolts stuck out and that knit material may get caught or snag on the metal. So, I used extra nuts and attached them to the very ends of the bolts.
I grabbed some yarn to 'fill in' around and cover the threads between the nuts. I just started stringing and wrapping the yarn around the bolts… three at a time to create a triangle. I repeated the process covering all the bolts and thread… I kind of created a pattern with the yarn without realizing it.
Look, ma! I made string art! (kinda.)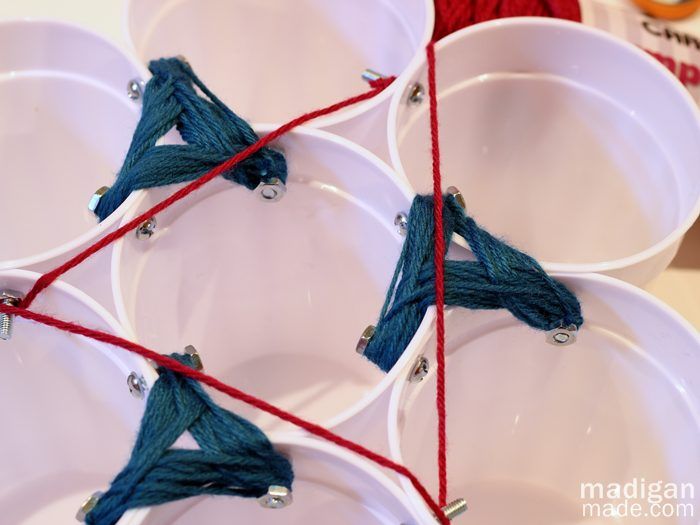 Once everything was attached to each other… I poked holes in the back of two cups with a nail and strung wire through the holes to create a hanger in the back. (Note: I ended up tightening the wire even more than pictured here so that the rack would hang closer and flush with the wall.)
Now I can keep my favorite scarves and gloves handy and hanging on the wall inside the closet. This storage container will hold quite a bit…. up to seven scarves, hats or gloves.
(I did tell you I like colorful scarves, right?)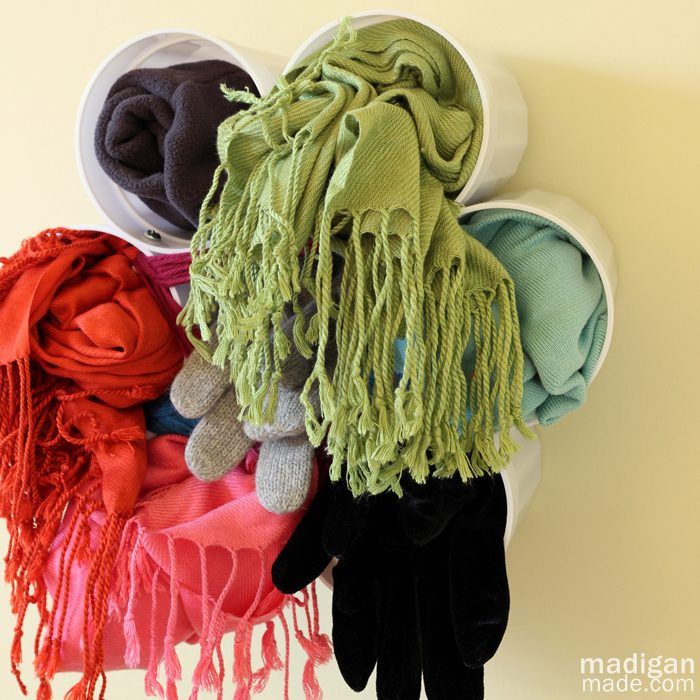 I love the individual compartments within this unit. That means that I can easily find the scarves and hats I use the most without creating a knit eruption every time I open the closet.
Which means I'll have more room in my scarf basket… for more scarves. (shhh, that will be our little secret!)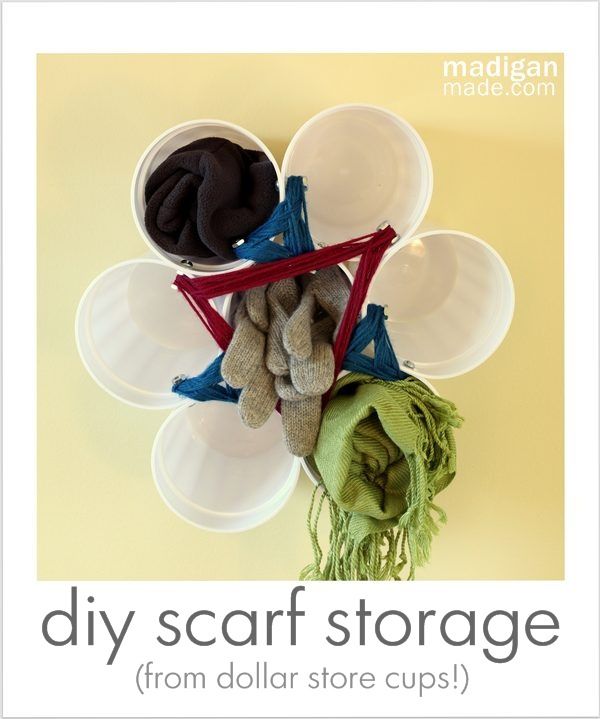 Are you in an organizing mood this month? Well, several of my bloggy friends are sharing some other ways to store stuff today.
Check out these great organizing ideas:
Thanks for reading Madigan Made!
Content Copyright:2010-14. Madigan Made.