Madigan made… a frosted snowman from a fish bowl.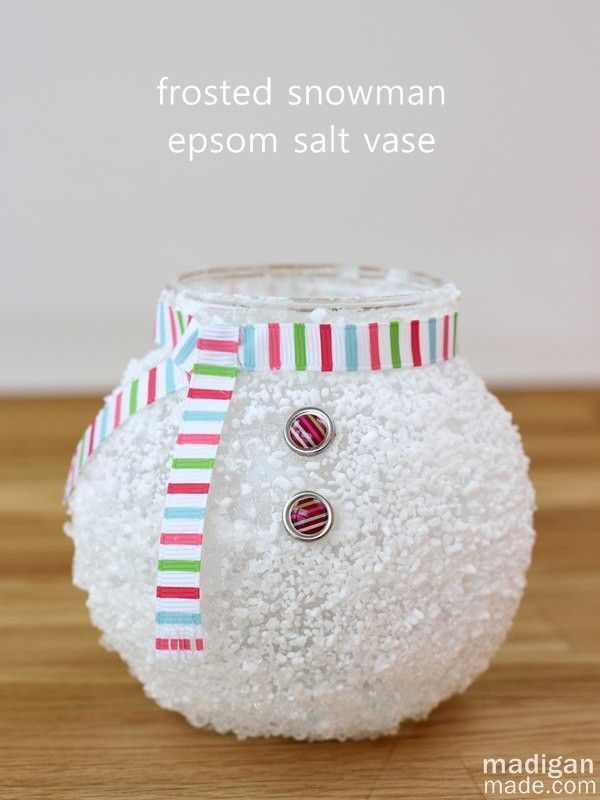 Do you decorate much this time of year for the season? Do you put out 'winter' décor? Or jump to Valentine's Day? Maybe you prefer things simple and clean?
This month, I didn't plan to set out much winter décor. But when Carolina (from Always Expect Moore and 30 Minute Crafts) suggested that a bunch of crafty bloggers have a 'snow' themed craft day… I was all about that!
I do love a cute and round snowman… so I decided to make a little snow-person to display on our kitchen windowsill for these cold months.  This project was inspired by Amanda's Epsom salt luminaries and this yarn snowman jar (found via Craft Gossip).
Want to learn how I made him? Grab a fish bowl vase (or any cute, rounded jar) and get frosty!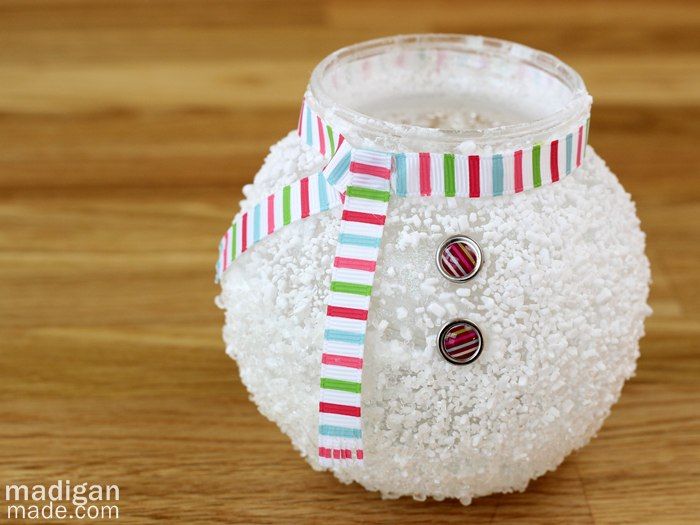 How to Make an Epsom Salt Snowman from a Jar
Supplies needed:
Fish bowl vase
Epsom salt
White, translucent glass paint (or you could use decoupage)
Foam brush
Spray acrylic or lacquer sealer
Ribbon
Scissors
Small buttons or decorative brads (with the tabs trimmed off the back)
Hot glue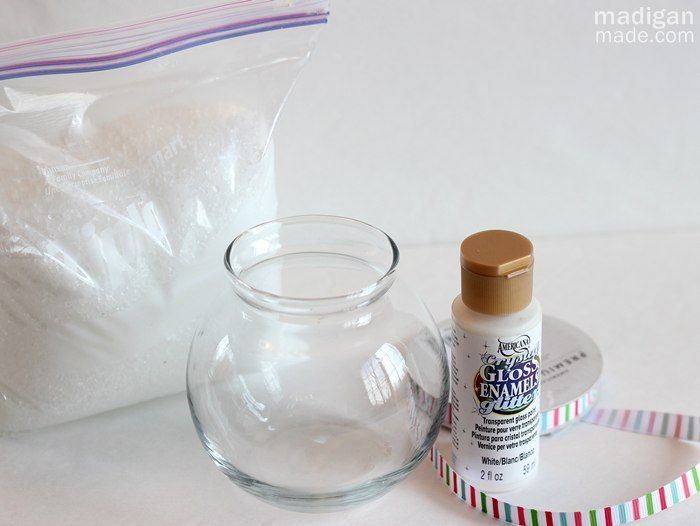 Instructions to make a snowman vase:
First, coat the outside of the vase liberally with paint.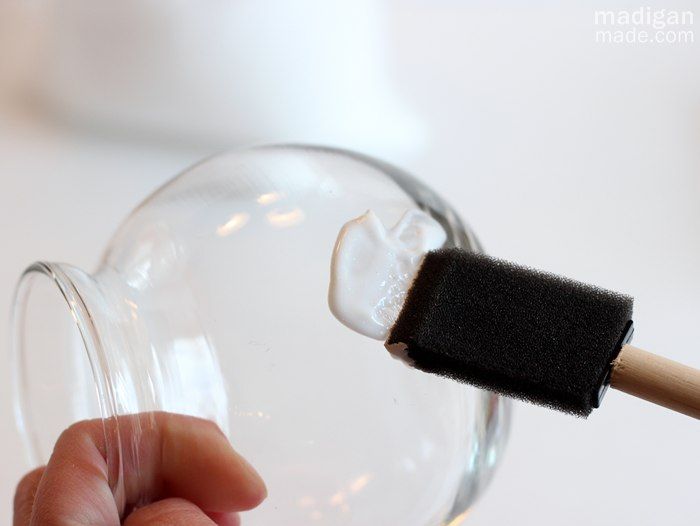 Then, sprinkle or roll the Epsom salts over the paint.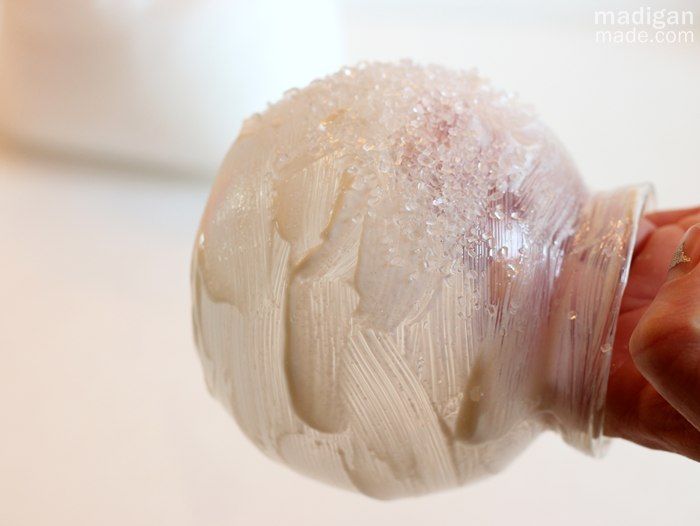 Prop the vase up and allow the paint to dry. (I used a beer bottle.)
Optional step (that I discovered completely by accident):
If you are impatient (like me)… blow the vase with a hair dryer to help dry the glass paint underneath. This will actually turn the salt from a translucent color to a more opaque white.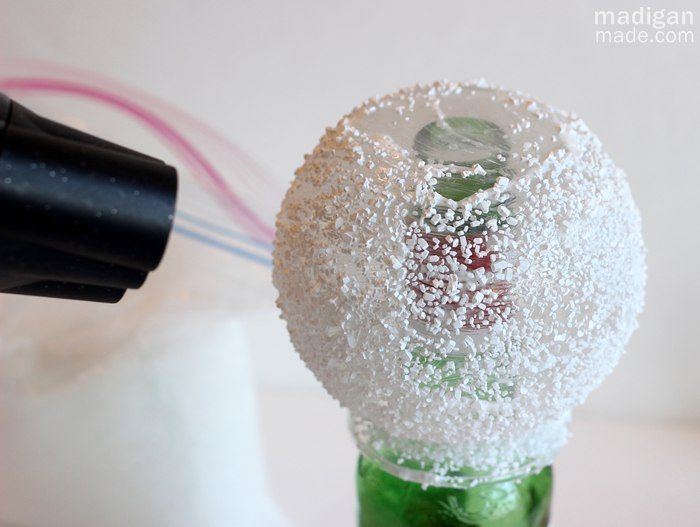 Once the paint is dry, shake off any excess salt. Spray the salt-covered vase with a clear sealer in a ventilated area. (After the first coat, while the sealant was still wet I sprinkled the vase with additional salt. Besides the 'white' salt, I wanted more translucent salt on there, too.) Apply several layers of sealant, allowing it to dry in between.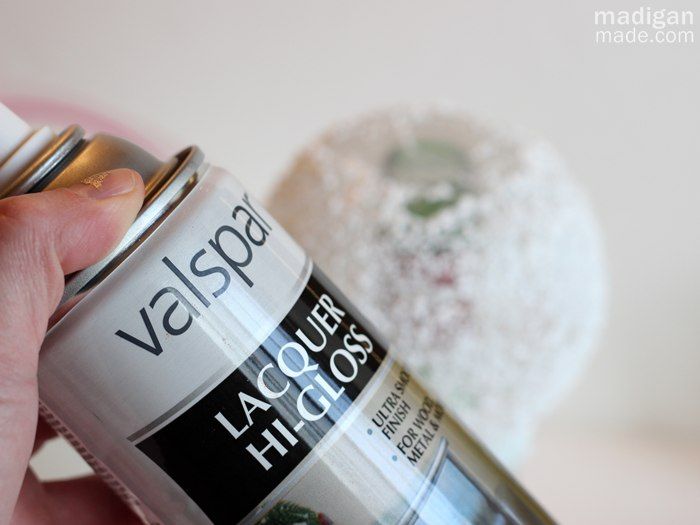 While you are waiting for the vase to dry…
Create a fringed 'scarf' for your little snow person by cutting the ends of the ribbon.
Once the sealer is dry, hot glue your scarf and buttons/brads onto the vase.
Use your little snow buddy to hold a candle…. or flowers… or just let him sit there and look cute on a shelf!
This project was a bit of an experiment for me. Most Epsom salt vases are made with decoupage. I was unsure if the salt would stick to craft paint, but it did a pretty good job. (The salt sheds a little for me but I wanted to use a translucent glass paint to give some added opaqueness to the glass.) It also surprised me to see the salt change color a little and get more 'white' with the addition of heat. But that step was a happy accident… because I prefer the look!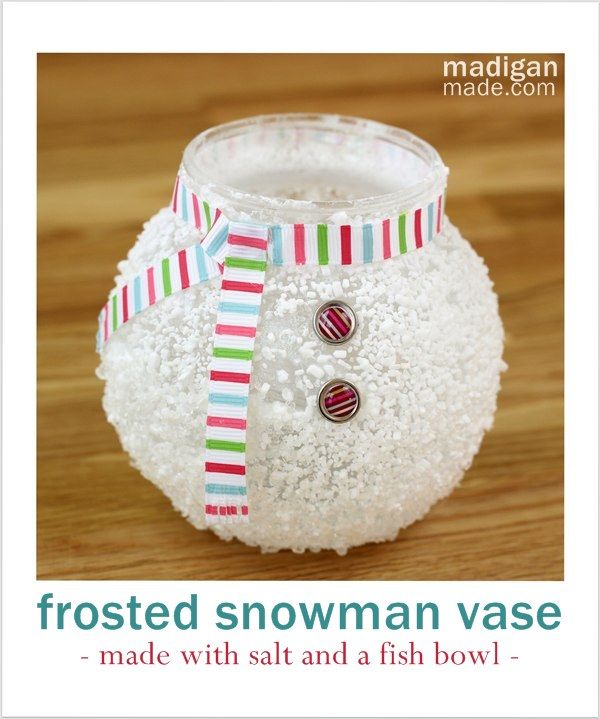 Using a globe vase, like a fish bowl, gave my little snowman a big, rounded tummy. He's so plump and sweet, don't you think?
Ready to make your own snowman vase? Don't forget a supply!
(these are affiliate links, please see my disclosure statement for details.)
Thanks for reading Madigan Made!
Content Copyright:2010-14. Madigan Made.