Madigan made… a Downton Abbey lady's maid inspired lace collar.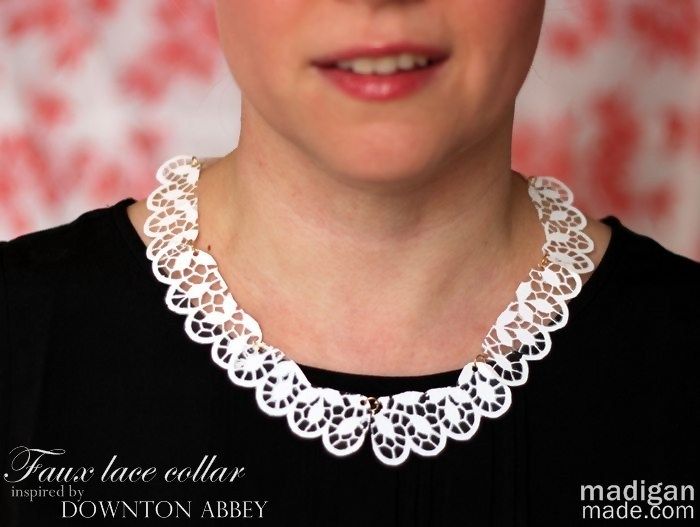 There was a time in my life when lace and ruffles sent shivers up my spine. I was a little younger… and I wrongfully assumed that those frilly notions were old and fussy. They're not.
I've since learned that when they are used in either small, simple doses (like the edge of a tree skirt) or in abundance (like a lacy doily wreath), ruffles and lace can be modern. Plus, the resurgence of period TV shows like Downton Abbey inspired me to have a greater appreciation for things made with intricate detail and care.
I told you earlier this week about my appreciation of the beautiful attire at Downton Abbey. I love it all… even down to the well-appointed house staff: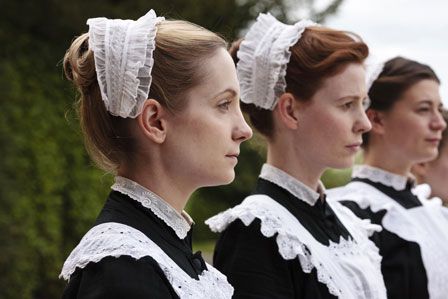 via Glamour
Yes, these maid outfits are not indicative of the current 1920's trends on the show this season (that I love, too)… but I adore the fine details in the lace, pleats and ruffles of their uniforms. And you can NEVER go wrong with black and white, right?
Anna's ruffled headpiece already inspired me to make a simple ruffled headband…. and I wanted to create a complimentary necklace that evoked the details in the maids' lace collars and ruffled aprons.
I initially tried to make something from doilies that did not turn out as I had hoped (maybe I'll show you some day). But I remembered that I had this pretty lace silkscreen stencil in my box of Martha Stewart crafts that I received this fall for a stenciled paint project. AND there was this cool paintable plastic from that box, too. I saw the makings of pretty necklace in those supplies!
Want to make one?
How to Make a Faux Lace Collar Necklace
Supplies needed:
Paintable plastic craft sheets

Lace patterned silk screen stencil

White craft paint

Small squeegee

Hole punch (a small size is preferred, if you have one)

Jump rings

Lobster clasp

Pliers (jewelry or needle nose)
Instructions:
Peel off the protective back from the silkscreen and adhere the lace pattern to the plastic. Place a dollop of craft paint on one side of the silkscreen. Use the squeegee to spread the paint over all of the lace pattern, being sure to cover all of the details.
Peel the silkscreen off the plastic to reveal your pretty pattern. Rinse the screen immediately so you can reuse it again. Allow the paint to dry.
Cut out sections around the edge of the doily shape. I followed the scalloped edges and pattern in the lace as a general guide. It is OK if the shapes are not identical… just approximately the same general size.
Work your way around the doily and cut out an even number of lace panels. I cut eight sections total.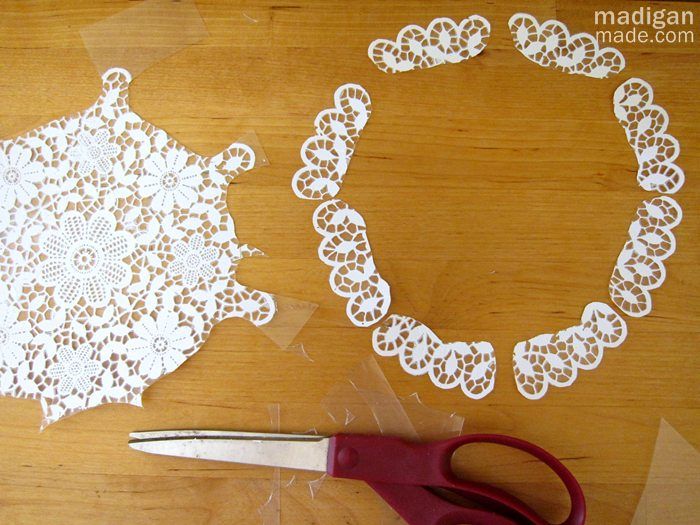 Use a small hole punch to create two holes in the top, inside 'corners' of the lace pattern sections.
Use two pliers to hold and open up a jump ring to attach two lace panels together through the holes and then close the loop up. Repeat this step to attach all of the sections together. When you get to the end of the strand, hook several jump rings together to make an adjustable set of links. Add a lobster clasp to one side, too.
I love the shape of this necklace. Ok, I adore the shape of this necklace!
By using an even number of sections, the center of the necklace splits in the front. I The way pieces are centered on the neckline almost gives the illusion that it is a lacy peter pan collar, too. So pretty!
I'm not going to lie to you… this is a delicate necklace. It is plastic and water resistant, but the sections could rip or tear. So, I'm going to be careful where I wear this piece and I'll probably keep my hair up when I do. (Plus, the silhouette of necklace is so pretty, I want to show that off as much as possible, too!)
When I wore this jewelry with my ruffled headband, I definitely felt like I was channeling a Downton lady's maid. There is something about black and white that is proper… yet simple and classic.
While I love the white pieces paired with a black top, I'm anxious to wear them with other colors, too. I don't know if I'm going to put on both pieces regularly together or not… except when I'm watching Downton Abbey, of course!
Can you wait till Sunday? I can't!
Thanks for reading Madigan Made!
Content Copyright:2010-14. Madigan Made.