Madigan made… a sparkly wreath from clearance holiday ornaments.
Today is Day 3 of Simple Sparkle Week and I want to share something that can add a little sparkle to your home. In the middle of winter, when we are deprived of Mother Nature's colorful foliage, glittery things often catch my eye. And I want them in my home.
This time of year is tough for seasonal décor. Do you jump to Valentine's? Even St. Patty's Day? I did not really plan to decorate for any holidays this month. I changed out my clipboard wall and made a little snowman vase. But when I recently saw these packs of tiny and sparkly ornaments on clearance for 90% off… I could not resist!
How to make a sparkly ornament wreath:
Supplies needed:
Wire
Small, plastic glitter ornaments
Small, shiny beads
Glue gun
Ribbon
Step one: Cut your wire to a length that is a little larger than your desired wreath size. (mine was only about 6 inches in diameter)
Step two: Remove the gold caps/tops from the ornaments. (But do NOT throw them away… I have plans for mine! Stay tuned later this week!)
Step three: Thread the wire through the opening in the ornament and push it through other end of the sphere. (If the ornament is plastic, the wire should be able to poke through the material) Continue to add more ornaments to fill out your wreath. (I was going to make a pink and blue wreath but changed my mind and went with something monochromatic and blue for winter.)
Step four: Wrap the wire around itself to 'close' it and cut off any excess wire. Hot glue small, shiny beads to the front of the wreath.
Step five: Use a wide ribbon to cover the exposed wire and to hang the wreath. Enjoy your sparkly, new wreath.
I hung my tiny little wreath in the window of our kitchen. Compared to the cold, bare trees outside, it is shiny and bright… which makes me smile. Sometimes, especially this time of year, we all need to have a little sparkle inside the house!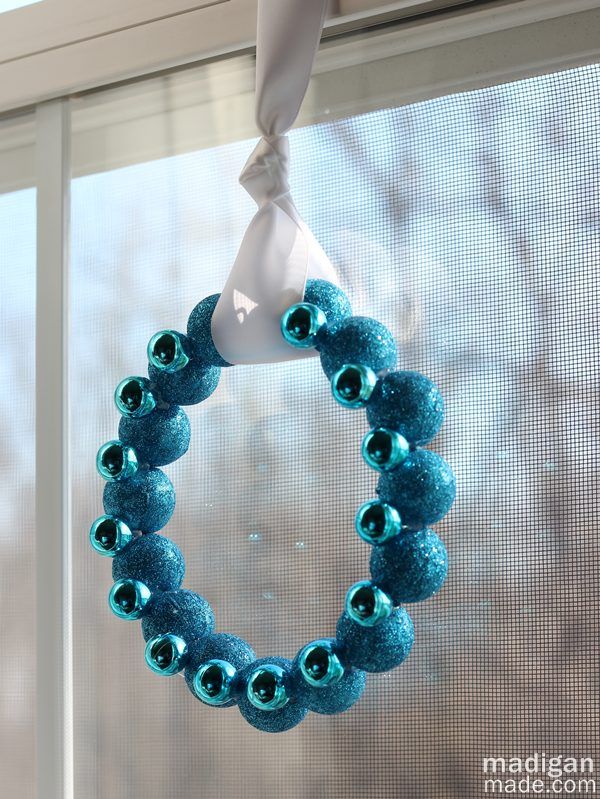 Want to see more glitter? Stick around for the rest of this week… I have more projects lined up for Simple Sparkle Week! If you have a sparkly project you want me to share at the end of the week, fill out my easy form here.
Can't wait for tomorrow's project? Check out my Simple Sparkle Pinboard that I started on Pinterest for more inspiration. And you can follow the hashtag #simplesparkle on Twitter and Google+ so you don't miss a thing this week!
Thanks for reading Madigan Made!
Content Copyright:2010-14. Madigan Made.