Madigan made… plastic containers into sparkly storage or gifts.
Today is the first day of Simple Sparkle Week!
And yesterday I explained that some of my projects during this week would have subtle shine while others would be full-throttle glitter. Any guesses as to which end of the spectrum this craft leans?
Yes, I wanted to start Sparkle Week off with a bang! These simple recycled storage boxes are glitter turned up to the max. And they are easy to make.
First, you'll need some small, clear, plastic storage boxes. I had quite a few little thumbtack boxes laying around the house. (What?? A girl is bound to have a bunch of these after making a thumbtack globe, a thumbtack wreath and a set of thumbtack pumpkins. These tiny boxes were too cute to throw away.)
Supplies needed:
Small, clear boxes
Glitter
Mod Podge
Instructions:
Step one: Carefully snap off any outside tabs from the box. You may have a few casualties if you are not careful.
Step two: Separate the top and bottom of the box if you can. Brush on a thick layer of decoupage on the interior surfaces of the boxes.
Step three: Sprinkle liberally with glitter and shake off any excess. I suggest doing this over a trash can to minimize the mess. Glitter can get everywhere… it happens.
(But, my sparkle-loving kindred spirits know the end result is worth this small sacrifice!)
Step four: Once the glue is dry, spread another layer of Mod Podge on top of the glitter to seal it. This will help prevent the sparkle from shedding.
After that layer is dry, you can use your little jewel boxes to store things… or just to look pretty.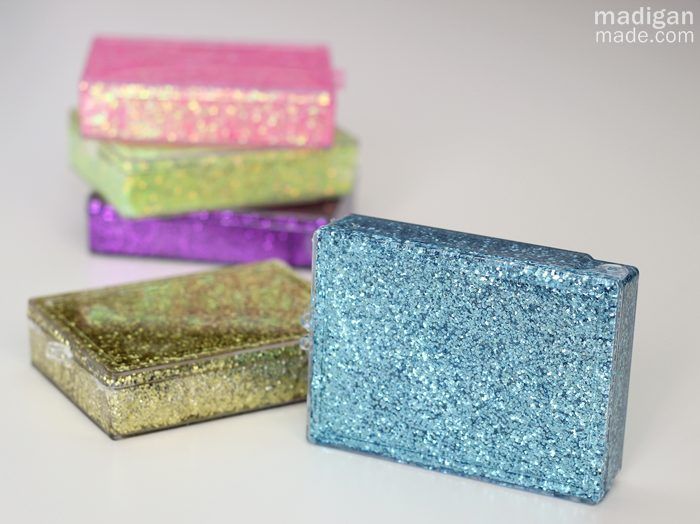 What can you store in them? Almost anything!
How about small craft notions?… or use the box to wrap a gift card and make it special?
Anything looks important and pretty in a sparkly box, don't you think?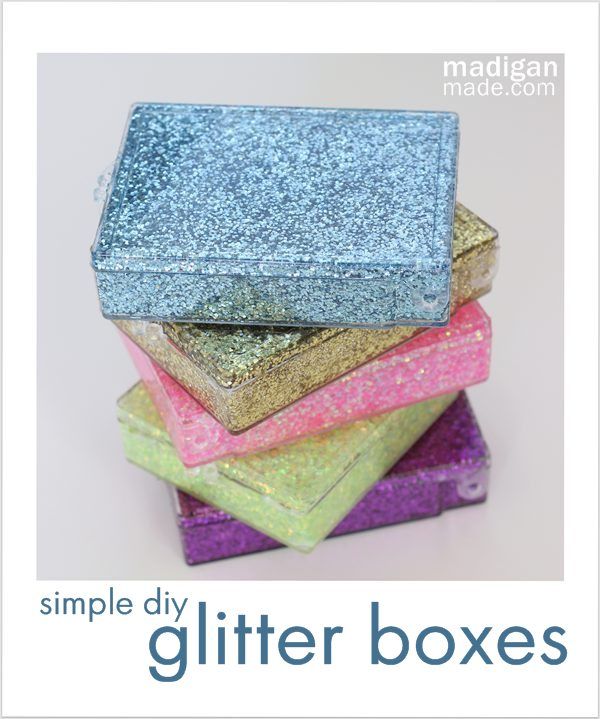 Like glitter? Well stick around for the rest of this week, I have tons more projects up my sleeve for Simple Sparkle Week! If you have a twinkly project you want me to share at the end of the week, fill out my easy form here.
I think you'll love tomorrow's project… and get your rhinestones ready!
Can't wait? Check out my Simple Sparkle Pinboard that I started on Pinterest for more inspiration. And you can follow the hashtag #simplesparkle on Twitter and Google+ so you don't miss a thing this week!
Thanks for reading Madigan Made!
Content Copyright:2010-14. Madigan Made.