Madigan made… a homemade photography diffusion panel.
Today I want to interrupt my usual crafty repertoire to share an easy photography equipment tip with you…
Let me preface this post by warning you that I am not a professional photographer. I do, however, love to play with my camera and take lots of photos… particularly of stuff I made. It is just the right kind of passion for a craft blogger, don't you think?
Since I started blogging several years ago, I've slowly accumulated more and more photography equipment. Some of the gadgets (like my camera) could be considered pricey (but a necessary cost for the blog business I'm in). While other things are inexpensive items (like white poster board) that help me achieve the look I want.
And nothing helps a photo more like good lighting! I already own one studio lighting kit
. I also made my own DIY light box which works for photographing small crafts. But I needed something else that would help light up larger objects. This photography lighting set up at Taylor Takes a Taste inspired me to create my own diffusion screen with some plumbing materials and a standard work light from the hardware store.
Does it work?
Well, let me show you my favorite flower… tulips! (Side note: I can't wait for spring and tulips, can you?)
Here is what my pretty tulips looked like before the light behind the screen was turned on… and then after the lamp was turned on. (setting the camera to auto white balance)
Both of these photos were taken with the tulips already sitting in front of a sunny window. Plus, I had reflective surfaces around the vase to bounce light toward it (a white foam board and a collapsible multi-disc light reflector
). The addition of my new lamp and filter screen cast a nice, filled light over my subject on the right side. So much better!
Want to know how to make this diffusion light panel? It is really easy!
Supplies used:
2 pieces of PVC pipe, 1/2" diameter and 5' long
2 PVC pipe elbows , 1/2" size
2 – 3-way elbow PVC fitting connector , 1/2" size
Pipe cutter (or a saw would work, too)
White plastic shower curtain
Scissors
Clear tape and/or a stapler
Additional clamps or hardware (to anchor the footing)
You can see some of the instructional steps in this quick video:
Note: I originally created this video on Vine. It is a new video sharing app from Twitter where you create six second videos. It is really fun! You can find me as user: Madigan Made.
Instruction/video summary: I cut two lengths of 5' pipe in half using a pipe cutter to have 4 pieces of pipe all the same length. I attached the four pieces of pipe together using the elbow fittings (with the corner fittings on the top). I grabbed some old curtain hardware pieces and stuck them in the 3 way elbow to help stabilize the screen at the bottom. (I may try large clamps in the future instead.) I cut apart a white shower curtain and stapled/taped the sides to create a slipcover that fit over the screen. I may make another panel from white fabric in the future.
Once I set the screen in front of 500 watt halogen work lamp, I had a cheap diffusion light panel! (Warning: those halogen work lights can get very hot. Be extra careful!) With the work light, the total cost of my set up was less than $20.
And when I'm not using the screen, it comes apart and the smaller pieces can be stored away in a bag. Love that!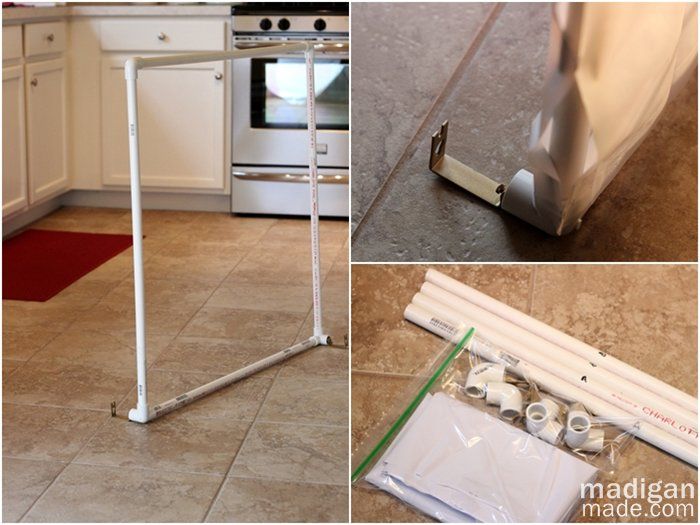 I need to play with this photography set up some more… But I think it will come in handy down the road for my craft and food photography. And I love that it was inexpensive to make, too!
---
Note: This post contains affiliate links. I may be compensated if you choose to make a purchase via those sites. I only recommend products I love and all opinions are 100% mine.
Thanks for reading Madigan Made!
Content Copyright:2010-14. Madigan Made.