Madigan made… a modern gold and white lamp and table.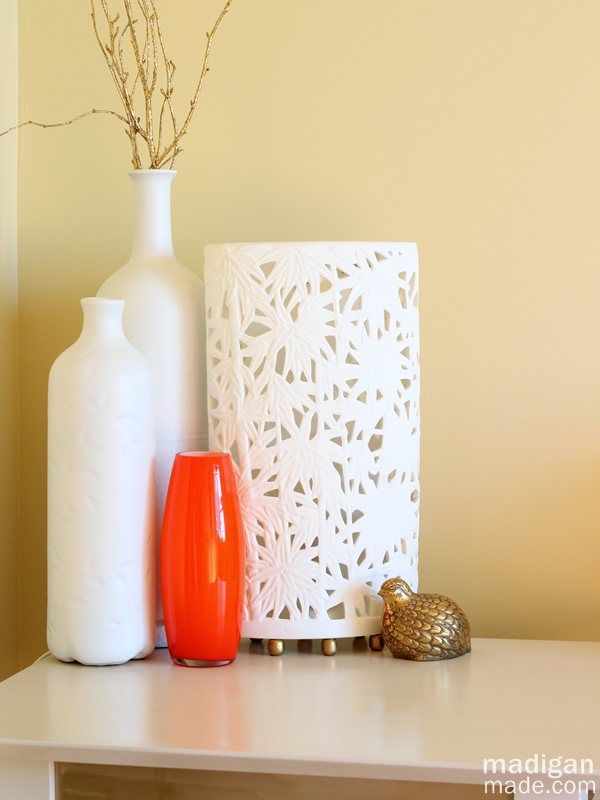 Have you ever looked at a piece of decor and immediately 'knew' it was you? Did you feel like it was calling your name?
Earlier this week I showed you how I slipcovered my futon couch for my new office area. Were you a little curious about the table to the left of the sofa? Well, on that table is a white lamp that sung to me like Siren when I saw it in Home Goods.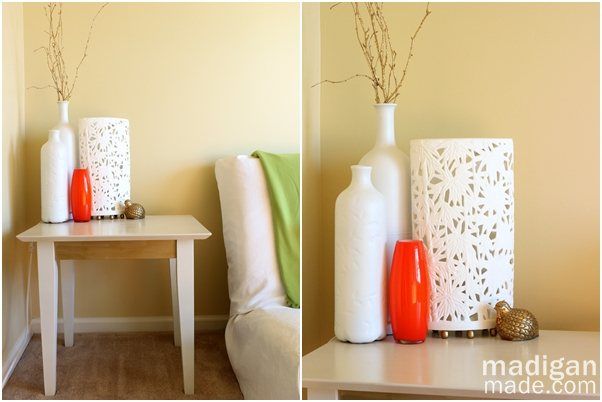 I fell. in. love. with this ceramic lamp as soon as I spotted it. It is a very modern and contemporary lighting piece. The curved cylindrical shape is gorgeous and look at the matte ceramic finish! I love the cut bamboo motif pattern in the ceramic. It fits with some of the other bamboo elements that I already have going on in the room. (the bamboo edged desk, the thrift store chair with bamboo detail, the texture of the wine cork lamp)
I think this small lamp might be even prettier in the dark with the light turned on. Look how it glows: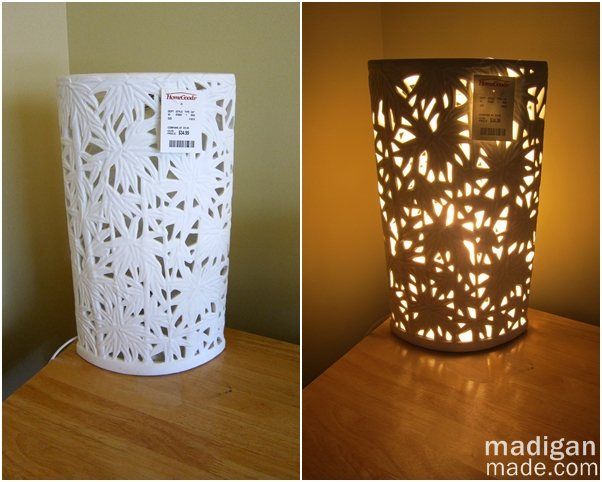 While I loved this lamp, I wasn't crazy about how it sat on the table. The bottom felt a little clunky and the whole thing looked more like a big vase and not a lamp. I wanted to elevate the piece a bit and add a little more height.
So, I grabbed some wood beads, painted them with gold paint. I glued the beads to the bottom of the lamp (with a little E-6000). That little gold detail along the bottom was just 'enough' for me.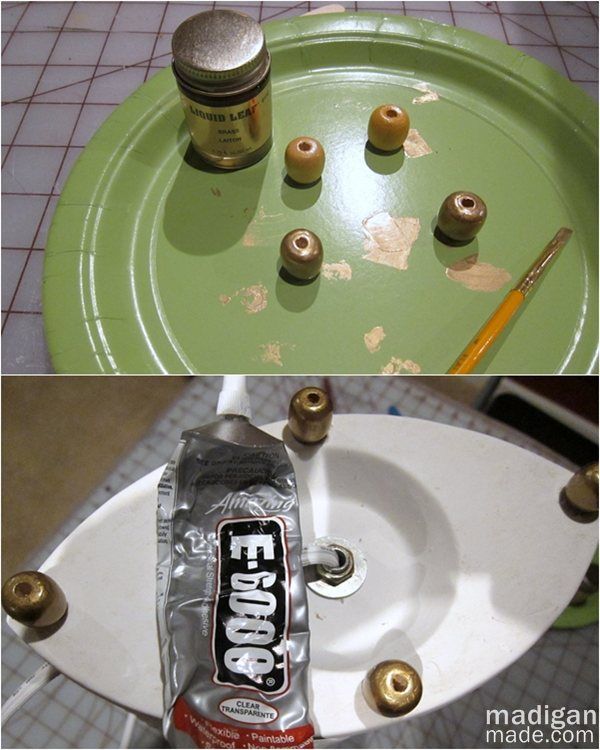 The table below the lamp got a little makeover as well. It was an old side table from my bachelorette apartment days. It was solid wood and had nice, simple lines. But… it clearly was begging for a little paint, don't you agree?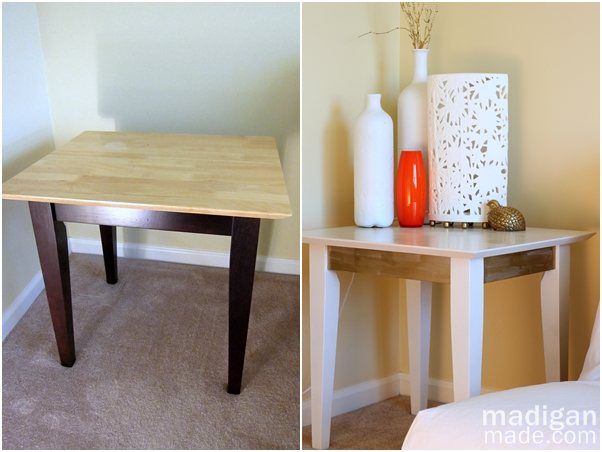 I prepped the table by lightly sanding and cleaning the wood. Then, I sprayed it with several thin coats of glossy white spray paint. I added gold paint details to the aprons on each side of the table. I used the gold color to mimic the look of the gold bamboo and white desk. When I was done painting, the whole table received a coat of polyurethane.
I kept the accessories on the table simple because I didn't want to compete too much with my gorgeous white lamp. A thrift store brass quail and an orange vase break up the other white accessories on the table. (some spray painted vases and gold branches)
Does this little white lamp call out to you, too?
The office is slowly coming together and I hope to finish the room soon. As I mentioned on Monday, this week I've been working on hanging some wall art… I can't wait to show you those ideas in the coming weeks!
Thanks for reading Madigan Made!
Content Copyright:2010-14. Madigan Made.