My creative writing and project inspiration.

Today I want to veer a little off topic today. But I hope you will stick with me, because at the end of the day this post IS about a décor project (in a way) and it is a lot about 'me' as a blogger.
Did you know that I would sketch and write in a journal as kid? Didn't every teen in the early 1990s doodle and write something on paper?  I still have a bunch of my old notebooks in a storage box and I go through them occasionally.
It's fun to see what I was thinking about at that time… and the written pieces are a reminder to me that I have always loved writing (which is why I think I like blogging so much). Some of my writing was dark and filled with teenager angst and self-pity… but a lot of my scribbles were brief short stories and poems that focused on love and nature themes.
But there is one article I penned and it has always stayed with me. I can still recite the story by heart. This piece resonates with me years later. It is a story about some balloons… but it also a tale about faith in your dreams and letting go.
See, in many ways this balloon story parallels the barriers I had redecorating our one guest room. If you remember, I hoped that this guest room would some day be a nursery for a baby. But after many years  struggling with the stress of fertility treatments, my husband and I are doing our best to live 'for today' without children.
And in other ways, this narrative about balloons is a mirror for me right now with my blog. I love blogging…and I want to see this site continue to grow. But I worry about things with this blog… probably too much. I think a great deal about whether I should write about "x" or take "y" opportunity. And the deliberation that goes on in my head blinds me to opportunities and connections that would be good for this blog. In order for me to 'grow' as a blogger, part of me needs to take more risks and permit my dreams and talent shine more. I need to let go of my fears and 'do' more.
Really, this story below can apply to anyone that needs encouragement to have more faith in their dreams… to let go of their fear and believe.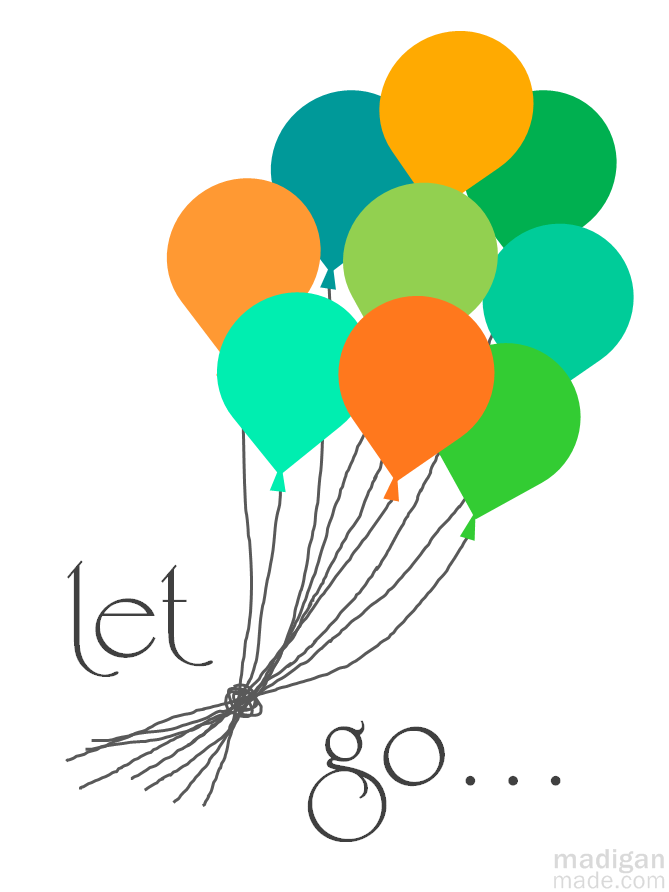 Honestly, I'm a little nervous to share this piece with you today… but the whole point of this tale IS to share more of ourselves. And I also want you to read it because it inspired an art piece that I plan to share with you tomorrow.
So… here is my story/poem about balloons that I wrote as a teenager.
Balloon Dreams

I stand alone on a high hill. It is a place where I take all my questions, but receive no answers, only more questions. I shout out my troubles to the stars above the hill. The wind whips these words away, bending and twisting them until they echo back to me, haunting me. My thoughts never reach the stars and I begin to feel empty of thought. This hill gives me no comfort.

As I stand on the hill, my hand tightly grasps my most precious possessions, my balloons. They are like idyllic dreams, perfect in every way. Each one is a brightly colored globe of light. Clustering above me, they shine together like the dawning of a rainbow. I cannot remember a day without my balloons.

"Those are very beautiful balloons you have there, dear," a soft voice suddenly says.

I spin around to discover that I am not alone on this hilltop. A little woman with silver hair and bright, green eyes faces me. She smiles gently, "I used to have balloons like that, too."

Still surprised by her presence, I reply, "What happened to your balloons?"

"I let them go," she says simply.

I tighten my grip on my balloons, "Don't you miss them?"

"Not really, because I see them every day," she replies and seeing my confusion, she continues, "Look at that star." The old woman points to a bright star in the north sky, "That was one of my favorite balloons. Now I can see it every evening, and so can you."

"Do you mean that balloons can turn into stars?" I ask with awe.

"Yes, if you let them go and let them try. But that is totally up to you." She pauses and looks me in the eye, "You must be willing to give them up and share them. Have faith." Suddenly, as quickly as she arrived, the old woman disappears before my eyes.

Her words linger as I stand on the hill. There is a great silence in the air above, like the atmosphere is straining to hear the notes playing in my head. These melodies are jumbled and entangled in the message of the old woman. I am very confused.

As if acting upon my quandary, a cool wind begins to caress me. I feel a bit of comfort. But something in the air is not right. This is strange.

"The old woman lies," the wind hisses, "Everyone knows that I destroy balloons, they never become stars."

Without notice, the wind suddenly swells into a full force gale. The blast tears at me and I shiver. The wind taunts me with whispers of failure. A huge gust knocks me over and I almost lose my grip on my balloons. My precious balloons. I struggle to hold on to them, but they are pulling on their strings, reaching skyward. Something must be done because my strength is waning.

Again the old woman's words echo within me, Have faith. Doubt leaves my mind and I gently kiss the balloons, planting my trust on each one. I slowly release my grasp. My precious treasures tumble upward into the air.

I wonder if they will survive, I guess only time will tell. For now, I calmly turn around and walk down into the valley, with only the starlight to guide the way.
Thank you so much for letting me share this creative writing piece with you. As I mentioned above, this story inspired a piece of wall art that I created for my bedroom office. The art will be a great reminder for me to have faith in my dreams. I can't wait to show it to you tomorrow!