Madigan made… a What's Up, Weekend?
What's up?
Happy Weekend! We will be celebrating Easter tomorrow with my hubby's family. Beyond the spiritual meaning and importance of this holiday… I love Easter for another reason: the candy.
It is no secret around this blog that I have a big ol' sweet tooth. And my candy palate is wide and diverse. I like anything from the super-sweet-cheap-gummy-candy to the gourmet-dark-chocolate-salted-caramel-truffle. I'm an all-inclusive sweets eater.
Easter can be a fun, yet dangerous time for someone like me. So. many. choices. And Easter candy stands out because it is a distinct genre of treats.
Let's face it, Halloween candy is not really much different than what you can find on the shelves anytime of the year… the candy is just in miniature form. Valentine's Day candy seems to focus on rich chocolates.
But Easter candy is filled with loads of super-sweet, super-marshmallow-y, super-coconut-y treats that you can't find any other time of year. While I like Peeps, I prefer my chocolate eggs (especially the coconut and chocolate ones). And jelly beans. (especially the black ones!) Heck, they are all good in my book.
Do you agree with me? Or is there another particular holiday candy you favor?
What am I digging lately?
Here are some of my recent fav projects that I spotted across blogland this week. Go over and pin them, share them, make them… they are all wonderful ideas!
(Want to see what else I'm loving? Be sure to follow along on Facebook, Twitter, Google+ and Pinterest… I love sharing simple and easy creative ideas in those forums!)
What was I up to one year ago?
This time last year I trimmed back my crown of thorns plant and made this wired-up windowsill display to grow and display the cuttings: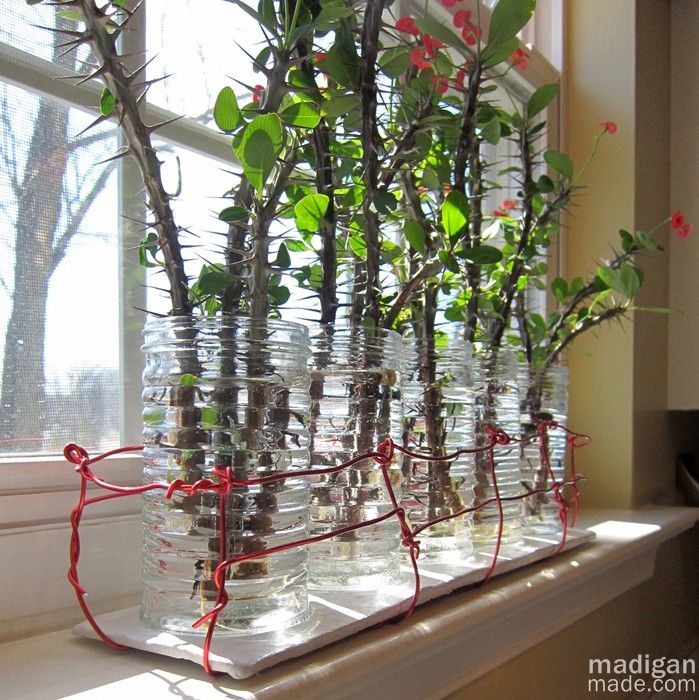 Did you know I never repotted the cuttings? They are STILL sitting on my windowsill and looking pretty (though the glasses are filled with roots now!). I hope to pot some of them this spring so that I can get a few outside on the deck.
What are you up to this weekend?
I hope you have a great weekend (filled with a few treats)!
Thanks for reading Madigan Made!
Content Copyright:2010-14. Madigan Made.