Madigan made… a joint linky party to share inspiration!
A long, long time ago… when I was still new at this blogging thing… I attempted to host a monthly link party. And I realized very quickly that it was a lot of work without much participation. Rookie mistake. The party never really grew and slowly died.
But I still love the idea of hosting a link party. I enjoy sharing new, creative ideas with you. I want to connect and work with other bloggers. I want to share more fun ideas with you, my readers… and honestly, I want to find more inspiration. (I don't join too many link parties anymore and I feel like I see a lot of the same stuff on Pinterest.) So, when four other bloggers recently approached me about hosting a joint party together, I got excited! It would be a larger platform for bloggers to share from. Plus, with the four of us working together I think hosting it be doable for everyone.
I hope you get a chance to go check out these other fab creative bloggers who are also hosting this link party tonight. We'd love it if you'd consider following us on Google+ (my new fav social media platform, remember?)
You can find us all on Google+: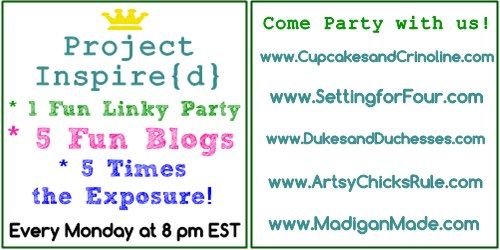 Do you have a project you'd like to share? It will be viewable across all five of our blogs! Fun, right?
Please link up a creative project (crafts, recipes, DIY).
Don't forget to mingle! Visit other bloggers and be inspired!
Posting to this party means you give us the right to post your project and photos and share them on social media. (with credit, of course!)
Thanks for reading Madigan Made!
Content Copyright:2010-14. Madigan Made.