Madigan made… personal and inspired wall art.
Thank you so much for letting me share my creative writing piece that I wrote as a teen in yesterday's post. If you missed that story, you might want to go back and read it. That writing piece inspired today's wall art project.
I created this art for my guest bedroom turned office. This room is 'blog-central', where I write blog posts and photograph my projects. The tale that inspired this art project talks about balloons, but also about believing in your dreams and not being afraid to let yourself shine. As I work to build this blog, I need to surround myself with positive messages like this story. So, I wanted to create an art piece for that room that would remind me of that piece I wrote.
I thought a little 3-D plaque depicting balloons flying away would be perfect. (…read the story I wrote and it will all make sense, trust me.)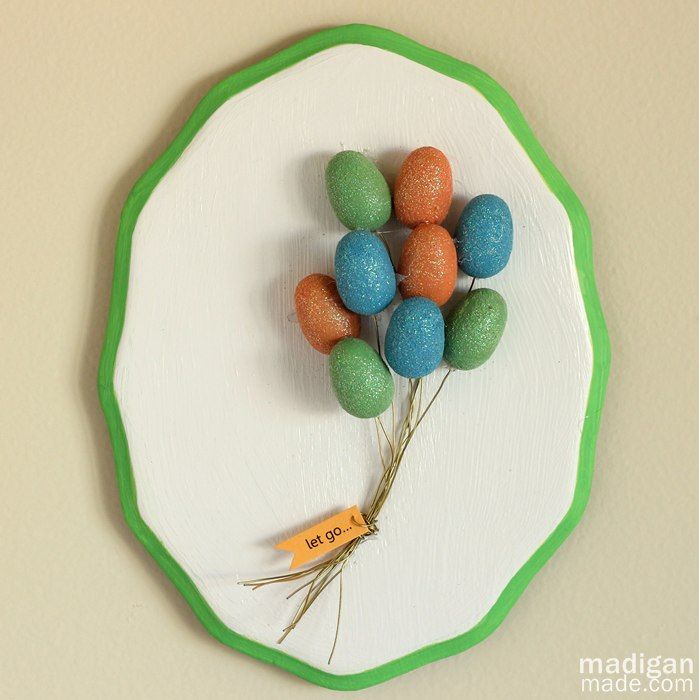 I picked up this small plaque recently at a thrift store for under a buck and figured it would work for this project:
First, I painted the plaque with green paint. Then I changed my mind and coated it in white… and then just painted the edges in green paint.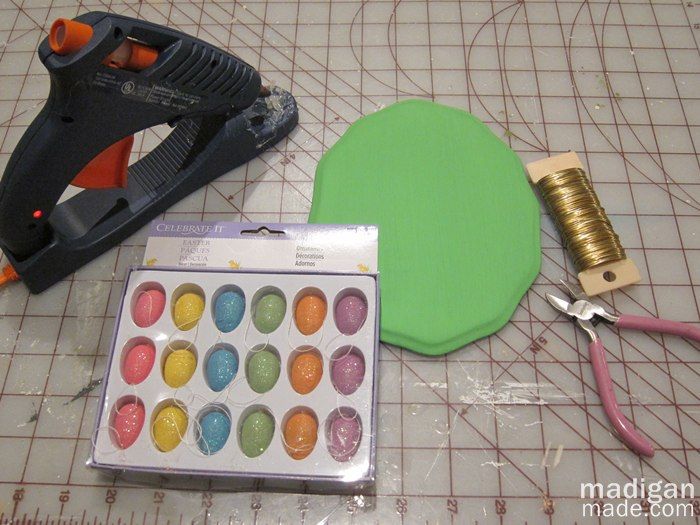 To make the balloons I use tiny Easter eggs. Yes, oval eggs are the perfect shape for 3-D balloons! Plus, the package I found had three perfect colors that would work in the room. (orange, blue and green) And they came pre-sparklefied! (Double-bonus!)
I trimmed the strings off the eggs and drilled a tiny hole in each one. I cut a length of gold wire to be a balloon "string" for each oval shape. I used white glue to attach the wire to the inside of the hole in each balloon. Then, after the glue dried, I grouped the balloons together to form a cluster and used hot glue to attach them to the front of the plaque.
I grabbed another a piece of wire and wrapped it around the others to tie the 'strings' together. I attached a printed paper tag to the bunch with an important message from my balloon story: "Let go."
I love this little piece of wall art. It is sweet, simple and oh-so-personal. My kind of home décor.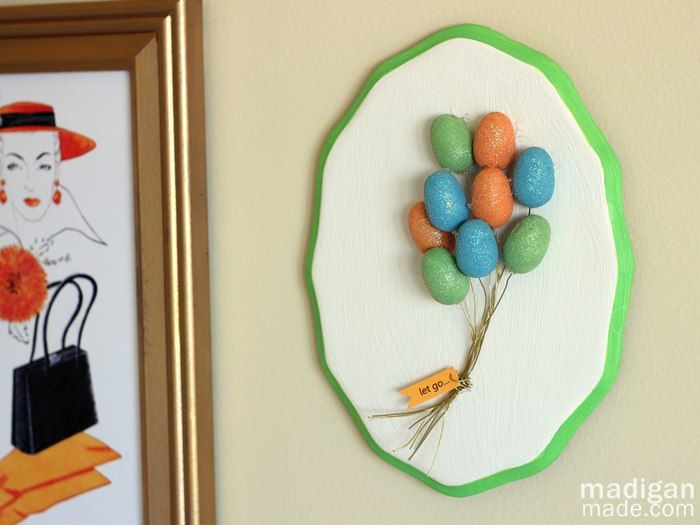 You may recognize the frame hanging next to it… it is one of my grandmother's illustrations that I framed and treated to look like oil painting last year. Both pieces are hanging in a larger grouping of pictures above my slipcovered futon. I hope to show you more of this gallery wall soon!
Thanks for reading Madigan Made!
Content Copyright:2010-14. Madigan Made.