Madigan made… a leftover wedding craft into a pretty card.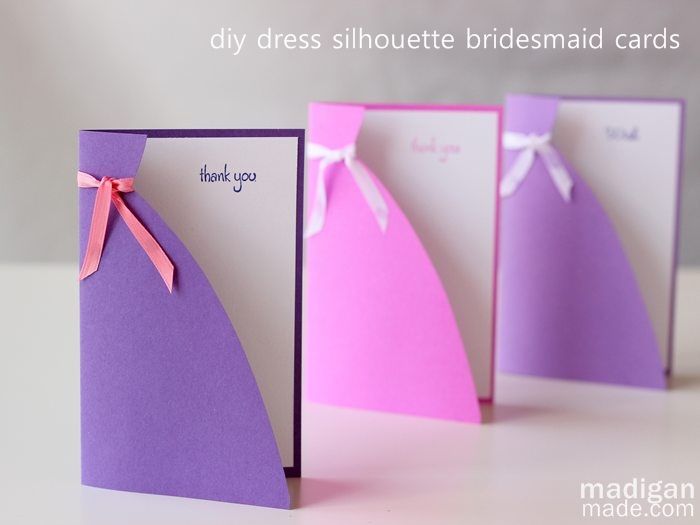 Do you have a lot of U.F.O.s laying around your craft area? That's UnFinished Objects for those of you unfamiliar with the term. You know, that pile of craft projects that you started but did not complete?
I recently came across a wedding card project that I had forgotten about… these simple cards cut in the silhouette of dresses. The shape of the cards was inspired by a greeting card I saw in a stationary store years ago.
I planned to give these cute cards to my bridesmaids when I asked them to be in our wedding… as kind of a thank you and a "be my bridesmaid" card. But our schedule was busy then (we were planning a wedding…). I never finished the cards before I asked my bridesmaids if they wanted to share in our special day. So, the cards have sat in my U.F.O. box without a purpose.
( Did I mentioned to you that my husband and I got married over 7 years ago? Sorry… that is an important detail I overlooked. And you are correct… this project has been laying around a loooong time! )
I came across the card pieces recently in my stash and I thought that they'd still make pretty greeting cards. I figured that the dress motif was feminine and springy and would work for any occasion. (It could be pretty for a Mother's Day card, a birthday card, or a pretty princess party invite, too!)
The paper was already cut and folded. I just needed to finish assembling all the pieces and add a ribbon detail.
Want to make your own bridesmaid or dress silhouette cards?
Here's how I made mine:
Supplies used:
Colored cardstock
White cardstock
Small stamp
Stamp pad
Ribbon
Paper cutter
Craft knife
Scissors
Pencil
Scrapbooking adhesive or tape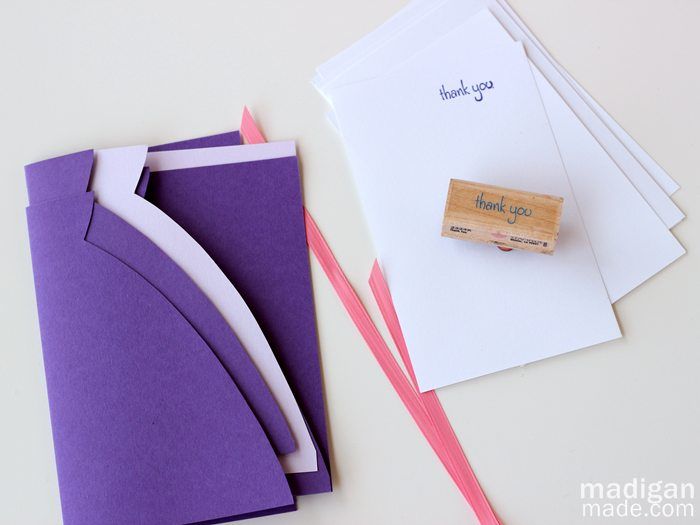 Step one: Cut a panel of paper out of the colored cardstock. (mine was 7" x 5.5") Fold that piece in half to create a card. Sketch out a shape that resembles a dress on one side. Cut out that silhouette using your scissors. Now you have a template that you can trace to make more! Cut, fold, trace and trim out more of the 'dresses' out to your desired number.
Step two: Cut out panels of white paper that will fit 'inside' each card and show off the dress shape. (mine was 3.25" x 5.25") Stamp a small sentiment in the top right corner, if desired. Attach the white paper to the colored stock using adhesive.
Step three: Use a craft blade or knife to cut a small slit vertically along the fold line of the colored card stock. The cut should be opposite where the 'waist' is on your dress. Slip a piece of ribbon through that hole and tie it in the front of the dress. Use adhesive or glue to tack down the loose ribbon, if needed.

These cards will fit inside an invitation size envelope that you can find at any stationary supply store. If you like this idea, you could reverse the colors (create a white dress with a pastel colored panel inset) to make a pretty handmade card for wedding, too.
I'm so glad I finished these cards off. It pays to go digging through my pile of cast-away craft projects! These sweet little dresses were hidden away for too long! They will make pretty and feminine thank you, birthday and congrats cards. I can't wait to use them!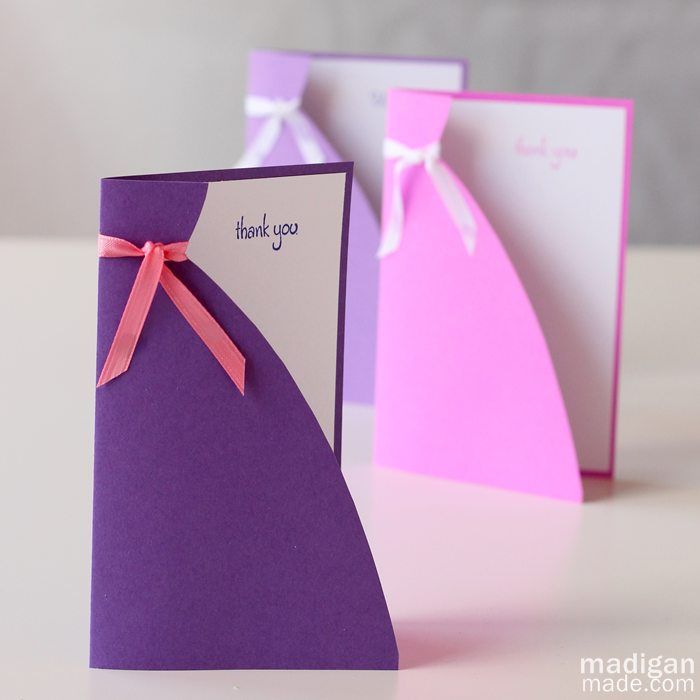 Maybe you need to poke around your unfinished crafts to see what stuff you can complete and use today!
Thanks for reading Madigan Made!
Content Copyright:2010-14. Madigan Made.