Madigan made… A baseball-inspired, frosted glass vase.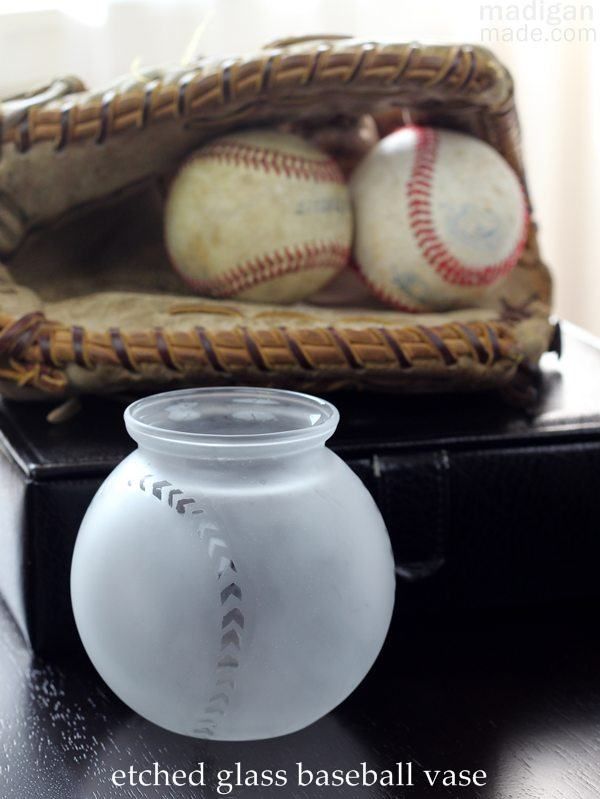 This fun Father's Day project is brought to you by Martha Stewart Crafts.
I don't know about you, but my hubby and I have a LOT of baseball fans in our family… our dads, our nieces and nephews, my sister-in-law, and, of course, my hubby! But finding nice gifts for baseball folks beyond the traditional hat or t-shirt is not easy. I find that sports-related gifts often look a little cheesy or juvenile.
So, when Martha Stewart Crafts recently sent me some glass craft supplies, I was eager to try out their glass etching cream on a baseball craft project.
This etched glass baseball was inspired by my little fishbowl snowman that I made in January. He sat on my kitchen windowsill for several winter months. Every time I saw that vase out if the corner of my eye, I kept thinking that his striped scarf against the white paint was the stitching of a baseball. Do you see it?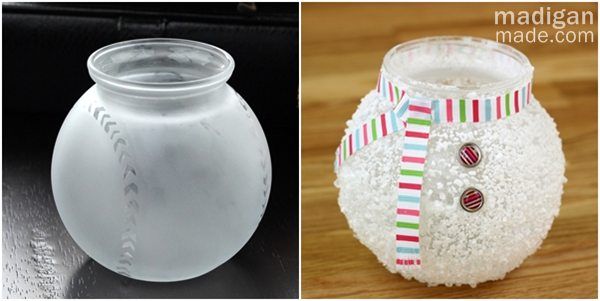 I think it was the crafty angels telling me I needed to make a baseball out of a fish bowl, right? When I kept 'seeing' a baseball… I knew it had to be made!
Want to see how I created it? (Father's Day is approaching fast…)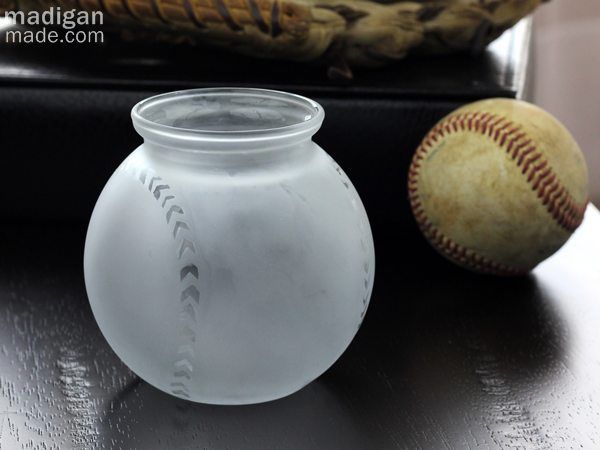 Baseball Vase: How to Etch Glass
Supplies used:
Round, glass bowl (i.e. a small fish bowl)
Martha Stewart Crafts Glass Etching Cream and Brush
Martha Stewart Crafts Stencil Film (or painters tape or vinyl could work, too)
Scissors
Protective gloves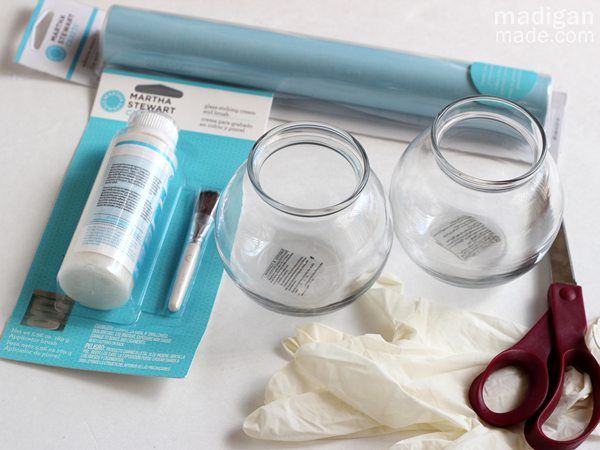 Instructions:
Clean your glass with soap, water and rubbing alcohol.
Using your scissors, cut a long, 1/4 inch wide strip of stencil film (or vinyl or tape).
Snip out many arrow-shaped dashes from that strip (don't worry if they are not all the same size or shape… we're just trying to give the general impression of stitches). Attach the arrows to the glass in the shape of baseball stitching. I highly recommend having a real ball nearby to use as a model.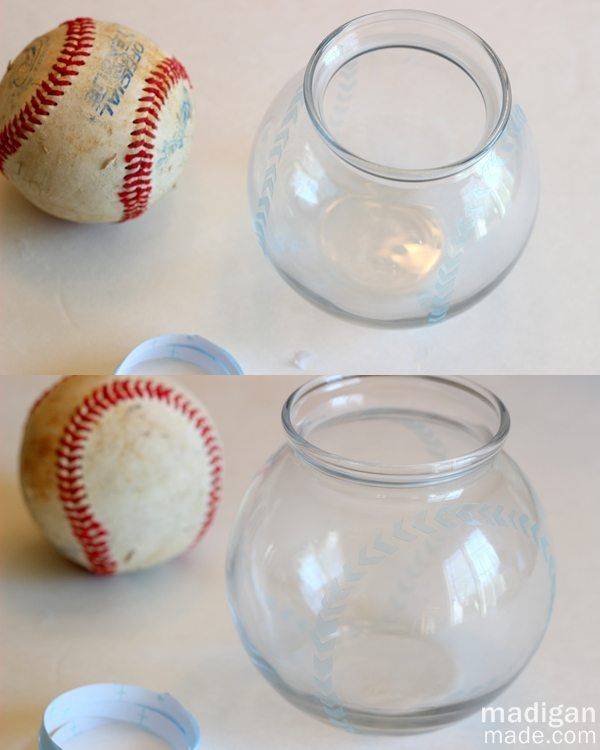 Think of the stitching like two circles on either side of the "ball" that don't completely close. Instead, the lines try to connect with the other side at the bottom.
Wearing protective gloves, apply a thick, even coat of etching cream over the entire outside of the vase with the brush provided in the etching cream kit. I used a disposable, plastic bottle to keep my vase propped upside-down. Allow the cream to sit on the glass for 15+ minutes.
Rinse the etching cream off with water and dry the vase off. Remove the adhesive pieces to reveal the stitch line. Wrap it up to give to dad or another baseball fan you know!
The etching and pattern on the vase is subtle and doesn't "scream" baseball. You have to do a double-take, but the reference is clear. Love that! Oh, and if you don't have etching cream, I bet you could mimic this look with white glass paint, too.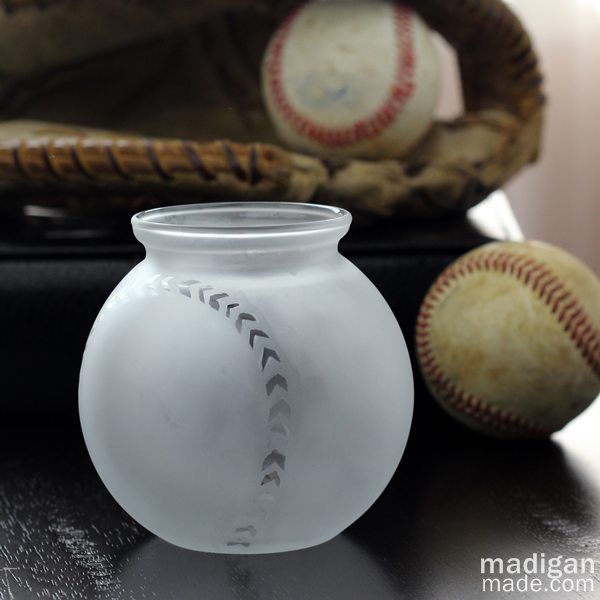 This vase would be a fun accessory for any baseball lover. My dad could use it to hold pens on his desk. My nephews could keep it in the bathroom to store their toothbrushes. But I think we're going to keep it here for my hubby to collect loose change… or we'll find a place for it in our sports-themed basement! (That I've yet to show you, I know! If you wanted a peek at that room, take a look at my sports ticket art and sports-themed subway art.)
---
Be sure to follow Martha Stewart Crafts on Facebook, Twitter and Pinterest for more Mother's Day and Father's Day craft inspiration.
Note: I wrote this post as part of a paid campaign with Martha Stewart Crafts and The Blueprint Social. As always, all opinions are my own.
Thanks for reading Madigan Made!
Content Copyright:2010-14. Madigan Made.