Madigan made… a card for mom with creative tape.
Want to make mom a handmade card for Mother's Day… but not sure where to start? Well, just grab some fun tape!
While I was at SNAP! this month, I had the chance to try out 3M"s new Scotch Expressions Tape. Some of their colorful tape was plastic and some of it was fabric, like traditional washi tape. And it was all fun to play with! (Did you see my plaid luggage tag on Instagram?)
3M gave me a few packs to take home and try on projects. I knew that this tape could be an easy way to make a quick card… so this weekend I made a few cards for Mother's Day. (it's right around the corner!)
Y'all know I'm into CMYK and plaid patterns, right? (that's cyan-magenta-yellow-black) Remember my CMYK plaid glass coasters? Well, they inspired these cards. This craft was so simple to create!
Easy Washi Tape Greeting Card
Supplies use:
White card stock, 8.5" x 11"
White invitation size envelopes
Colorful tape
Scissors/paper cutter
Stamp
Stamp pad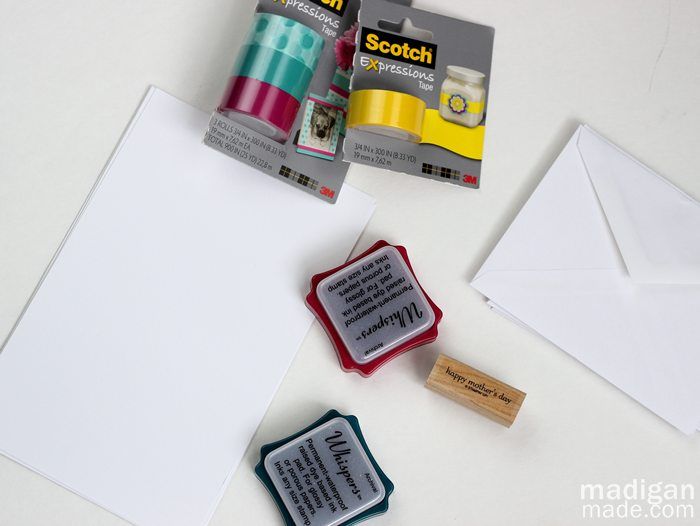 Instructions:
Cut your card stock in half to form sheets that are 5.5" x 8". Fold that paper in half to form a small card.
Decorate your card using colorful tape to create a plaid pattern. Lay each strip of tape down in perpendicular directions. Trim the tape close to the paper with scissors or a paper cutter.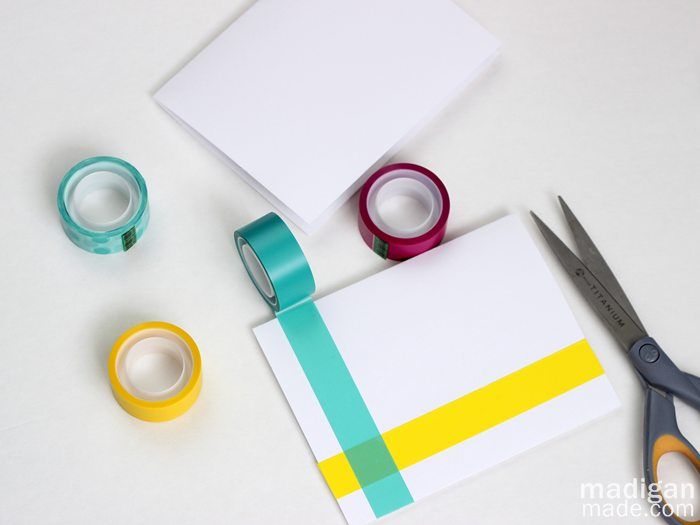 Then, just stamp a small sentiment in the corner! So easy!
Don't forget to apply matching tape to the envelope, too, and trim off any excess. (Because who wants a plain old envelope?)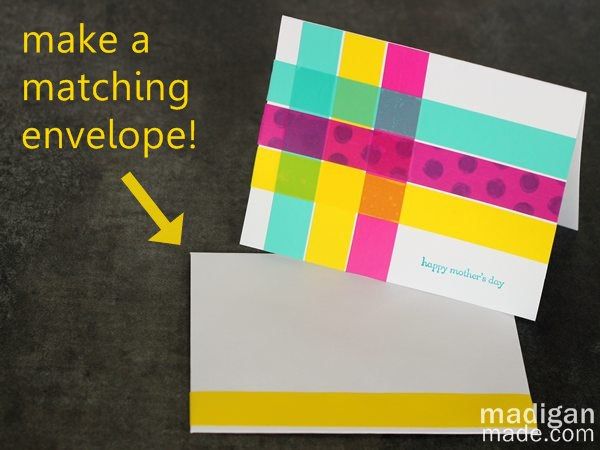 What I love about this card is that this doesn't have to be a Mother's Day card. The plaid pattern is a universal motif. It would work for Father's Day in masculine colors… or it could be fun for a birthday or thank you card, too.
These homemade cards are so bright and happy. I can't wait to give them to our moms and my grandmother!
Note: I made this project with complimentary product but, as always, all opinions are my own.
Looking for more Mother's Day craft ideas? Check these out!
Thanks for reading Madigan Made!
Content Copyright:2010-14. Madigan Made.