Madigan made… DIY glitter necklaces from bottle caps.
Did you know that Earth Day is right around the corner this month?
As a crafter, I am a constant re-user. I scour our trash for containers and materials that could be repurposed in a craft. Old jars, wine corks, plastic containers… I'm often on the lookout for something that could use a little paint or decoupage!
Well, we also collect bottle caps from our beer bottles and I've always wanted to make something from them. With Earth Day coming up, I thought some upcycled jewelry was in order!
Want to make a recycled necklace? Save up a few caps and follow along: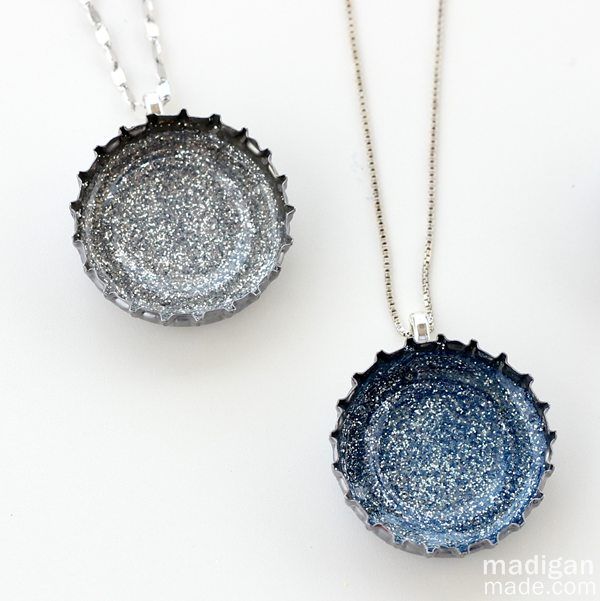 Upcycled Bottle Cap Necklace
Supplies needed:
Bottle caps
Glitter
Mod Podge (Satin or Gloss Formula)
Mod Podge Dimensional Magic
Jewelry bails
Strong adhesive glue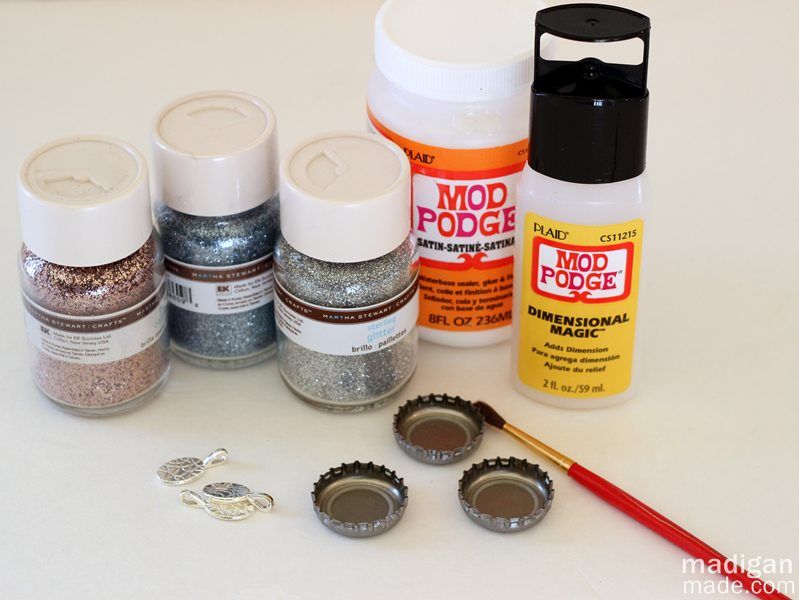 Step 1: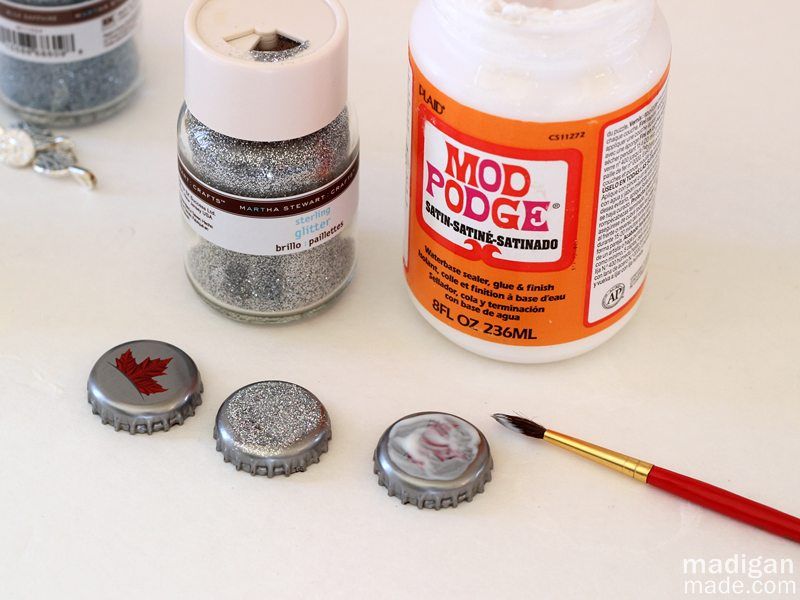 Cover the back of the bottle cap with Mod Podge. Sprinkle with glitter and shake off any excess. After the glue dries, brush another layer of decoupage over the glitter to seal it.
Step 2: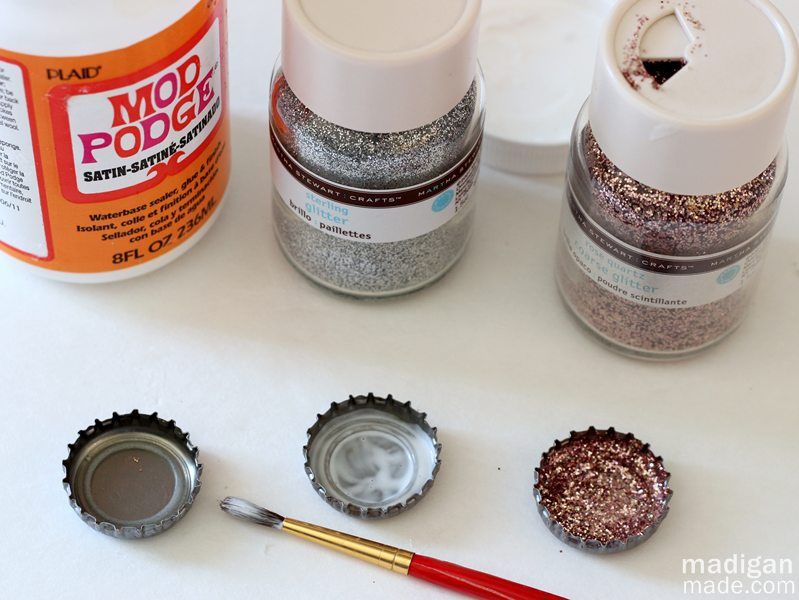 Brush Mod Podge on the inside of the bottle cap and sprinkle with glitter. Shake off the extra glitter.
Step 3:
After the decoupage dries, apply a generous layer of Dimensional Magic (DM) over the glitter on the inside of the cap. Dimensional Magic is a resin-like material that looks cloudy when applied, but dries crystal clear. It will give your glitter a thick, glossy coat on top. Allow the DM to dry overnight.
Step 4: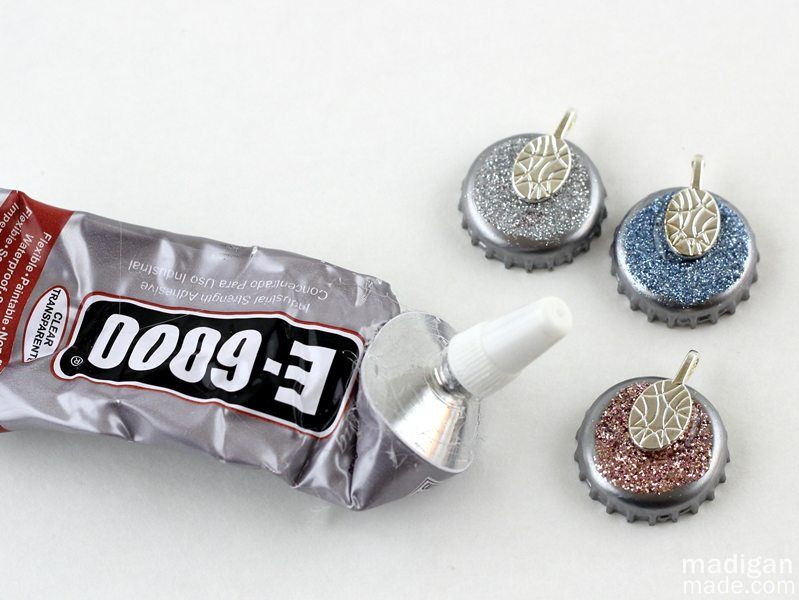 Then use a strong, clear adhesive glue to attach the bail to the back of the bottle cap. Allow the glue to dry. Once dry, you can wear your sparkly accessory on a silver chain… or even a ribbon!
The cap is a nice size for a necklace charm and I like how the glitter looks under the Dimensional Magic.
I gave two of these bottle cap pendants to our little niece (who has a shared penchant for sparkly things), but I kept the pink one for myself. I couldn't resist!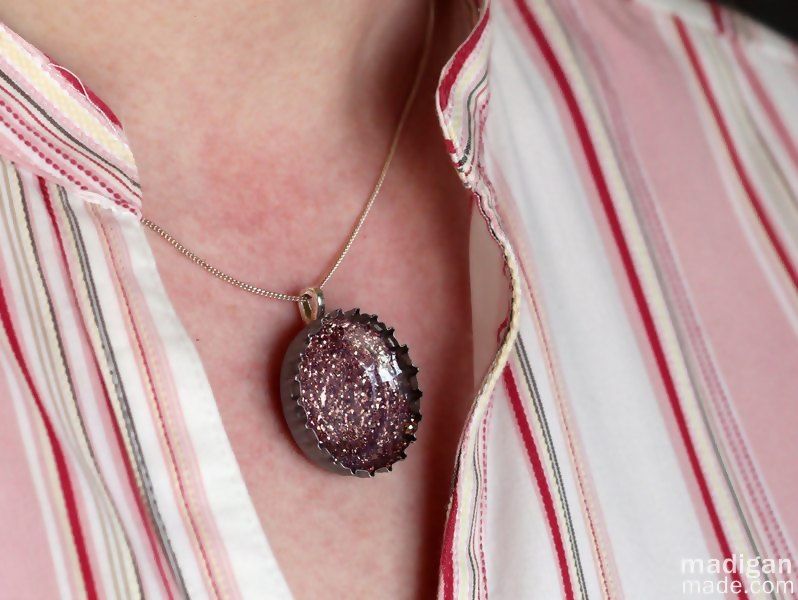 Are you in the mood to find more recycled crafts for Earth Day?
Check out all of these upcycled craft projects from some other bloggers I know:
/
Thanks for reading Madigan Made!
Content Copyright:2010-14. Madigan Made.