Make: DIY enameled and glazed jewelry pendants.
~ This simple craft project is brought to you by Martha Stewart Jewelry. All opinions are my own. ~
Paint can solve so many DIY problems, can't it? In the course of my crafting career, I've painted a lot of things. But, until recently, I haven't really painted much of my jewelry.  Not sure why… maybe I was just waiting for the right paint? I've been a little concerned that nail polish or spray paint could eventually wear off metal jewelry.
Well, this past month Martha Stewart Jewelry and Plaid sent me a big box of jewelry making supplies. Rhinestones, charms, clay, beads… they were elegant and tasteful items just like all of Martha's craft supplies. But what caught my eye in the box was the jewelry paint.
The paint is designed specifically to be used on jewelry and dries to the air… No baking? Durable? I had to try this out!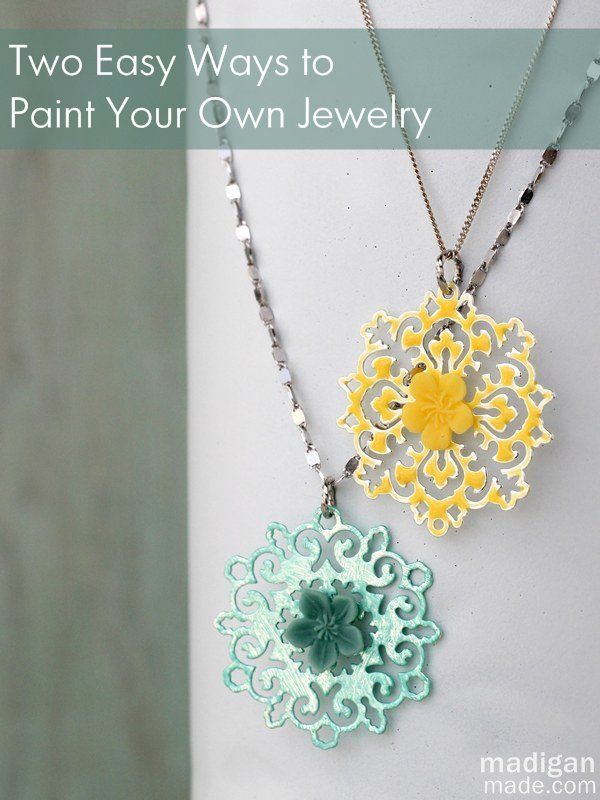 How to paint your own jewelry
Supplies needed to paint jewelry:
Martha Stewart Metal Settings
Martha Stewart Jewelry Glaze Paint, sea green
Martha Stewart Jewelry Enamel Paint, yellow jacket
Martha Stewart Enamel Paint Activator
Martha Stewart Jewelry Glue
Cabochons
Jump rings
Jewelry pliers
Silicone mat
Brushes
Toothpicks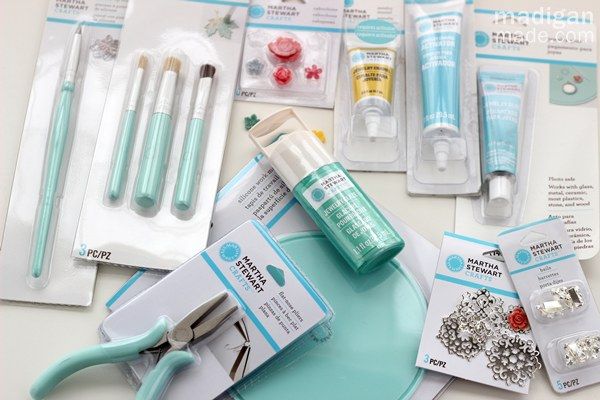 Option One – Enamel Your Jewelry:
Place dollops of the enamel paint activator and the enamel paint on the silicon mat. You will need twice as much activator as you do color. Mix the two on the mat with your toothpick. Allow the paint to thicken a little (it won't 'run' off the edge of the metal as much). Using a fine brush and/or toothpick, carefully apply the paint onto the metal. If the paint spills over the edge of the metal setting, use a silicone tip brush to wipe clean. The paint will air dry and harden in 24-72 hours.
Option Two – Glaze Your Jewelry:
Using a brush, apply the jewelry glaze to the metal setting. Apply a thick layer if you want the color to be more opaque. (I brushed my paint on in streaks so that some of the metal peeked through and to give the surface a little more texture.) Allow the glaze to air dry.
Final Step – Adorn/Assemble Your Necklace:
Using jewelry glue and a toothpick, apply a small amount of glue to the back of each cabochon and attach it to the center of each metal medallion setting. Allow the glue to dry.
With a pair of pliers in each hand, open a jump ring and close it around a top opening of the medallion. Slip your new and colorful pendant on your favorite silver chain and tell people that, yes, you did paint that yourself!
I really like both finishes on these pieces. The glaze has a sheer, pearl appearance while the yellow enamel is more opaque and super-glossy. (and I loved that I had the perfect yellow sweater to wear with it, too!)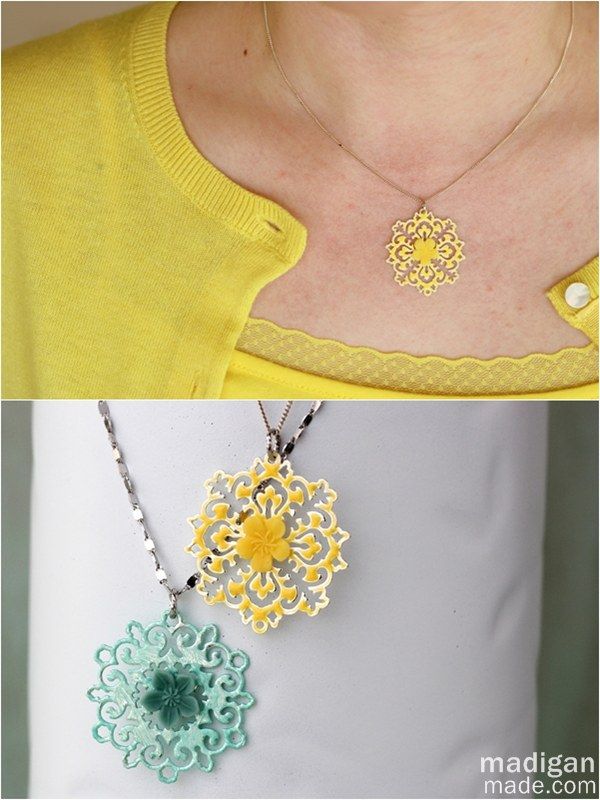 I enjoyed using the Martha Stewart tools and jewelry supplies. These paints were so easy to work with… and now I can't wait to attack all of my beat-up jewelry with a little color!
Be sure to follow Plaid for more Martha Stewart Jewelry ideas! You can find them on Facebook,  Twitter, and Pinterest.
Want to see more of these elegant jewelry making supplies in action? Check out some of these projects from other bloggers:
Note: I wrote this post as part of a paid campaign with Martha Stewart Crafts and The Blueprint Social. As always, all opinions are my own.
Thanks for reading Madigan Made!
Content Copyright:2010-14. Madigan Made.