Madigan made… a layered frame-in-a-frame. (again)
Sometimes I come across something that I love so much that it makes my insides smile… and I have to find a way to share that item somewhere in my home.
I love this print. I adore it, in fact. The subject matter is… gorgeous. Isn't this green lady stunning?
But besides the beauty… more importantly… is the fact that my creative grandmother (and talented illustrator) drew this pretty scene. That is what makes this art even more special.
My brother is the lucky one who gets to keep her original sketch. But if you remember, last year I took photos of some of my favorite pieces of my grandmother's. I printed one photo already and treated it to mimic the look of an oil painting.
Recently I cropped and edited a photo I took of the green dress sketch. I had the photo printed as an 11×14" canvas wrapped print. It looked beautiful as is… but I felt that this art deserved a grander background.
So, I followed a simple trick that you've seen before from me… I hung the art on top of another frame. (This ugly thrift store frame that had potential but just needed a coat of glossy white paint and gilding)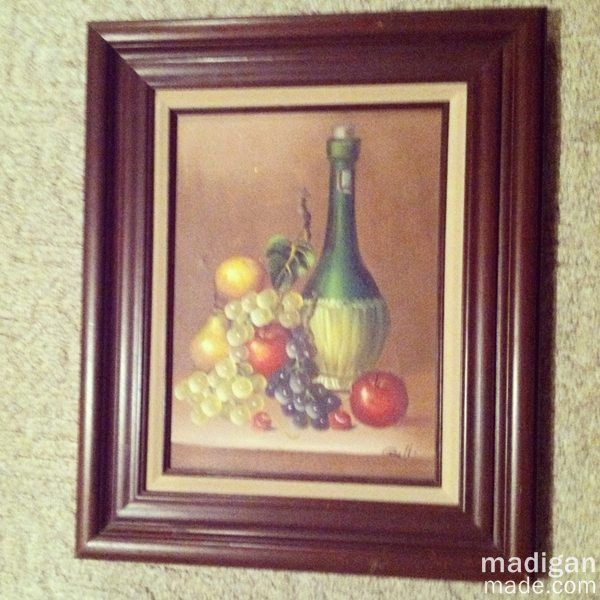 If you've read this blog from the beginning, you may remember the doubled up frame in my kitchen area… or the layered frames on top of frames in my foyer gallery space.
For all of this art, I used picture hanging strips to attach the layers together.
Simple idea. Easy tip. And it beefs up the impact, eh?
This print is now hanging in the gallery wall above my slipcovered futon in my office area. If you remember, this print partly inspired the room's green, orange and blue color scheme. I loved the print so much that (in a way) I designed a room around it!
Yes, I am still in the midst of updating my bedroom office. This makeover has been a very slow process, in part because this room holds such special meaning to me. I am making a point to be selective about what goes into this space. The decor needs to be personal (like my other print from my grandmother). It needs to be uplifting and inspiring (like my 3D balloon art and my wire memo board). And it needs to be 'me' (like my quirky wine cork lamp and patterned pillows). I'm getting there and will continue to show you more of the room in time!
Does it take you forever to redo a room? Are you purposeful in what you bring into a space? Does it have to make your insides smile, too? I hope so!
Thanks for reading Madigan Made!
Content Copyright:2010-14. Madigan Made.