Madigan made… a simple, dotted etched glass craft.
Imagine the following scenario:
What do you do when your hubby brings home a bouquet of flowers that he wants to give his mom on Mother's Day? (Cue the "aww" – yes, he got his mom flowers!) But, keep in mind that today is Mother's Day!
Well, you look around the house for an inexpensive vase or jar that will hold the flowers to give his mom. And then you decide that the plain glass fishbowl vase you found is just that… too plain.
How can you decorate the vase quickly? There is no time to paint it. You are meeting your mother-in-law in a few hours. So, you grab some glass etching cream and a hole punch… and you create a simple and elegant dotted vase in no time.
Seriously… this scene happened to me yesterday… and it seriously was that easy to make this vase. (I even had time to photograph it, too!)
Let me show you:
Simple DIY Etched Glass Vase
Supplies needed:
(Note: The following links contain affiliate links. I may earn a commission off of purchases via those links. Some of these products listed were given to me but, as always, all opinions are my own.)
Instructions:
Clean your glassware thoroughly with soap, water and rubbing alcohol.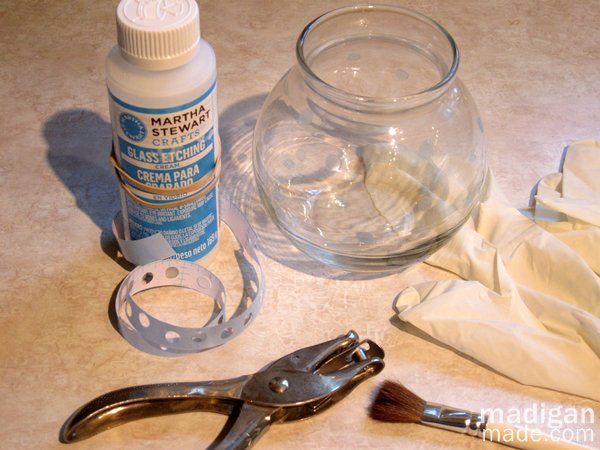 Use a hole punch to create small dots from the stencil film. Stick the circles randomly all over your vase.
Wearing gloves, brush a thick and even coat of etching cream over the outside of the vase. Allow the cream to sit on the glass for 15+ minutes. Rinse the cream off with water and dry the vase.
Fill your vase with flowers and you have a quick, easy and inexpensive handmade gift!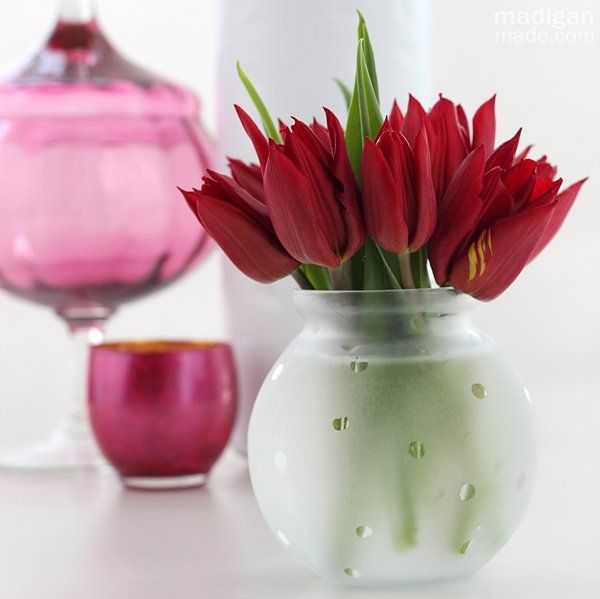 This project was much easier than the etched baseball vase… you just punch out a bunch of circles and randomly stick dots all over! You can really use any shape for the dots. If you have fancy shaped hole punches, that could be fun, too.
I love how simple and fast the etching cream can transform a plain vase into something a little more special. I still have lots of that cream leftover… so you can count on seeing more frosted and etched glass projects around here!
Thanks for reading Madigan Made!
Content Copyright:2010-14. Madigan Made.