Madigan made… a What's Up, Weekend?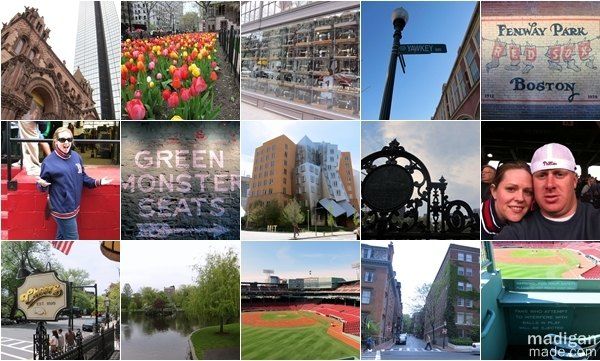 What's up?
So, I'm pretty sure that Boston has been on everyone's minds lately. I haven't had the heart to talk about the recent tragedy here. However, this weekend I thought I'd focus on what I love about Boston. I want honor this special city a little by showing you some of the things I love about this historic and awesome town … via a few travel snapshots from our family's past.
A couple years ago, my hubby and I took a short trip to Boston in the spring. It was our first time in this old town and we had a chance to walk around (a lot!) and experience a Red Sox game. (It was kinda cold during the game and I just had to buy a new sweatshirt.) We loved that Boston was a very walkable city… and while I loved the old historic landmarks, my hubby was drawn to the deep sports history there. (He took all the photos at the ball park… can you feel his reverence?)
After this trip, my hubby and I debated on the way home what was our favorite city in the U.S. Now, we are not exactly world travelers, but for us, the decision was a toss up between Chicago and Boston. We love Chi-town but in some ways, I think Boston reminded us a little of Philly.
Deep historic roots and old buildings. Avid sports fans. College town. Cobblestone. Thick and distinct regional diction. People with atti-tude. Yes, I think it was the people that made Boston feel a little like home and that was the edge for the win.
If you ever get the chance, I highly recommend making the journey to Boston…now, more than ever! We <3 Boston! (and are thinking about you lots, lately!)
What am I digging lately?
I spotted these projects out in blogland recently. Go over and pin them, share them, make them… they are great ideas!
(Want to see what else I'm loving? Be sure to follow along on Facebook, Twitter, Google+ and Pinterest… I love sharing simple and easy creative ideas in those forums.)
What was I up to one year ago?
This time last year I took a deep breath and hit 'publish' on one of my most personal posts to date. If you haven't read the special story of our guest room and why I hesitated for many years to decorate it… I encourage you to check it out today. Some day soon… I hope to be have this space finished.
What are you up to this weekend?
I hope you enjoy your weekend! (and that it is a little crafty!)
Thanks for reading Madigan Made!
Content Copyright:2010-14. Madigan Made.