Madigan Made… an easy DIY with a retro Lucite necklace.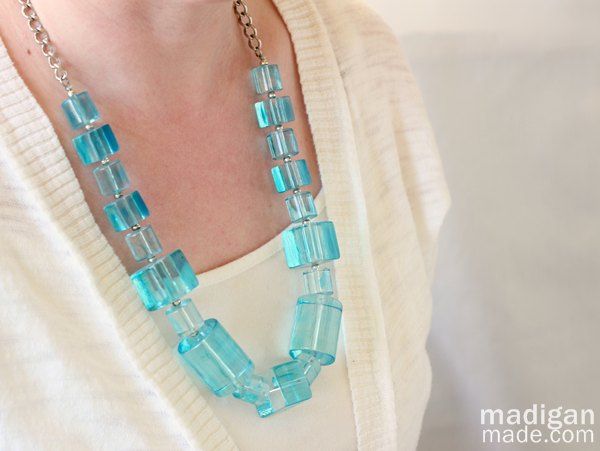 Has your life ever been touched by someone special that even when they aren't around… you still 'see' them everywhere?
I told you before about my husband's late Aunt M. She was the spunky aunt who had a passion for life and… fashion accessories. Purses? Jewelry? Shoes? Coats? She seemed to have one for every occasion and wore them proudly with flair. Today, when I go to pick out a piece of jewelry or a purse, I often think about Aunt M and smile.
Remember the pile of costume jewelry I inherited from her?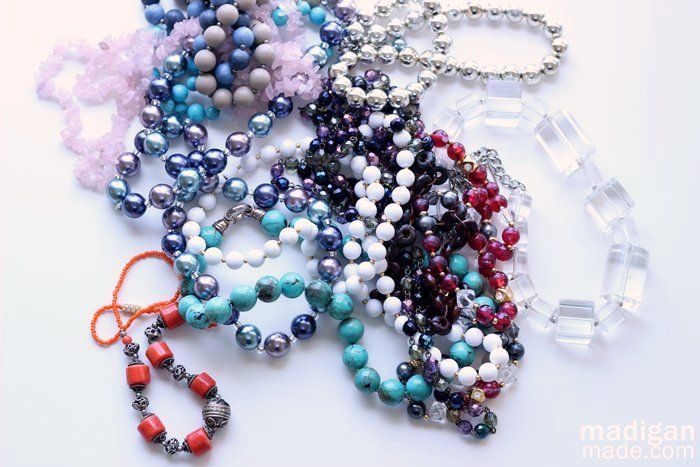 I'm still debating what to make out of these beads, but I started to wear a few of the pieces… like that clear, plastic Lucite necklace.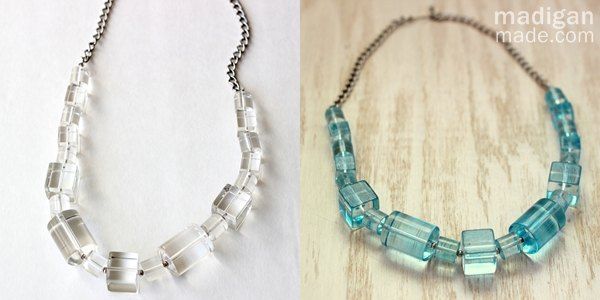 I love this necklace. I figure that Aunt M probably had this piece from the 1970s (or earlier?). It is chunky and fun (and clear stuff seems to be popular these days). But it needed something.
Well, I've seen loads of ideas floating around Pinterest where people paint clear jewelry (with nail polish or permanent markers)… like this big statement necklace by Aunt Peaches (shown on Elizabeth Bank's blog… yes, the actress!). I figured that my clear necklace may need just a hint of color, too.
I have a bunch of glass paint in my craft stash (given to me for prior projects)… and I've used glass paint on DIY wall art… so I figured, why not try it on plastic?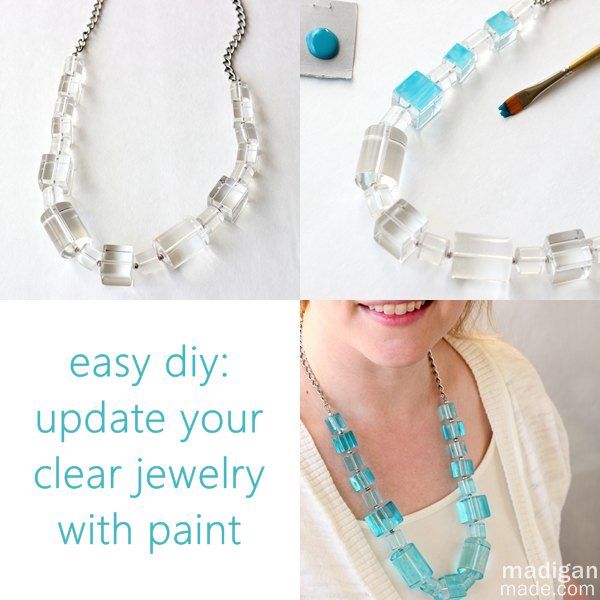 So, I picked a pretty shade of translucent turquoise glass craft paint and carefully painted around the plastic shapes. I painted one side of each bead and let that dry. Then I flipped the necklace over and painted the remaining sides. It was just enough color!
Once it dried and cured (for several weeks)… I found that the glass paint did not chip or flake off the plastic. I love how the pale blue color helps the necklace pop a little more against my clothing. When the light hits it, is almost glows blue.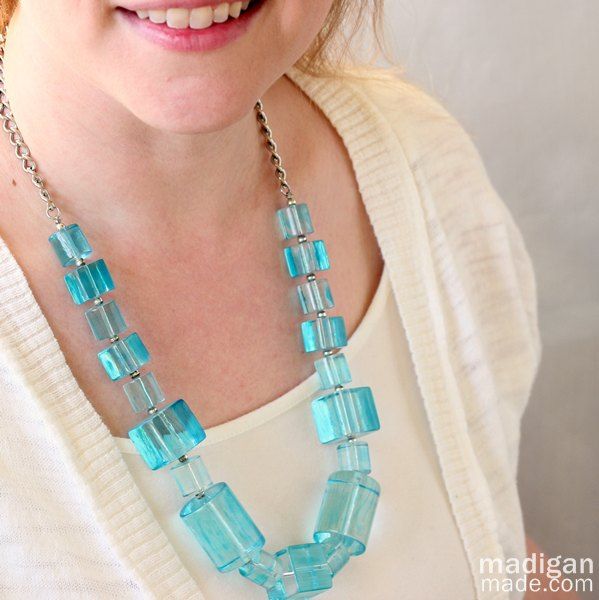 You can still see some of the brushstrokes and I think they add a soft look to the Lucite. The effect reminds me of water or ice.
This will be a fun necklace to wear this summer! But, more importantly, it will be a fond reminder of our dear Aunt M!
Do you have a clear piece of costume jewelry you can experiment with paint? For a low-committal change, you can use nail polish and remove it later. It really is fun to see what a small amount of paint can do to a piece of jewelry.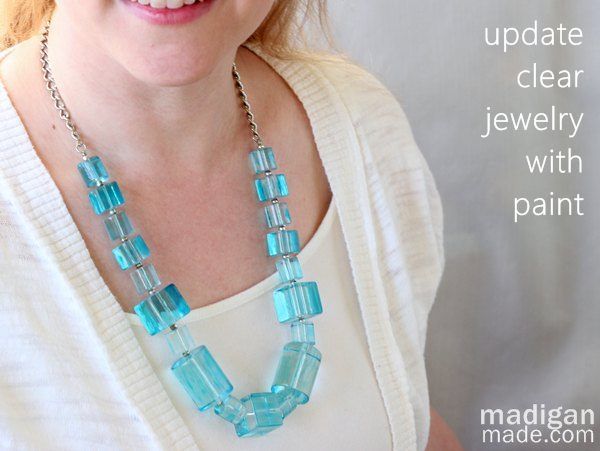 Since this project was inspired by something I saw on Pinterest… I'm going to be sharing this project on Young House Love's Pinterest Party. Join me?
Thanks for reading Madigan Made!
Content Copyright:2010-14. Madigan Made.