Madigan made… golf themed decorations for the home.
My husband is a big sports fan. He appreciates most sports… but he loves golf. He plays it as often as he can and when he's not on the course, he's watching it on TV. (He watches it and I'm usually on the computer next to him writing a blog post… so, I passively absorb more than I'd care to know about the sport.)
Well, next week something pretty momentous is happening around Philadelphia. The U.S. Open is playing right outside Philly and my hubby is so excited that he gets to go see some of it. (I think I might get to go, too!)
Because of this occasion and because my husband we just love golf in our house, I decided to change around my large clipboard wall to honor the sport of golf.
I did not want to create a literal translation of a golf course on our wall… I hoped to give more of an abstract impression. I was inspired by the colors of the golf course itself. During my many hours of watching golf on TV with my husband I've always been struck by the many different shades and stripes of green on the fairways. I love how the grass changes colors and gets lighter in shade as you approach the green. It has an almost ombre effect.
So, to make my 'golf course' I grabbed a pack of green shaded card stock and lightly coated 16 pieces with spray moss.
Yes, spray moss! I picked up a bottle and thought it would add a little texture to the paper to mimic the look of grass. The effect is subtle.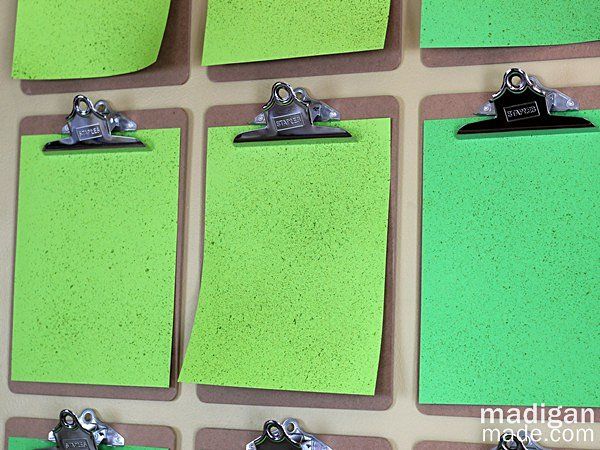 I arranged the green shades of paper on the wall to look like the color gradation as one approaches a golf green. I placed a white circle on the "green" to represent the hole.
Well, once I put up that green wall I knew I needed a table centerpiece to match!
So, I raided my hubby's golf supplies and filled some containers with golf balls (he collects used golf balls over time when he's out golfing – I've used some before… like in this golf ball project).
I filled a small container with golf tees, too.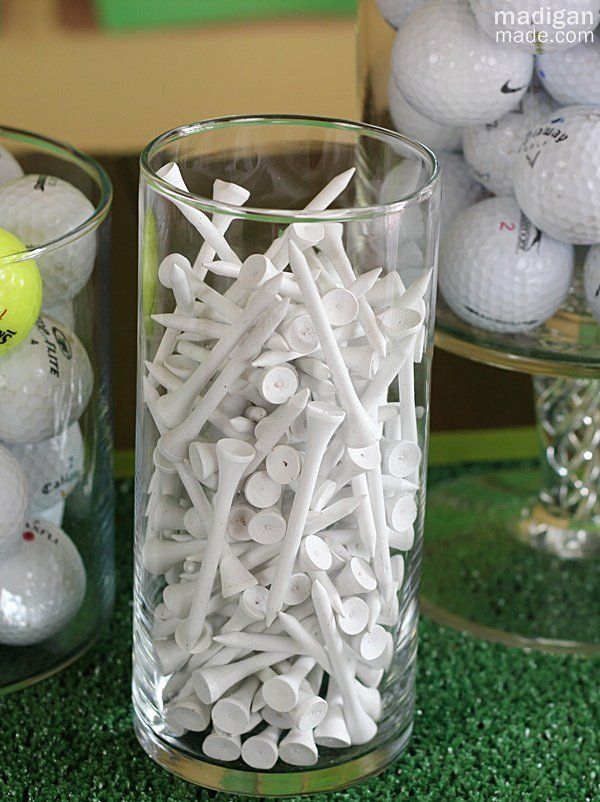 And finally, I laid down a simple green table runner underneath the vases.
Yes, I made that table runner. And, yes, it is made of Astroturf! It's a little kitschy but I couldn't resist!
Green turf seemed like the perfect complement to this arrangement. I'll tell you how I made it tomorrow!
I'm planning on leaving this display up for the month of June. I love that anyone can use elements from this vignette for a golf-themed party or for Father's Day. My husband's birthday is at the end of the month, so I'm thinking we might as well throw a golf themed party when the time comes. We'll see! For now, it's just really fun to see these golf details in our kitchen. It inspires us a little for the golf action we'll see later this month!
Thanks for reading Madigan Made!
Content Copyright:2010-14. Madigan Made.