Madigan made… a Simple Saturday with handmade gift ideas.

You know you've married a sports fan when he requests to walk out at your wedding reception to a song from the movie, The Natural.
Yep, my hubby and I were 'announced' to our wedding guests to the music from a baseball movie. (It's a good movie and a great score… we used the music played when Robert Redford's character hit a dramatic home run. You can see that scene here.)
My husband loves, plays and appreciates many sports. Aside from setting up some golf décor this week, over the past several years I've been (very) slowly working on some sports themed décor for our basement family room. I need to get back to working on a few more projects down there.
With Father's Day around the corner I realized that many of the projects I created for that room would make great gifts for any sports fan. So, I poked around the internet and found a bunch of other DIY sports ideas that could be fun handmade gifts, too. I pooled them all together today to inspire you to make something for your sports fan!
Simple Homemade Gifts for Dad (or any sports fanatic you know!)
Create a Baseball Frosted Glass Vase – Madigan Made (pictured below)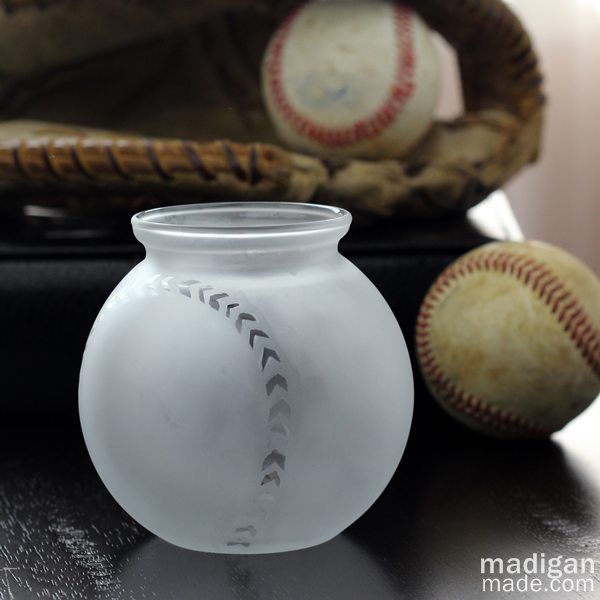 DIY Felt Sports Ball Ornaments – Rust and Sunshine
Free Printable Golf Vouchers and Gift Idea – Kleinworth & Co.
Athletic Number Sign Wall Art – Lolly Jane
Golf Tee Monogram Art – Becoming Martha
Paint and Update Your Old Trophies – Madigan Made (pictured below)
Sports Goal Picture Frame – Mod Podge Rocks
Take Me Out to the Ball Game Treat Gift Boxes – Mad in Crafts
Slam Dunk Wastebasket – Spoonful
Vintage Tennis Racquet Corkboard – My Paper Crane
Sew an Easy Golf Club Cover from a Sweater – Craft Stylish
Print and Frame a Free Sports Subway Art Printable – Madigan Made (pictured below)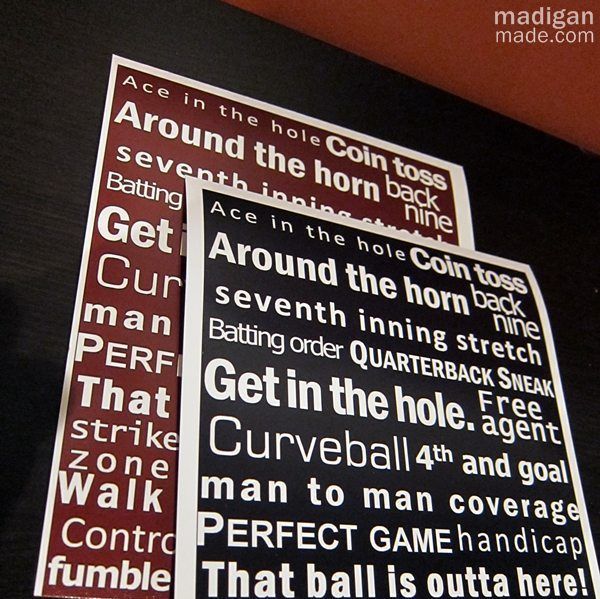 Baseball Wreath – Oops, I Craft My Pants
Football Pen Holder Craft – All Kids Network
Golf Club Wall Décor – 33 Shades of Green
Baseball Themed Lazy Susan – Lowes Creative Ideas
Frame Golf Balls to Make Modern Art – Madigan Made (pictured below)
DIY Tissue Paper Sports Logo – Cindy deRosier
Baseball Bat Flag Art – Finding Home (ok, this project is not as 'simple' as the others, but it is pretty awesome!)
Turn Sports Jerseys into Pillows – Sweet Bee Buzzings
DIY Baseball Bookends – Mod Podge Rocks
Easy Athletic Number Coasters – Madigan Made (shared on Sweet Rose Studio) (pictured below)
Baseball stitching bracelet – Gaslamp Ball
Vintage Trophy Wine Stoppers – Country Living
DIY Baseball Scoreboard Wall Art – That Village House
Golf Club Hat Rack – Cinnamon Buns and Glue Guns
Frame Your Sporting Event Tickets to Create Wall Art – Madigan Made (pictured below)
DIY Golf Towel – A Spoonful of Sugar
Golf Ball Garden Art – Craft Klatch
Custom Painted Golf Tees – Plaid Kids Crafts
I hope this list helps you think of a handmade gift that you can make for a sports-loving Dad this month!
Thanks for reading Madigan Made!
Content Copyright:2010-14. Madigan Made.