Madigan made… a video tutorial for a simple decorated tote.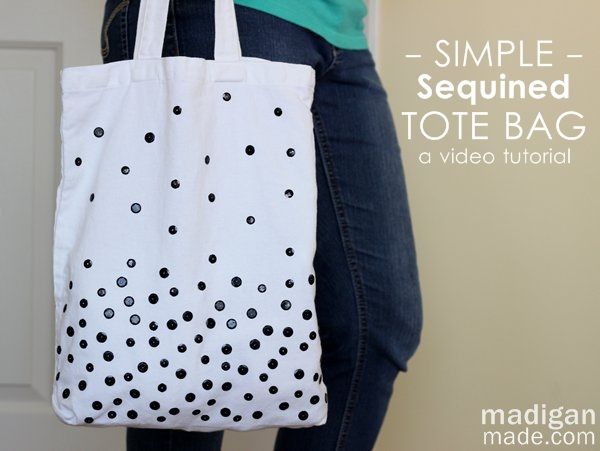 For me, every summer requires a great tote bag… the kind of big tote you can to the pool, farmers market, garage sales or the beach.
I picked up a simple canvas tote from the craft store that is the perfect size for my summer needs. It is just big enough to hold a magazine, sunscreen and few other essentials. I decorated it with some black sequins and plan on bringing this baby to the pool this season.
This sparkly bag was really easy to decorate. Check out my new video to see how to make it!
Video notes:
Prewash your bag and adhere your sequins down in the pattern of your choice.
Use a glue designed for jewelry and sequins (I've used Jewel-It and GemTac). The glue will dry clear and can be washed.
Be sure to apply enough glue to the backs of the sequins so that they adhere securely. (The sequins can pop off if you don't use enough glue. Just to be safe, I would not make this bag for a small child.)
Be creative and have fun decorating your tote bag!
Where are you going to take your bejeweled bag?
Thanks for reading Madigan Made!
Content Copyright:2010-14. Madigan Made.