Madigan made… a simple thrift store vase update with glass paint.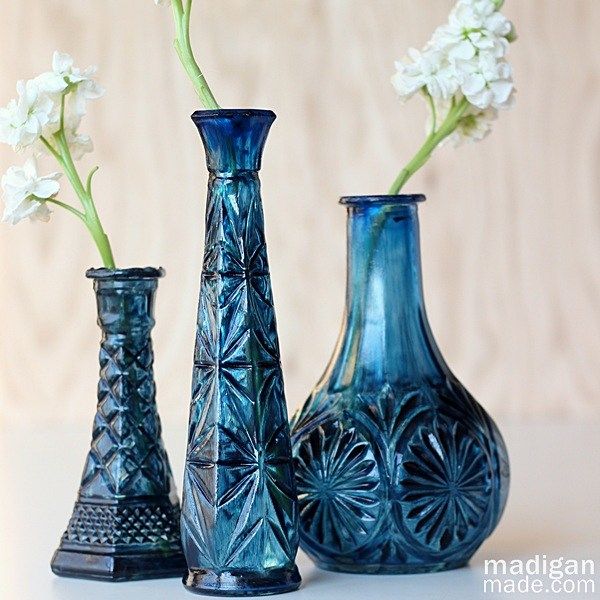 Y'all remember my cobalt crush, right? Well, I just keep spotting that not-quite-navy color everywhere! (and wanting more of it around me!)
Last month my hubby and I went on vacation in North Carolina with my parents… and my mom and I had the chance to go antiquing while the guys went golfing. I found my vintage Pyrex bowls on that trip. But I also kept coming across these pretty blue antique glass pieces. I loved how the light shone through them. I didn't end up buying any…. but I kept thinking about the vases when I got home.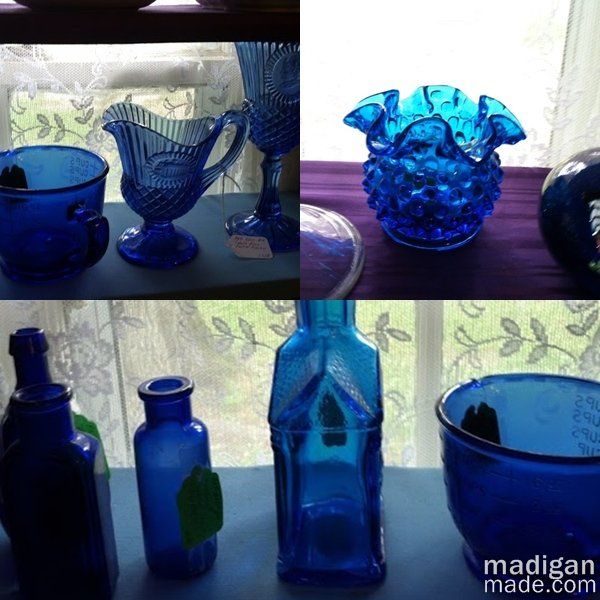 With all of the glass paint I have in my craft stash, I thought that I could knock-off the deep blue glass look with some cheap, clear glassware from the thrift store. So, I grabbed some cut glass and got painting!
Instead of painting the inside of vases, I needed to paint the outside of these vases to achieve the color I wanted.
Want to learn how I painted the glass? It took me a few trials to figure out how to get this deep blue color. This past weekend I hopped on Google+ to show my followers how I got the look of this cobalt painted glass.
Check out the live video recording:
Video notes and instructions:
(Note: some of the supplies in this list were given to me complimentary for prior projects. The links in this list are affiliate links and I may earn a small commission on purchases made through those links. I only share products I love and, as always, all opinions are my own.)
Supplies needed:
Clean your glassware and mix in a vey tiny amount of black paint into the blue paint.
Coat the exterior of the vases with paint mixture and allow it to dry. Repeat to deepen the color.
Once dry, follow the manufacturer's instructions to set the paint. Most glass paint can be baked at a low temperature in the oven. Once the paint is cured, they can even go in the dishwasher. (for more glass painting tips, don't miss yesterday's post!)
Note: the paint is not food safe and should not be painted where it will come in contact with food. I only will use these vases for flowers, so I think were are good!
My painted vases turned out a darker shade of blue than my antique inspiration. But I actually like my version more. With the black hues (and paint that settled in the nooks and crannies of the vases), I think the blue is deeper and has more depth. The colors definitely feel more 'cobalt' to me!
I could go swimming in this gorgeous blue, couldn't you?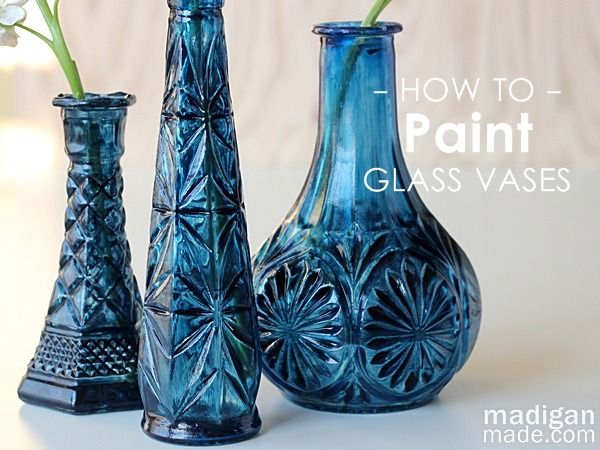 If you wanted more ideas for things to make from thrift store items, be sure to stop by Crafty Hangouts this week. A bunch of other DIY bloggers are sharing their awesome thrift store finds on video and what they made from them. Click here for the full thrifty DIY schedule! (or follow the #thriftyHOA hashtag on Twitter or Google+)
Thanks for reading Madigan Made!
Content Copyright:2010-14. Madigan Made.