Madigan made… an easy chocolate fruit dip.
Do you have a flavor that never fails you? Now, I'm a fan of a lot of different tastes… I love coconut and mint and lemon. But when I'm in doubt… especially for dessert… I can almost always count on chocolate.
I recently had to bring a dish somewhere and decided that fruit would be an easy dessert. To make a dip to go with the fruit, I followed the same approach I used for my orange creamsicle fruit dip and pumpkin fluff. I combined frozen whipped topping with instant pudding… and then added in another flavor to make it unique. The possibilities are endless for flavors you could add to this dip.
But this time around I decided to give into my dark side… well, my chocolate side! Plus, when I picked up some chocolate and caramel coffee creamer recently I couldn't help mixing in a little caramel, too. The caramel flavor was subtle but just enough.
Chocolate and Caramel Fruit Dip Recipe
Ingredients:
8 oz container of frozen whipped topping, thawed
Small box of chocolate instant pudding
1/2 cup chocolate caramel coffee creamer (or you could also use chocolate milk)
3-4 tbsp of caramel sauce
Fruit of your choice, washed and sliced for serving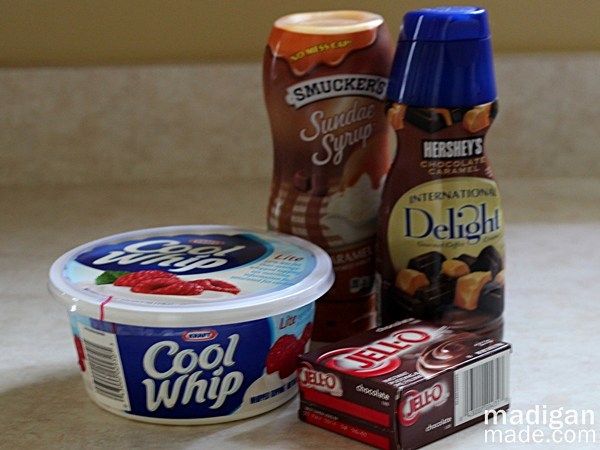 Directions:
Combine the first four ingredients in a large bowl using a hand mixer. I prefer my dip fluffy, but if you want a thinner consistency, add up to 1/2 cup of liquid (milk or water) to thin out the mixture, as desired. Cover and store dip in the refrigerator until you are ready to serve.
When you are ready to eat, drizzle more caramel sauce over your serving tray. Arrange your fruit and a bowl of dip on the plate and dive in!
Give into your chocolate (and caramel) side… it is no brainer!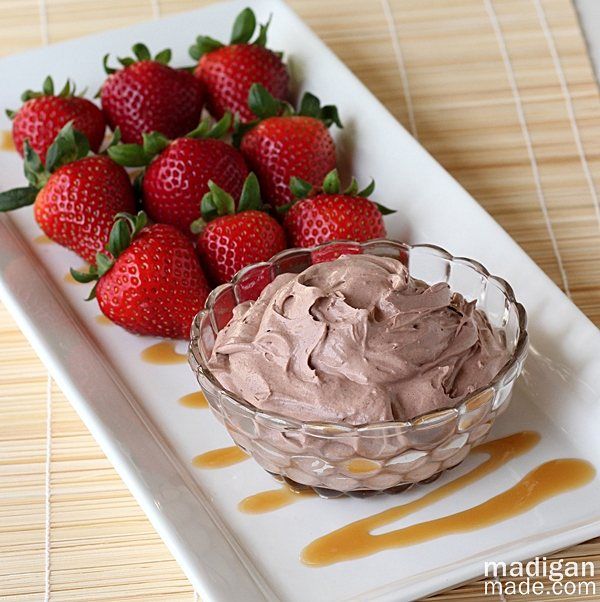 Thanks for reading Madigan Made!
Content Copyright:2010-14. Madigan Made.