Madigan made… an easy summer tote update with colorful cable ties.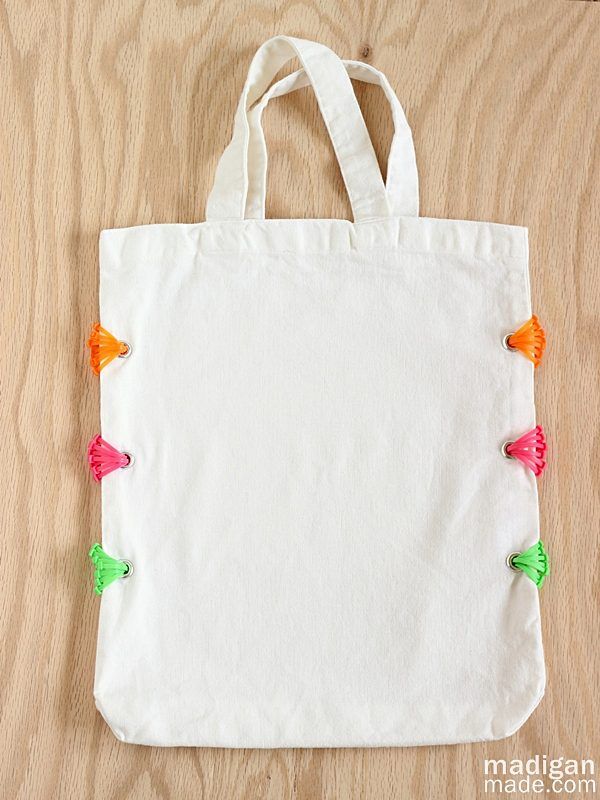 It is not every day you see this combo:
Bright white cotton. Nautical-y grommets. Colorful neon. Cable ties.
Did you know that they could combine to make a fun tote for summer? Me neither… until this weekend. Craft inspiration strikes in the most unassuming ways sometimes.
I'm really not sure what possessed me to make this tote. I had one leftover canvas tote from a pack I bought this spring (you already saw my sequin tote and surfer beach bag) and I wanted to update that last one, too. I spied some grommets in my craft stash. I thought they'd be cool along the edge of the tote… but I wanted to weave something through them. After playing with neon lacing recently… I thought I'd continue the brightly colored, dollar store theme and use some colorful zip ties!
Want to see how I made it? It is a simple no-sew project.
Easy Neon Tote DIY Update with Cable Ties
Supplies needed:
Plain canvas tote
Cable ties
6 grommets, plus grommet setter
Ruler
Fabric marking pen
Hammer
Awl
Scissors
Instructions:
Prewash your tote. Using a ruler and pen, mark the location of your grommets along the sides of the tote. I used 6 grommets and set mine about 1/2 inch from the seams.
Create a hole in the fabric at each mark using your awl and scissors as needed. The hole needs to be big enough so that the grommet will fit snugly inside it.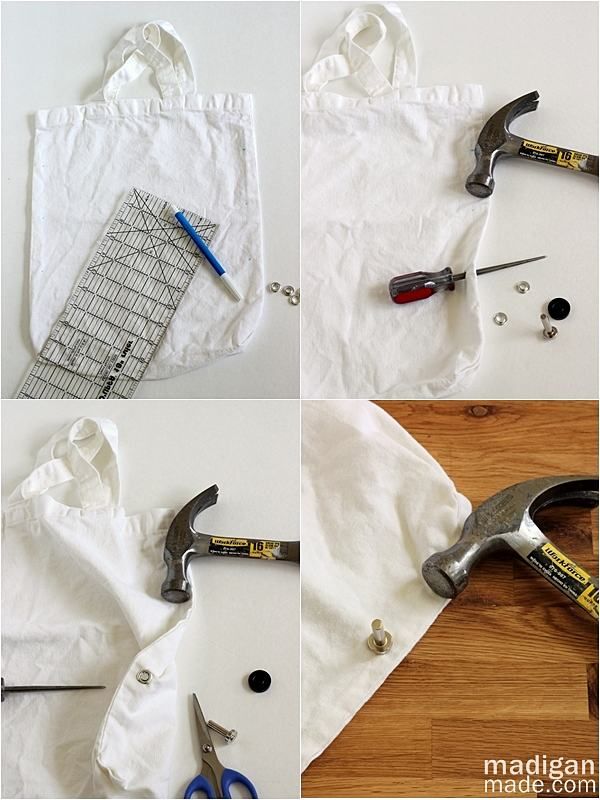 Fit the front and back piece of each grommet on either side of the hole. Over a hard surface, set the grommet using a grommet setter and hammer. Repeat above to set grommets along both sides of the tote.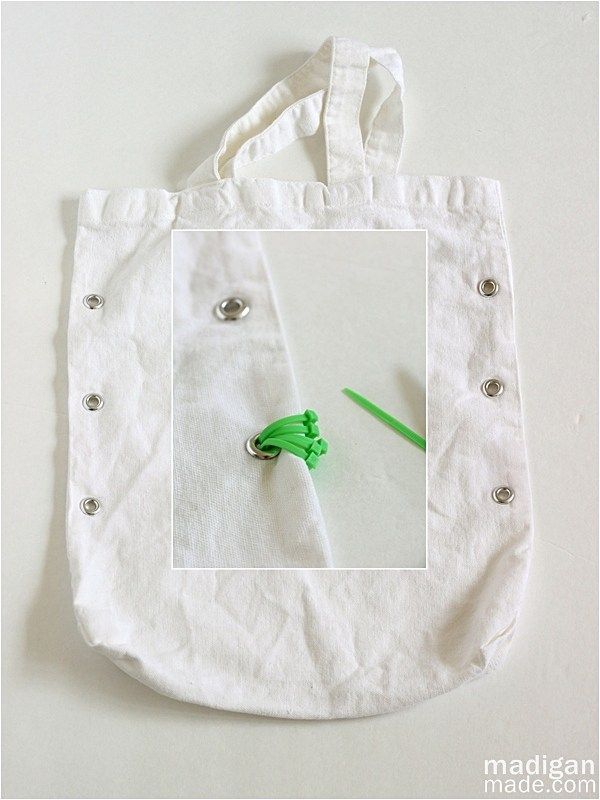 Slide your choice of cables through each grommet. Pull the ties closed and snip the ends as close as you can to the slide attacher device (Is that what you call it? That's what I call it!). Attach as many zip ties as you want on each grommet. For me, I ended up using 7 on each one.
That's it! Now you have a fun tote!
I love how the zip ties fan out from each grommet and almost look like some kind of triangular detail along the edges. And the beauty of this tote is that when I tire of the neon ties, I can just snip them off and loop something else through the grommets! It's interchangeable…. fancy!
My favorite aspect of this purse is how the bright colors of the ties contrast against the bright white fabric. It looks really crisp and fun. I'm pretty sure no one else will have a cute tote bag like this one… well, until you decide to make one!
Thanks for reading Madigan Made!
Content Copyright:2010-14. Madigan Made.