Madigan made… an easy dollar store craft with glass and paint.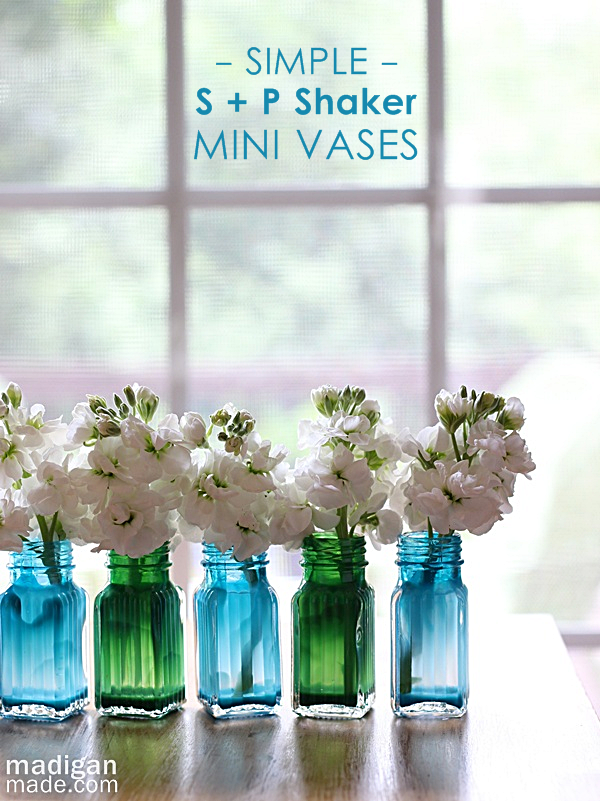 Ahhh… blue.green.blue.green.blue.
Tinted and colored glass is so pretty, isn't it? You can buy it… but did you know it is really easy to make faux colored glass, too?
With a little glass paint, you can tint your own glass pieces almost any color you desire! And if you think outside the box, you don't have to use just glass vases. I grabbed 3 sets of salt and pepper shakers from the dollar store recently and turned them into tiny vases with a little glass paint. It was a quick and easy project.
Want to see how to make them?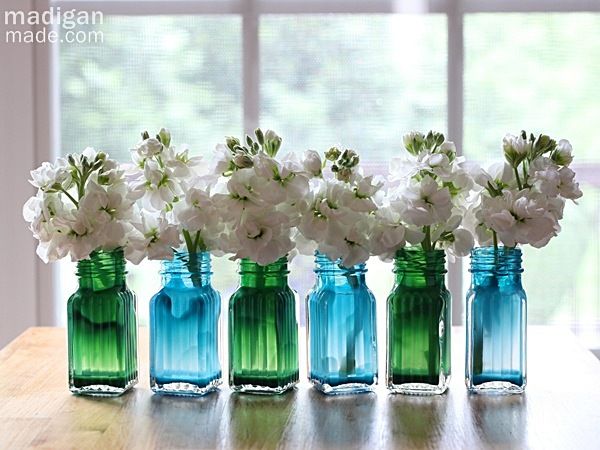 Easy Painted Mini Glass Vases
Supplies Needed:
(Note: some of the supplies in this list were given to me complimentary for prior projects. The links in this list are affiliate links and I may earn a small commission on purchases made through those links. I only share products I love and, as always, all opinions are my own.)
Glass salt and pepper shakers
Isopropyl alcohol
Transparent glass fill paint or stain
Disposable plate or other work surface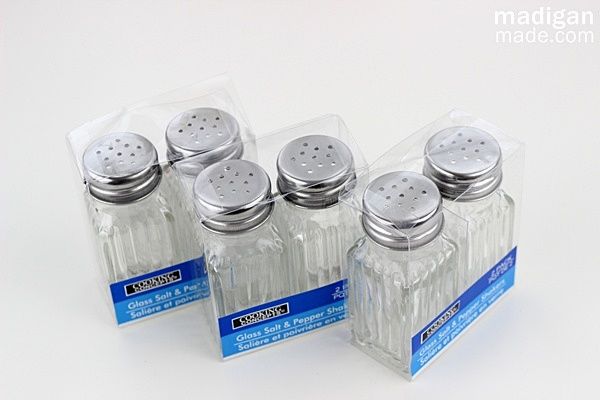 Instructions:
Remove the metal caps and clean your glass pieces. (I ran mine through the dishwasher and then used a little isopropyl alcohol over the glass surfaces, too.)
Pour your glass paint into each vase. I decided to use two different colors. Swirl the paint around so that it covers all of the interior surfaces of the glass.
Let the paint start to dry. To give the surfaces another light coat or two of paint, you can come back to the vases every 20-30 minutes and continue to roll any remaining paint around the inside of the glass. Finally, turn the shakers upside down over a disposable plate and let the excess paint drip out of the vases. You could dry the vases upside-down, but I liked having a solid area of color at the bottoms of each vase… so I allowed the bottles to dry upright overnight (it actually may take several days for the paint that settled on the bottle of the vases to fully dry). Don't worry if the paint looks opaque at this stage. The paint colors will be much more translucent in the morning.
Once dry, the paint can be baked in the oven per the manufacturer's instructions OR allowed to air-dry and cure for several weeks.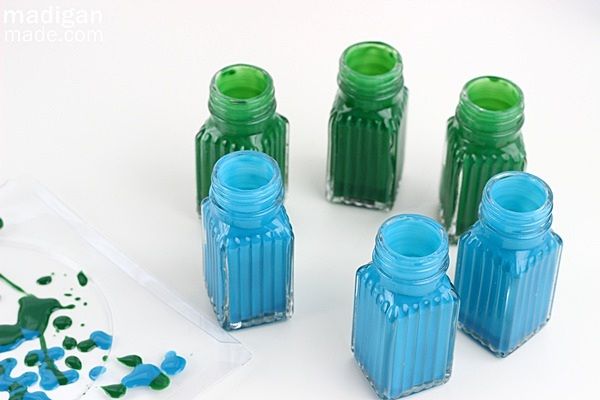 Once the paint is cured, you can add water to your new little vases and even run them through the dishwasher!
These tiny vases will be fun to use in a group… or individually. I love how my bud vases look arranged in a line with alternating colors. And I love how cheap they were to make!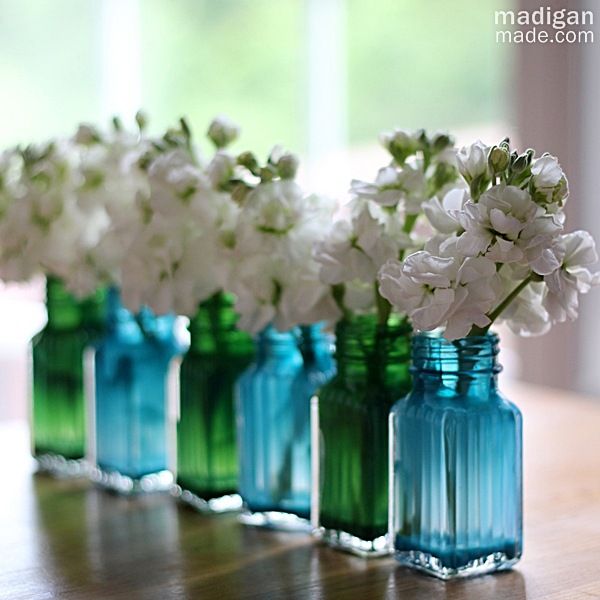 So, after yesterday's painted glass bowls and today's project, I'm going to unofficially dub this week 'Glass Painting Week". Just wait… I have more glass paint ideas to share soon!
Thanks for reading Madigan Made!
Content Copyright:2010-14. Madigan Made.