MAKE:  a simple fruit and cheese summer appetizer.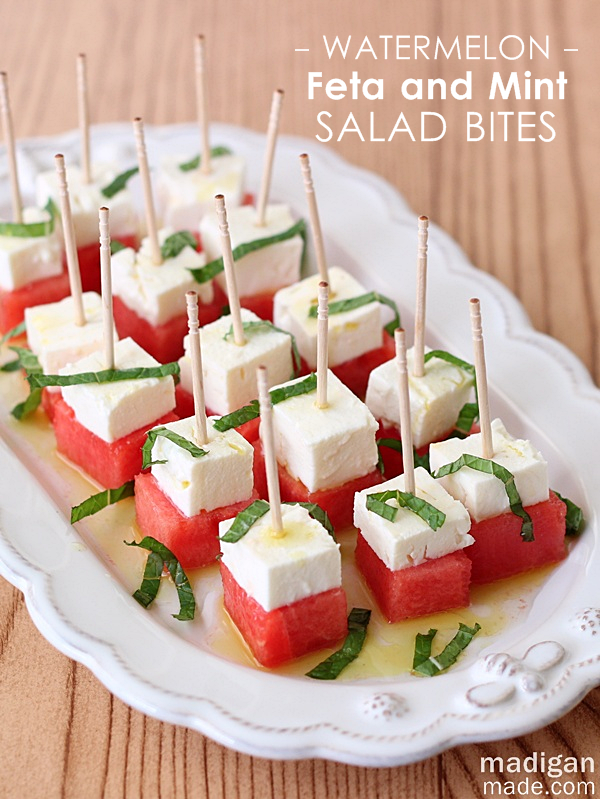 Summer fruit, salty cheese and fresh herbs… could there be a better combination in hot weather?
This summer I planted a bunch of different herbs in pots on our deck…. mint, parsley, basil, and rosemary. I love being able to walk right out of my kitchen and snip a few ingredients for a recipe.
I'm a big fan of watermelon… and feta cheese. I've always wanted to try and make a salad with that combination. Since I had all of this mint growing on our porch, I thought I'd make a simple appetizer with it, inspired by a watermelon and feta salad (and my caprese bites on a stick). It was so good!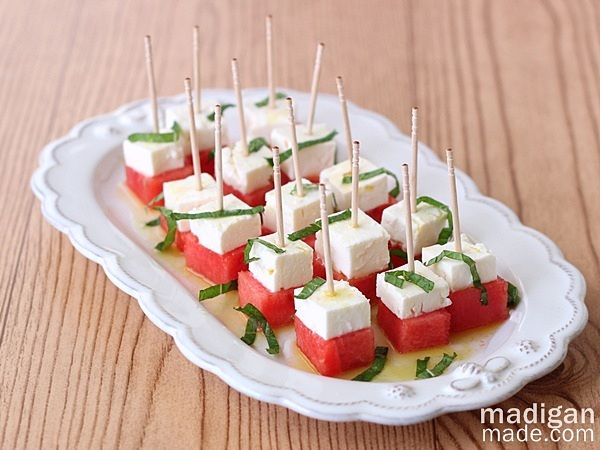 Melon, Mint and Feta Appetizer
Watermelon, Feta and Mint Salad Bites

Ingredients

Watermelon
Feta cheese
3-4 fresh mint leaves, sliced thinly
1/4 cup extra virgin olive oil
2 tbsp lemon juice
1 tbsp white wine vinegar
1/2 tsp honey
Salt and pepper, to taste

Instructions

Slice and cube the watermelon and cheese into bite-sized squares. Thread a piece of each on toothpicks.
Combine the salt, pepper, honey, lemon juice and vinegar in a bowl and whisk the olive oil into it to create a simple dressing.
Drizzle a bit of the dressing onto a serving plate. Arrange the watermelon and cheese on the plate.
Sprinkle slices of mint over top. Drizzle a little more dressing over top of the bites and serve immediately.

7.8.1.2

2

https://rosyscription.com/2013/07/watermelon-feta-and-mint-salad-bites.html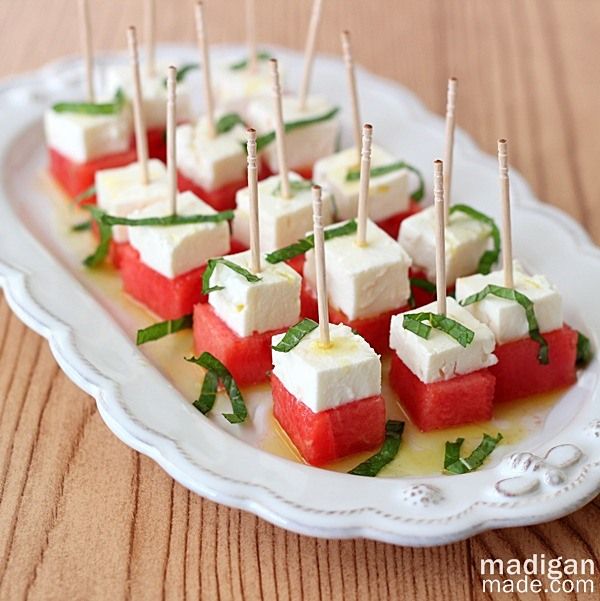 Summer flavors don't get much simpler (and tastier)! Yum!